NFL fans have witnessed an abundance of incredible receiving seasons, from Jerry Rice in 1995 to Calvin Johnson in 2012. Each time a receiver breaks a record, it seems like that feat will hold for many years to come. 
This season offered yet another high mark as Matthew Stafford and Cooper Kupp look to close off their historic season with a Super Bowl LVI win.  
---
Click here for more PFF tools:
Rankings & Projections | WR/CB Matchup Chart | NFL & NCAA Betting Dashboards | NFL Player Props Tool | NFL & NCAA Power Rankings
Best Bets Tool
---
One of the aspects of football that is so interesting is the versatility at the wide receiver position: Tyreek Hill and DK Metcalf compete at the same level  but with different  body types and play styles. There is no single win-it-all play style for a receiver. Some are utilized for their yards after the catch ability, such as Deebo Samuel, while others for their ball-in-air skills, a la Mike Williams. You'll also have your Tyler Locketts, who could probably catch a piano falling at terminal velocity.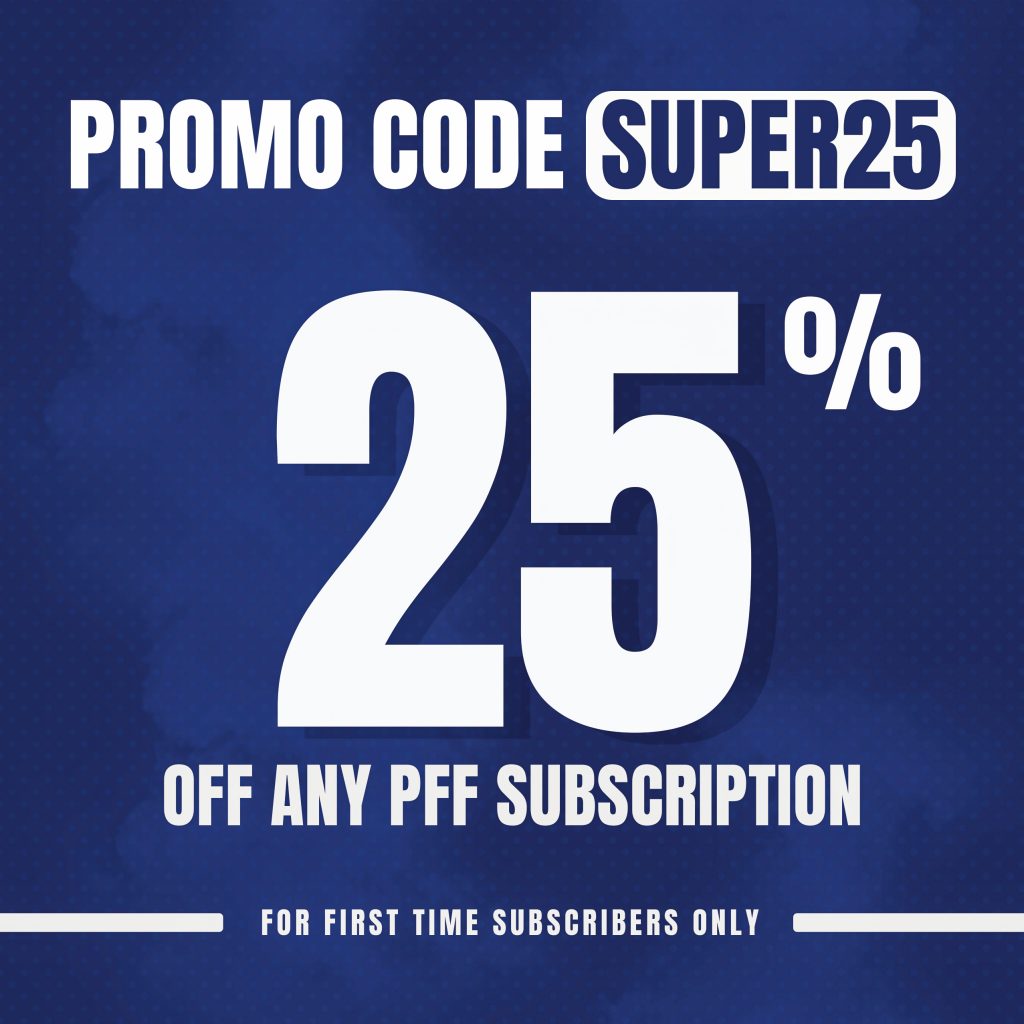 Occasionally, we see someone who excels in all aspects of receiving: catching ability, route-running ability and yards after the catch. This season, that someone has been Kupp. Having those skills is not enough to make a splash, though. When you pair such an incredible receiver with a great quarterback, the result is what Stafford and Kupp accomplished in 2021. 
One of the duo's best games in 2021 came against the Buccaneers in the divisional round.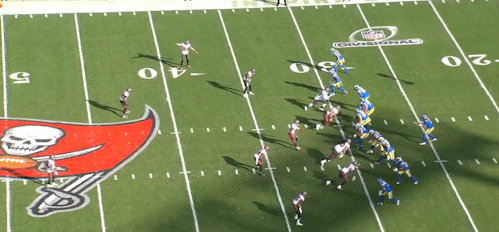 This play perfectly illuminates all aspects of Kupp's receiving ability and pairs it with Stafford's accuracy. The way he is able to effortlessly spin a safety around is marveling. 
Some quarterback-receiver connections can be highly successful on average, yet they aren't targeted enough to produce anything of note. Stafford and Kupp were able to perform well even with a massive sample size.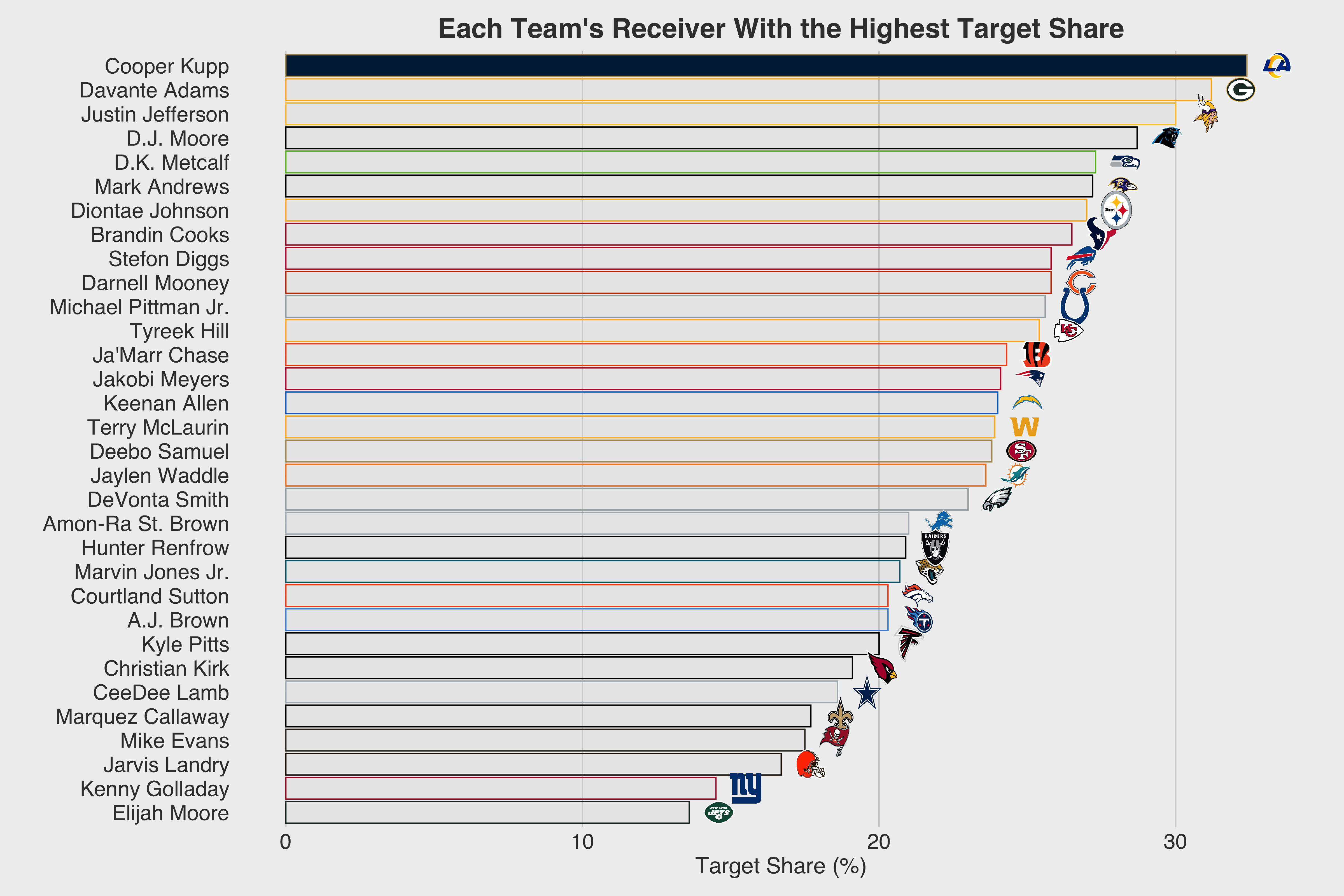 Kupp receives 32% of his team's targets, the most in the NFL. Notably, D.J. Moore has the third-highest target share in the league, although he and his quarterbacks did not accomplish anything of note. Some receivers, like Hunter Renfrow and Mike Evans, performed very well throughout the season and should have been targeted more.  
Much like a bruising running back who seems to get stronger as the game goes on, the connection between Stafford and Kupp connection never wavered as the 17-game season dragged along. While other QB-WR connections may suffer from attrition, the Rams duo managed to stay at an elite level all year.
Let's illustrate this.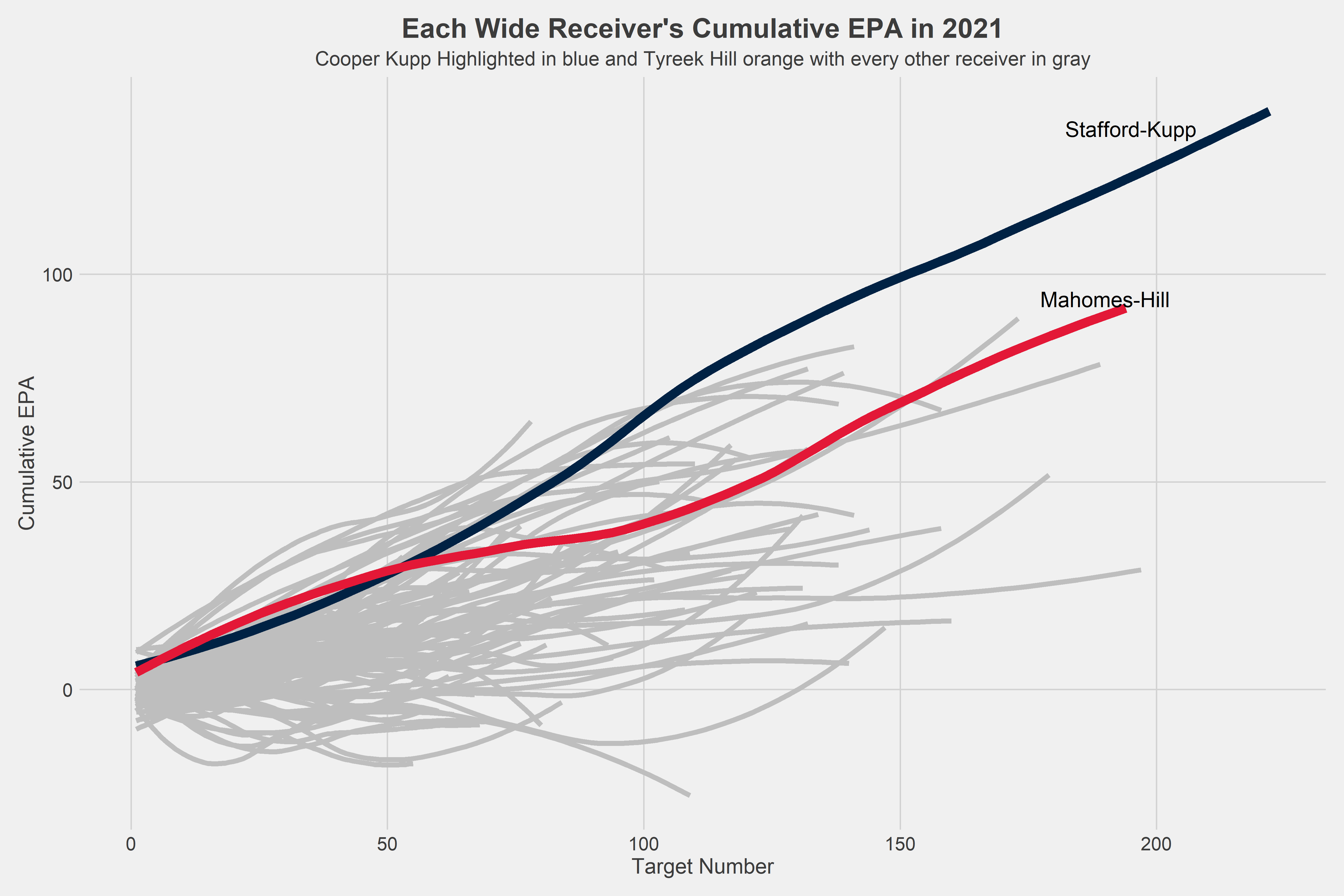 Stafford and Kupp's wheels never fell off, whereas some other receivers started to plateau: With each additional target, not a lot of EPA was gained. Patrick Mahomes and Hill were the next best in terms of EPA in 2021. 
Furthermore, this connection has an offensive mastermind in Sean McVay calling plays, and he deserves substantial credit.