• Bet Browns o7.5 wins: With QB play down around league, running matters more, and no one runs it better: No. 1 in EPA/rush and No. 3 in rushing success rate.
• Cleveland's EPA/pass also has improved from 2021 — and could continue to with Deshaun Watson's Week 13 return; Browns are healthier coming out of the bye after their best win of season thus far in Week 8 over Bengals.
• Bet Patriots u8.5 wins: After their QBs averaged 0.13 EPA/pass last season, Pats' Mac Jones, Bailey Zappe, Brian Hoyer trio has combined for -0.04 EPA/pass in 2022; New England has NFL's second-hardest remaining slate.

Last updated: Nov. 8, 10:00 p.m.
Estimated reading time: 5 mins
---
This NFL season has been wilder than most in recent years. The parity between the best teams and worst teams in the league is much smaller, and it truly has been "Any Given Sunday" every week. As we've highlighted in previous futures pieces, QB play is down for the most part, so we have to adjust the way we see certain teams, and start reassessing priors for teams with HOF QBs whose offenses have faltered this year.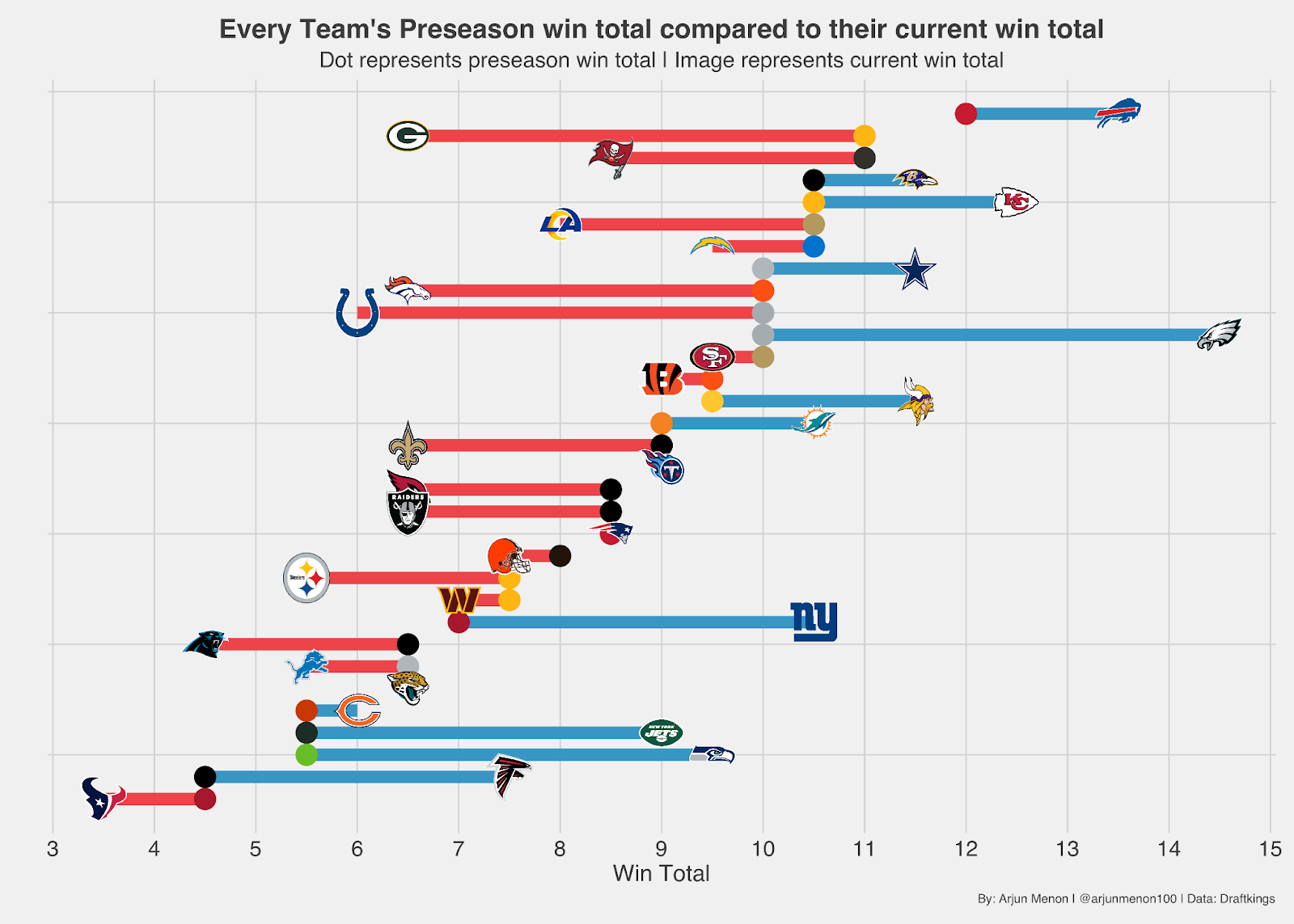 This chart shows the change in win totals from the preseason to Week 10, and how much teams have improved or worsened. The four teams whose win totals have risen by 3.5 wins or more are the Philadelphia Eagles, New York Giants, New York Jets, and Seattle Seahawks. The three teams whose win totals have dropped by 3.5 wins or more are the Green Bay Packers, Indianapolis Colts, and Denver Broncos.
| | | |
| --- | --- | --- |
| Team | EPA/pass in 2021 | EPA/pass in 2022 |
| Eagles | 0.08 | 0.21 |
| Giants | -0.15 | 0.1 |
| Jets | -0.06 | -0.06 |
| Seahawks | 0.05 | 0.11 |
Notice a common theme? 
With the exception of the Jets — who have slowly morphed themselves into one of the best defenses in the NFL — every team has seen an increase in passing efficiency from 2021 to 2022. 
On the flip side, the three teams whose win totals dropped by at least 3.5 wins are all hampered by significant drop-offs in QB play.
| | | |
| --- | --- | --- |
| Team | EPA/pass in 2021 | EPA/pass in 2022 |
| Packers | 0.2 | -0.03 |
| Colts | 0.06 | -0.1 |
| Broncos | 0.1 | -0.02 |
All three teams were basically sold a bill of goods, whether it was when they extended their QB to a massive extension, or traded draft picks for them. Needless to say, things just haven't worked out for these teams for various reasons including QBs declining, lack of weapons at receiver, and/or poor play calling. 
Now, betting is like the stock market. You never want to buy teams at the top of the market, i.e. the teams with win totals rising by 3.5 or more games. Especially for teams like the Giants or Seahawks, whose QBs are playing much better than what they've shown in previous years.
This isn't saying they can't keep it up, as that's certainly in the range of possibilities, but there's always a chance they regress back to their career averages. 
On the flip side, you usually want to buy stocks (in this case: teams) at their floor. The problem here, I think, is we don't know if this is the floor for the Packers, Broncos, and Colts:
• The Colts are now starting Sam Ehlinger at quarterback and have the most inexperienced coaching staff anywhere in the league.
• The Packers' offense looks broken beyond repair, scoring only 9 points against a historically bad Lions defense, and missing many key contributors to injury.
• The Broncos' defense is still very good, but we don't know if Russell Wilson can bounce back from his early-season struggles, and we still haven't seen a signature performance yet that we should buy into. 
Wins x Pythagorean Wins

Why can't the Jags have nice things pic.twitter.com/IGfvbAHesi

— Robby (@greerreNFL) November 8, 2022
Thus, we want to target a couple teams that might be underperforming relative to how they played, and whose win totals haven't moved up too drastically.
Bet Gameplan: Playable to 
-105
• The Browns are one of the teams that simply have underperformed relative to their play: If we look at the graph by Robby Greere above, we can see they're fundamentally more of a 4-win team than a 3-win team. As we discussed previously, QB play is down this year, so having a good run game matters, and no team has a better one right now than the Browns: 1st in EPA/rush and 3rd in rushing success rate.
• Similar to other teams whose win totals increased, Cleveland's EPA/pass is higher in 2022 than 2021: And it could climb higher once Deshaun Watson returns from his 11-game personal-conduct suspension in Week 13. This could be a great buy-low spot on the Browns, who put together a great performance on both sides of the ball vs the Bengals and emerge from their bye healthier with Wyatt Teller and Denzel Ward back from injuries. 
Bet Gameplan: Playable to 
-125
• The Patriots have been fortunate enough to win five games vs teams without upper-echelon QBs: Mitch Trubisky, Jared Goff, Jacoby Brissett, Zach Wilson, and Sam Ehlinger. Following their bye, the Patriots get a rematch with Wilson, but face seven QBs who are widely considered to be in the NFL's top three tiers. Our strength of schedule metric has the Patriots with the 2nd-hardest remaining schedule, which correlates with the strength of QBs they're playing. They've struggled vs quality opponents, and that's what they'll likely get to finish out the season.
• New England's QB play has been anything but upper echelon: After Patriots QBs averaged 0.13 EPA/pass last season, the trio of Mac Jones, Bailey Zappe, and Brian Hoyer have combined for an average of -0.04 EPA/pass in 2022 — with no real signs of change. The Patriots likely will have the worse QB in 7/8 remaining games, which can cause some issues. Even though we've talked about how the run game and defense matters more this season, the Patriots' run game this season isn't something they can really lean on to generate successful plays: 22nd in EPA/rush and 21st in rushing success rate.