With the offseason in full swing and PFF's regular series of win totals and power rankings articles in print, we wanted to look at the state of the NFL using the game-by-game betting markets, which were released recently by the Westgate SuperBook.
Using a Massey matrix-based approach, we can derive an offensive and defensive rating for each team, which when added together give rise to a point spread that would theoretically be the spread in a game versus an average team on a neutral field. Last year's version of these ratings can be found here.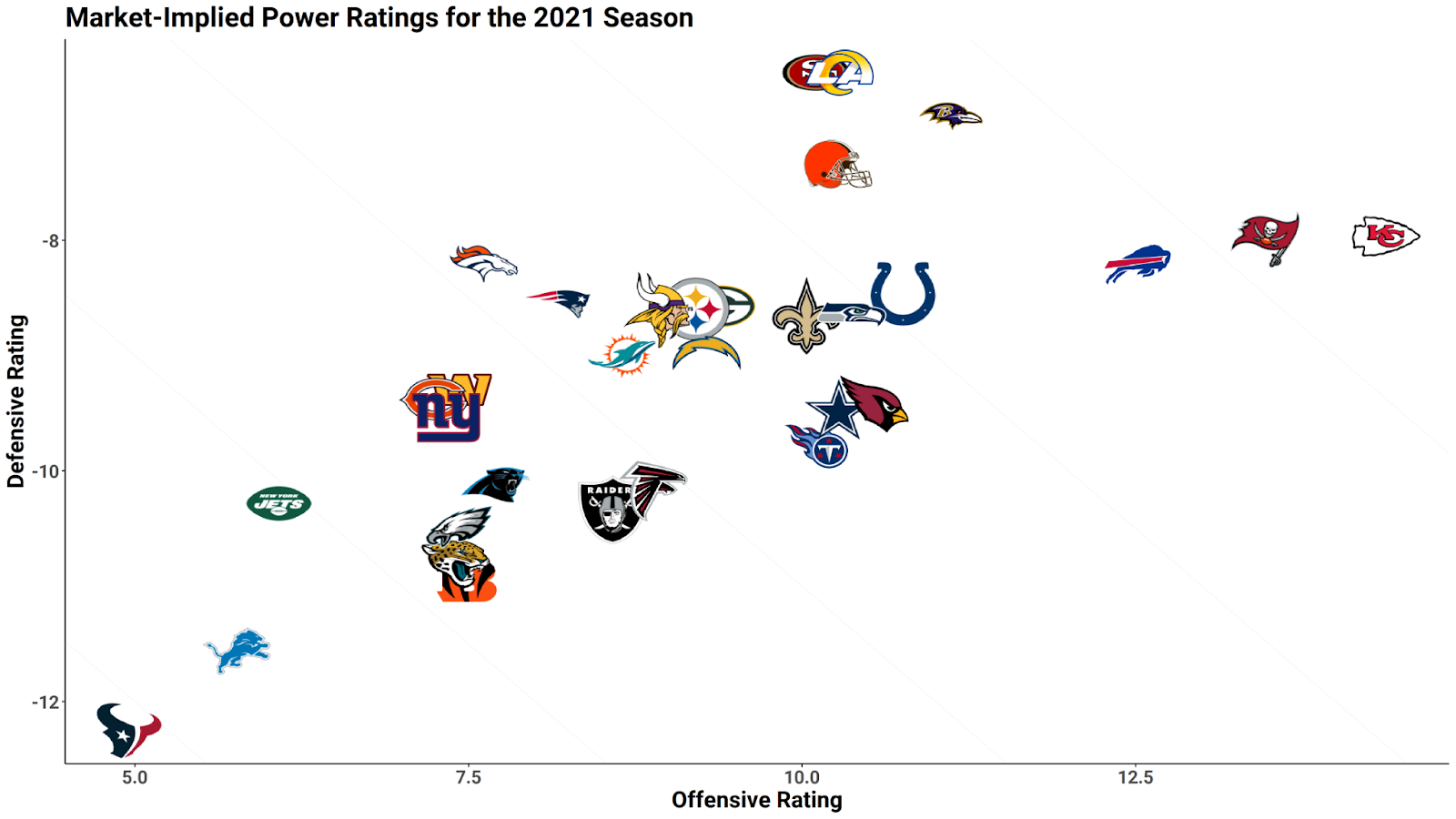 Subscribe to
The Contenders
1. KANSAS CITY CHIEFS (6.4 points above the average team on a neutral field)
2. TAMPA BAY BUCCANEERS (5.5)
3. BUFFALO BILLS (4.3)
4. BALTIMORE RAVENS  (4.2)
Using our PFF Elo rating, we think the Chiefs are more than eight points better than the average team on a neutral site, which is probably why we like them to win in Week 1 against the Cleveland Browns at home. The market thinks they are the best team (they have the best Super Bowl odds), but not by this much.  If you believe Kansas City is on a big-time revenge tour, our numbers suggest there's value early on. 
The Next Tier
5. LOS ANGELES RAMS (3.7)
6. SAN FRANCISCO 49ERS (3.6)
7. CLEVELAND BROWNS (2.9)
8. INDIANAPOLIS COLTS (2.3)
No wonder the markets believe that the Rams and the 49ers are co-favorites to win the NFC West; the two teams have about the same rating using the market-implied numbers. That's a lot of faith in a San Francisco team whose defense atrophied some in 2020 and might have to support an offense led by a rookie quarterback at some point during the course of the season.
Above Average
9. SEATTLE SEAHAWKS (1.7)
10. NEW ORLEANS SAINTS (1.4)
11. ARIZONA CARDINALS (1.1)
12. GREEN BAY PACKERS (0.8)
13. DALLAS COWBOYS (0.8)
14. PITTSBURGH STEELERS (0.6)
15. LOS ANGELES CHARGERS (0.3)
16. TENNESSEE TITANS (0.3)
17. MINNESOTA VIKINGS (0.3)
Questions at quarterback fill the above-average tier, outside of the remaining NFC West teams. Arizona has the sixth-best offensive rating, with Seattle one spot behind, but both drop considerably because of questionable defensive expectations. Green Bay is a tough team to project, as our simulation doesn't take into account the rumors surrounding their quarterback room. Dallas and Tennessee could be sneaky Super Bowl contenders if they return to their peak offensive output from the 2020 season.
Below Average
18. MIAMI DOLPHINS (-0.3)
19. NEW ENGLAND PATRIOTS (-0.4)
20. DENVER BRONCOS (-0.6)
21. ATLANTA FALCONS (-1.3)
22. LAS VEGAS RAIDERS (-1.8)
23. WASHINGTON FOOTBALL TEAM (-1.9)
24. CHICAGO BEARS (-2.1)
25. NEW YORK GIANTS (-2.2)
26. CAROLINA PANTHERS (-2.4)
The biggest discrepancies between the thoughts of the general public and the betting market exist in the below-average tier. Teams with strong units outside of the quarterback position could take a significant step forward quickly with reliable play from that key position. Miami has gone all-in on Tua Tagovailoa, with key off-season signings focused on building out a prolific offense. The only team without a question at quarterback is the Atlanta Falcons, who have been our favorite team to back in the futures market so far this offseason.
Poor
27. PHILADELPHIA EAGLES (-3.1)
28. JACKSONVILLE JAGUARS (-3.4)
29. CINCINNATI BENGALS (-3.5)
30. NEW YORK JETS (-4.2)
31. DETROIT LIONS (-5.8)
32. HOUSTON TEXANS (-7.3)
The who's who of favorites to finish with the worst record in the NFL make up the poor tier in our market-implied ratings. We should easily see the top three picks in next year's draft made by three teams from this tier. The question becomes: Which ones, and in what order? The only other question revolves around which team with an exciting young quarterback is the market currently underrating with such a low expectation. Buying into one of these teams early could be the easiest path to a profitable 2021 betting season.