• Bills and Rams headed toward a shootout, with a PFF simulated total of 53. Bet the OVER 51.5 (-114 on FanDuel).
• Thursday night sets up as a smash spot for Matthew Stafford. Bet the OVER 24.5 completions (-105 on DraftKings).
Estimated reading time: 6 min
---
Island games are the highlight of any NFL week for betting enthusiasts. As the industry continues to grow, some of the most-discussed moments belong to single-game opportunities.
As such, below is the only betting guide needed to unearth tons of expected value for each Thursday night contest throughout the 2022 NFL regular season. This writeup will pull all the key modeling numbers and simulated outcomes from PFF's award-winning set of betting tools. PFF NFL Greenline and the player props tool use top-down machine learning models backed by PFF's exclusive data to derive value when compared to the betting market. PFF's newest tool is a play-by-play simulation that uses a bottoms-up prediction approach backed once again by PFF data and state-of-the-art- machine-learning models. Combined they are some of the best betting tools available on the public market. 
We begin with a Week 1 contest between the Buffalo Bills and Los Angeles Rams.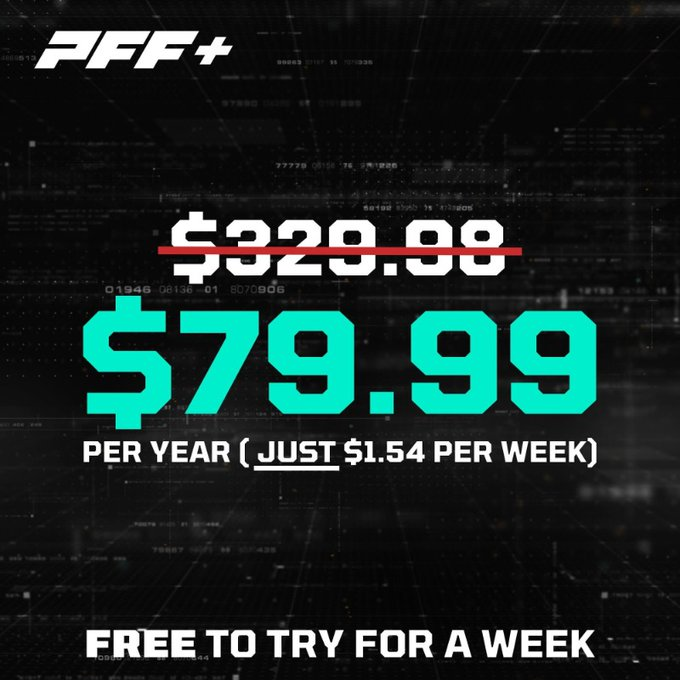 GAME LINES
After opening as a slight road favorite, the betting market continues to push out the Buffalo Bills to just shy of a three-point spread. Part of this is the hype surrounding the favorite to win the Super Bowl, but also some movement based on Matthew Stafford's elbow concerns. PFF Greenline finds no value on the current spread or total as these look to be too evenly matched teams with the expectation that this game goes down to the wire. 
PFF's play-by-play simulation offers a slightly different outlook with a mean spread projection for the Rams at -1. The most likely game outcome is a +3 win for the Bills, but the Rams win a higher percentage of their games on key numbers of -7 or -10. This indicates the Bills are more likely to win a close game, while the Rams lose a higher percentage of close games but have a greater chance to run up the score.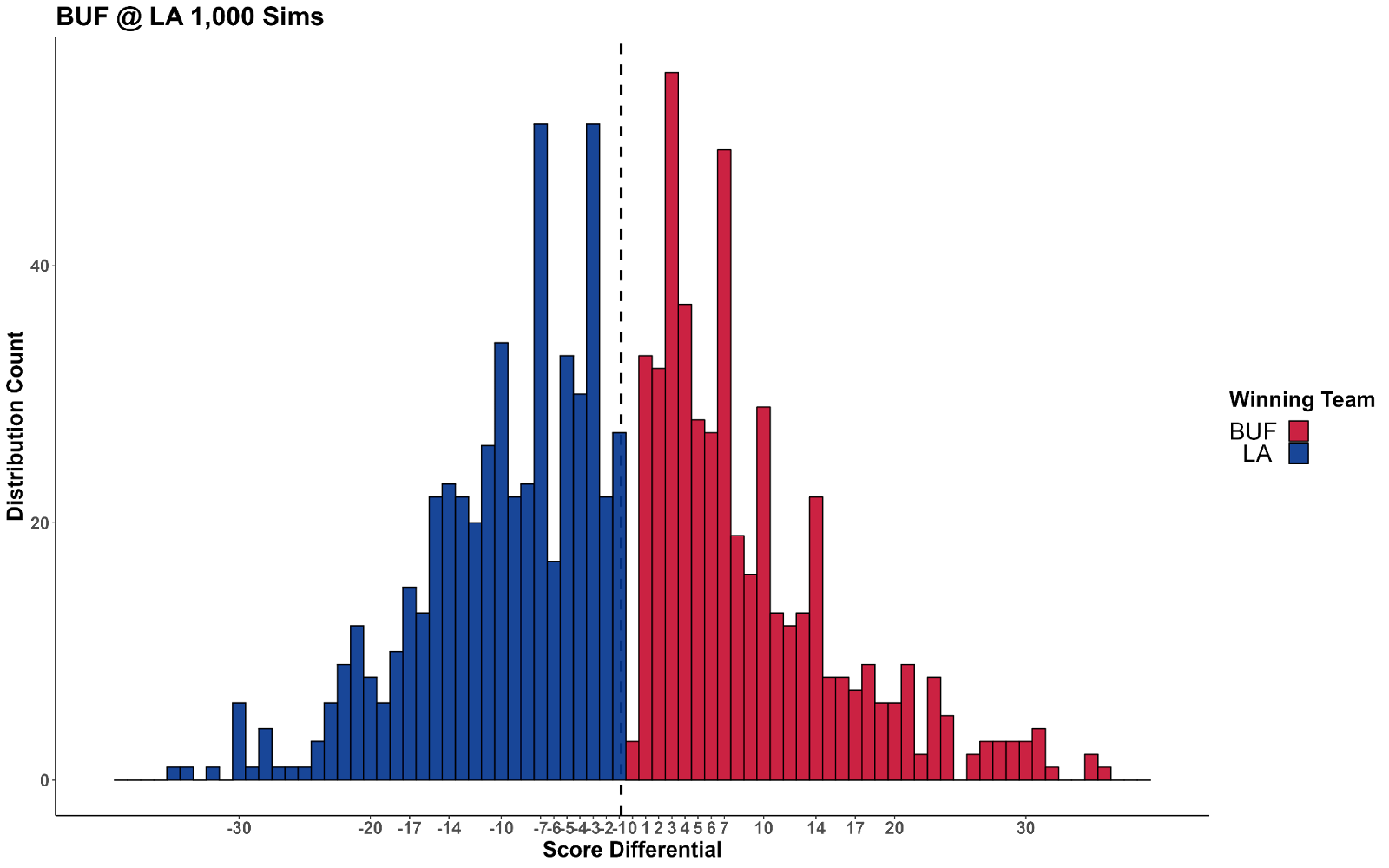 The simulated total hits a mean outcome of 53, slightly higher than the current betting market expectation. The most likely outcome based on PFF simulation is a game that lands on 57, with a high concentration of outcomes finishing between 56-58.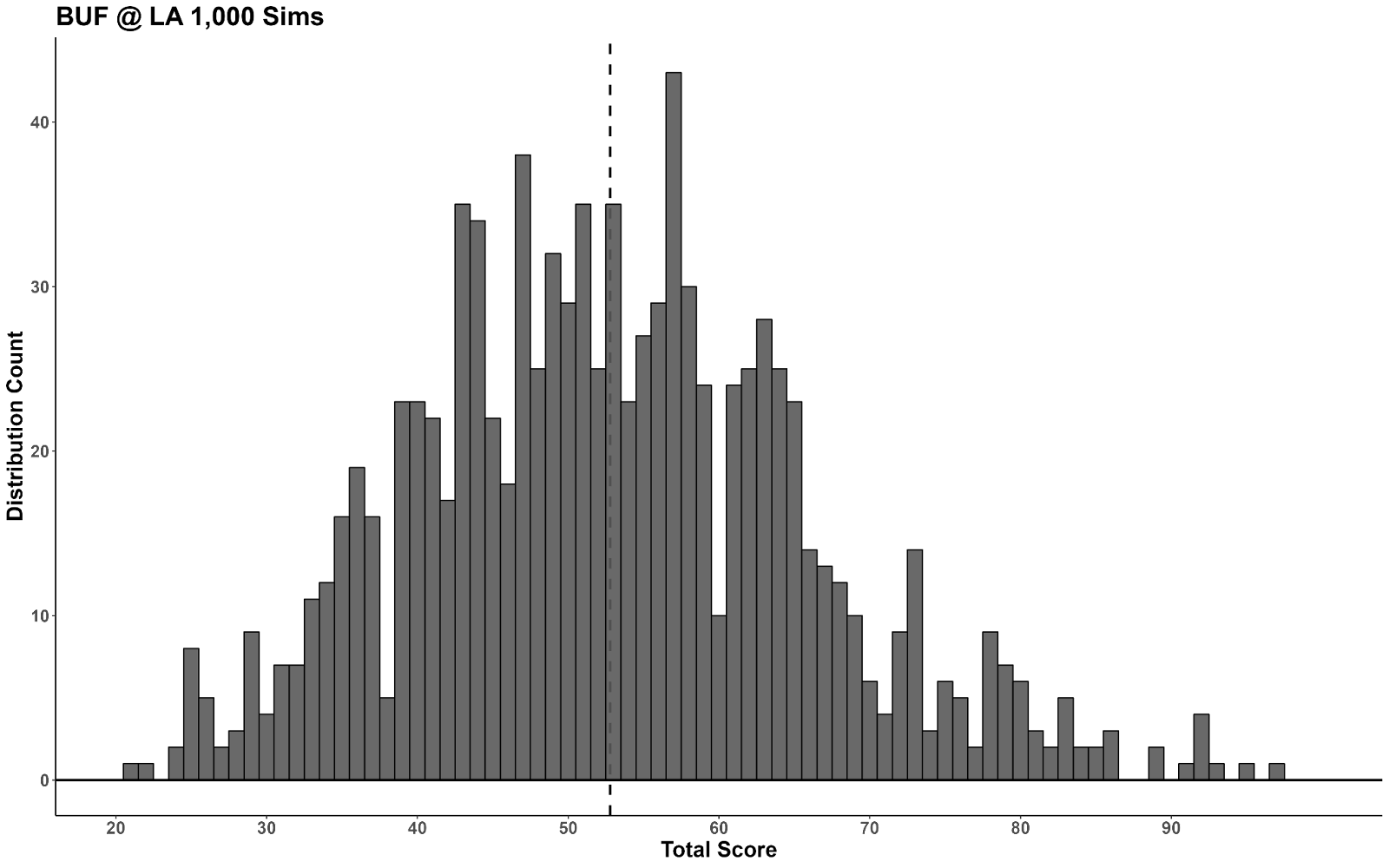 BET: Over 51.5 (PointsBet)
PLAYER PROPS
Player props continue to grab a bigger share of the attention and are one of the easiest transitions into sports betting, as fantasy applications are helpful for evaluating betting opportunities. 
Props are priced for a player's median stat projection in a simple, over-or-under, two-sided market. For historical context, unders are by far the most profitable angle to bet and could have been blindly bet toward the under on passing, rushing and receiving yardage props and been profitable.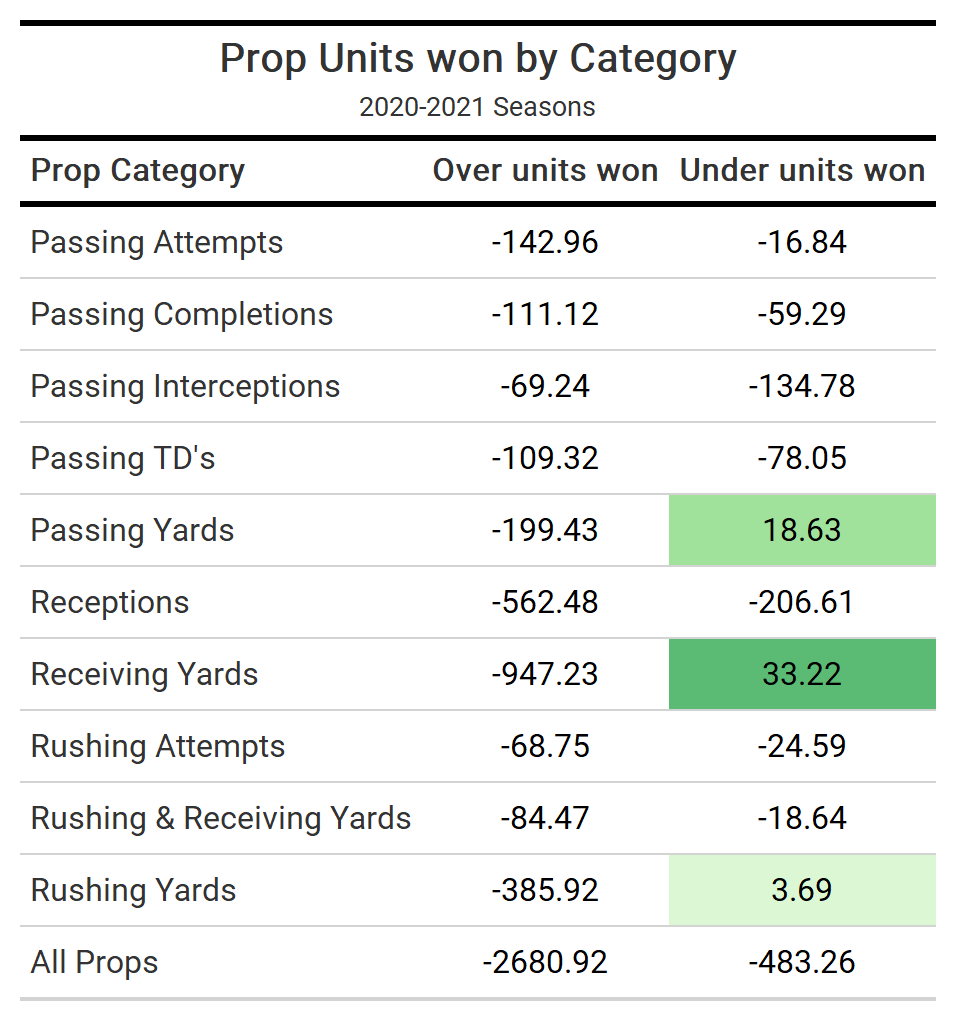 One way to consistently find defined edges without blindly betting unders is by utilizing PFF's player props tool. The ability to adjust both number and price means you are always certain of the expected value for each prop bet. Let's dive into the best player props to bet for the NFL Thursday-night kickoff game. 
BET: Josh Allen Under 6.5 Carries -110 on BetMGM
One of the most mispriced player props based on PFF's tool is Josh Allen to finish under 6.5 carries. At the -105 BetMGM price, we see an 8% edge based on the 51.2% breakeven probability. 
Our play-by-play simulation is even more bullish on the under, with a 66.7% probability that Allen finishes with six or fewer carries in this matchup.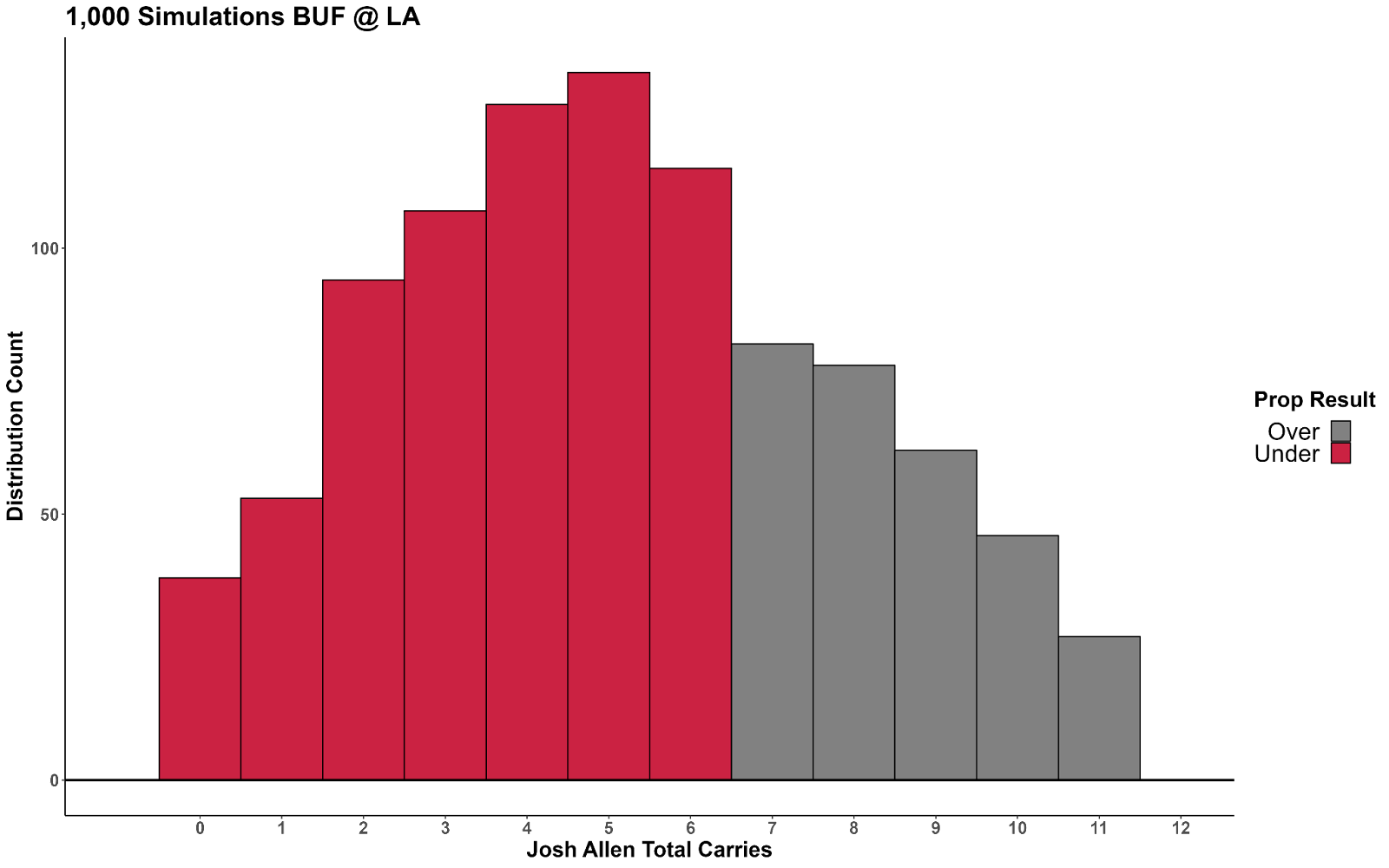 This prop will be determined by Josh Allen's scrambling and his ability to escape pressure and make plays with his legs. Facing off against the top-ranked pass rush unit in the NFL, the expectation is that the Rams don't need to blitz in order to get pressure on Allen. They ranked 11th in blitz percentage last year but backed off that approach when facing off against a mobile quarterback. Early in the season, especially if the Bills are playing from behind, expect Allen to make plays with his arm and not with his legs.
BET: Matthew Stafford Over 24.5 Completions -105 DraftKings
Matthew Stafford finished 10-11 going over his completion prop number in 2021. He lived in this range that books are offering in Week 1 from 23.5 to 25.5 with juice flipped on either side of the high- or low-range number. 
Week 1 in 2022 is setting up as a smash spot for Matthew Stafford, with the Bills sitting as a league-average coverage unit in 2021. Buffalo will be without Tre'Davious White and must choose between rookie options to replace him as number one cornerback. In a fast-paced game that we project to go over, Stafford could easily clear this number on quick-hitting pass attempts to his favorite receiver. There are lower numbers offered at other books (23.5 at PointsBet), but the superior odds and our distribution of outcomes make DraftKings the best book to target this number.  
DERIVATIVE BETS & SAME-GAME PARLAY 
Same-game parlays captivated the betting audience the past two seasons and continue to gain a market share for those looking to turn a small investment into a worthwhile return. In some ways, they are the new lottery ticket of sports betting, with books deriving a sizable return from their offerings. 
Bettors should be careful spending a large portion of their bankroll on these bets, but doing some research can provide the occasional opportunity. 
Using PFF's player prop tool and our latest play-by-play simulation, we can price out multiple leg outcomes and compare their likelihood to the price offered across books.
Our player props tool and simulation both like Matthew Stafford to go over his completion number as described above. The most likely way he does this is a high number of targets going toward Cooper Kupp. It was the Rams' recipe for success last year, and against an inexperienced cornerback unit, will be the key to a home victory on Thursday night. 
Based on PFF's play-by-play simulation, Stafford to get 25+ completions and Cooper Kupp to go for 105+ receiving yards and a touchdown happens 19.1% of simulations. This is a little light on BetMGM offering +375 odds when PFF's number is +424. The pivot appears to be Cooper Kupp to score the first team touchdown for the Rams, which moves up the odds on this same-game parlay to +725. In our simulation, Kupp scores the first team touchdown enough times to make this a worthwhile dart throw given the odds. 
ONE-GAME PARLAY:
Matthew Stafford: 25+ Completions
Cooper Kupp: 105+ Receiving Yards
Cooper Kupp: First team TD
Odds: +700 (BetMGM)