• The Rams' defense could set Matthew Stafford up for a big season: A "big season" doesn't mean an efficient one, mind you. But, luckily, garbage time yardage still counts toward a quarterback's passing yards total.
• Commanders WR Terry McLaurin's injury makes the under on his reception total an intriguing bet: FanDuel Sportsbook has McLaurin's pre-season reception total installed at 69.5. However, the potential for missed time and an emerging Jahan Dotson makes the under look very appealing.
• Dominate your fantasy league in 2023: For up-to-date fantasy draft rankings and projections, check out PFF's fantasy rankings tool!
Estimated Reading Time: 5 minutes
---
We're less than a week out from the 2023 NFL season kicking off, which means bettors are running out of time to lock in some of their favorite season-long player prop bets. One tool to potentially use to evaluate the edge — or lack thereof — for any player's season totals is projections.
Here is a look at some of the best season-long player prop futures bets available on FanDuel based on PFF's 2023 fantasy projections.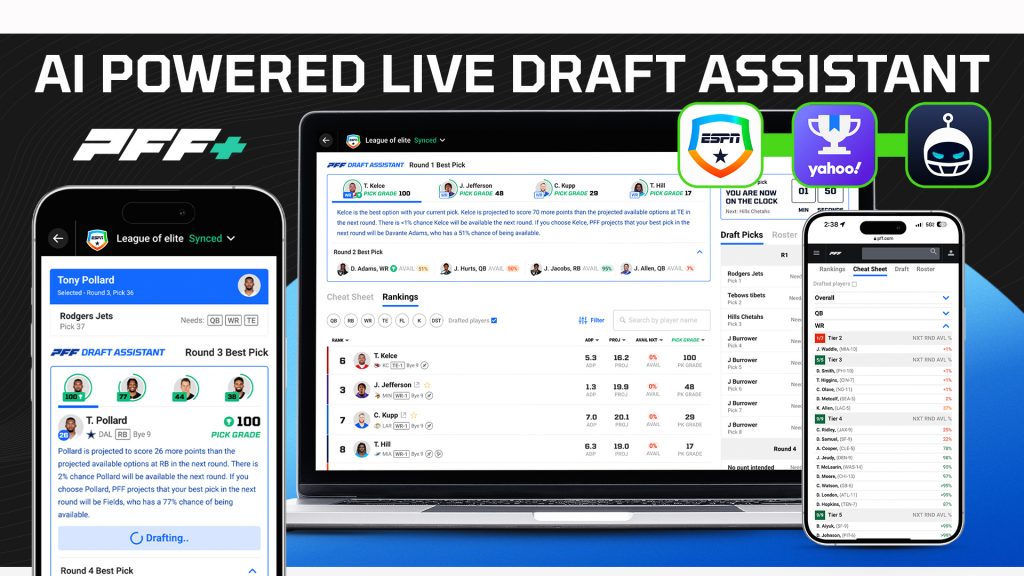 ---
The bet: Over 3550.5 passing yards
PFF projected passing total: 4,147 passing yards, 22.6 pass TD
Sure, Rams quarterback Matthew Stafford might be struggling to relate to his peers in the locker room or remember their names, for that matter. That doesn't mean he can't connect with them at some point, right?
There are a lot of questions looming for the Rams ahead of the 2023 season, most notably a soft-tissue injury to All-Pro wide receiver Cooper Kupp. Though an injury to Kupp among an already extremely young receiving corps would be disastrous for Stafford's efficiency, Los Angeles' shaky defense should give bettors the confidence that he can exceed his line of 3,550.5 passing yards in 2023. Consider the fact that seven of the 25 defenders to make it onto the Rams' 53-man roster are rookies. Three of those seven are undrafted free agents.
This Rams unit should be playing from behind a lot in 2023, padding Stafford's stats with plenty of garbage-time yardage. There has yet to be a single season that Stafford hasn't exceeded this yardage total when not missing any games. And only once has he not exceeded the 209 pass yards per game average that would be required for him to surpass this total ahead of 2023.
---
The bet: Over 1,100.5 rushing yards
PFF projected rushing total: 1,351 yards, 10.2 TD
The Falcons drafted "generational" running back Bijan Robinson with the No. 8 overall pick in 2023, and that's not a move they make if they're not planning to give him touches. Despite being installed as the odds-favorite to win the NFL's Offensive Rookie of the Year award at +300, Robinson is projected for 1,100.5 rushing yards, which would have ranked 10th among running backs in the 2022 season.
He is in an ideal situation with one of the league's most efficient run games under Arthur Smith. Robinson's projected 291 rush attempts ranks second in the league for 2023, behind only Titans running back Derrick Henry, which would have him in line for a 52% market share on rush attempts based on last season's totals. Even if the team's total passing volume increases a bit with the transition from Marcus Mariota to Desmond Ridder as the full-time starter at quarterback, anything less than 1,100 rushing yards for Robinson in 2023 would be a disappointment.
---
The bet: Over 850.5 rushing yards
PFF projected rushing total: 1,099 rushing yards, 6.2 TD
Second-year running back Dameon Pierce emerged from the 2023 offseason as one of the biggest winners, with the team not selecting a running back in the 2023 NFL Draft and showing a clear commitment to him as the definitive RB1 throughout the preseason. With rookie quarterback C.J. Stroud set to start this season under defensive-minded head coach DeMeco Ryans, expect a continued emphasis on the run to help Pierce's cause.
Pierce ranked eighth among running backs last season in touches per game (19.23). He also exceeded his installed rushing total by 88 yards despite missing four games with an ankle injury. Are bettors really supposed to buy that Pierce is somehow in a worse position to rack up yardage than he was during his rookie season? No. Smash the over.
---
The bet: Under 69.5 receptions
PFF projection: 95.7 targets, 60.5 receptions for 843 receiving yards, 4.0 TD
It's a bit surprising there are any Terry McLaurin bets left up on the board, given he's managing a turf toe injury that could leave him out of the lineup for Week 1 (and maybe longer). PFF's projections have second-year wide receiver Jahan Dotson slated to take a step forward in 2023, projecting him and McLaurin for 95 targets each.
Though this might feel a bit low for McLaurin, who's seen 120-plus targets in each of the past two seasons, Dotson's first-round draft capital, his growing rapport with quarterback Sam Howell and McLaurin's injury make that projection a bit more reasonable. Even if we're projecting McLaurin to meet his career-high 64.9% catch rate on 95 targets, he'd still fall eight catches short, making the under on 69.5 receptions a great bet.
---
The bet: Over 650.5 receiving yards
PFF projection: 86.6 targets, 57.9 receptions for 750.3 receiving yards, 4.7 TD
The Giants have a new WR1 in town. His name is … tight end Darren Waller. In a bone-dry wide receiver free agency class, New York traded a third-round pick to acquire Waller from the Raiders earlier this offseason. Word on the street? Daniel Jones really, really, really likes the dude. It's not difficult to see why, either, even if Waller has struggled to remain healthy, having missed 14 games over the past two seasons. 
Dating back to 2019, Waller has averaged 65.3 receiving yards per game, which ranks third among tight ends — behind just Travis Kelce and George Kittle. The key to this bet cashing will be Waller's health, but if he stays on the field, consider it one of the easiest wagers you'll make this year. He has surpassed this yardage total in three of the past four seasons.