The eighth week of action in the Alliance of American Football's first season is in the books, as are our grades for every player on every play of every game. Mirroring our Team of the Week from the NFL side of things, this season we'll award players to our team of the week in an attempt to shed light on the top performances from the previous weekend's slate of action.
The team format will match the All-Pro system when it comes to offensive and defensive formation, with a flex player for both sides of the ball that can be either a receiver, slot weapon, tight end or running back on offense, and anybody in the defensive secondary on defense. This gives us the flexibility to reward the player that best deserves it across multiple positions, rather than shoehorning in somebody just to fit a slot receiver or cornerback role.
We lend some weight to playing time, and a variety of factors are considered, but these will largely be the best-graded players at their respective positions throughout the league.

Offense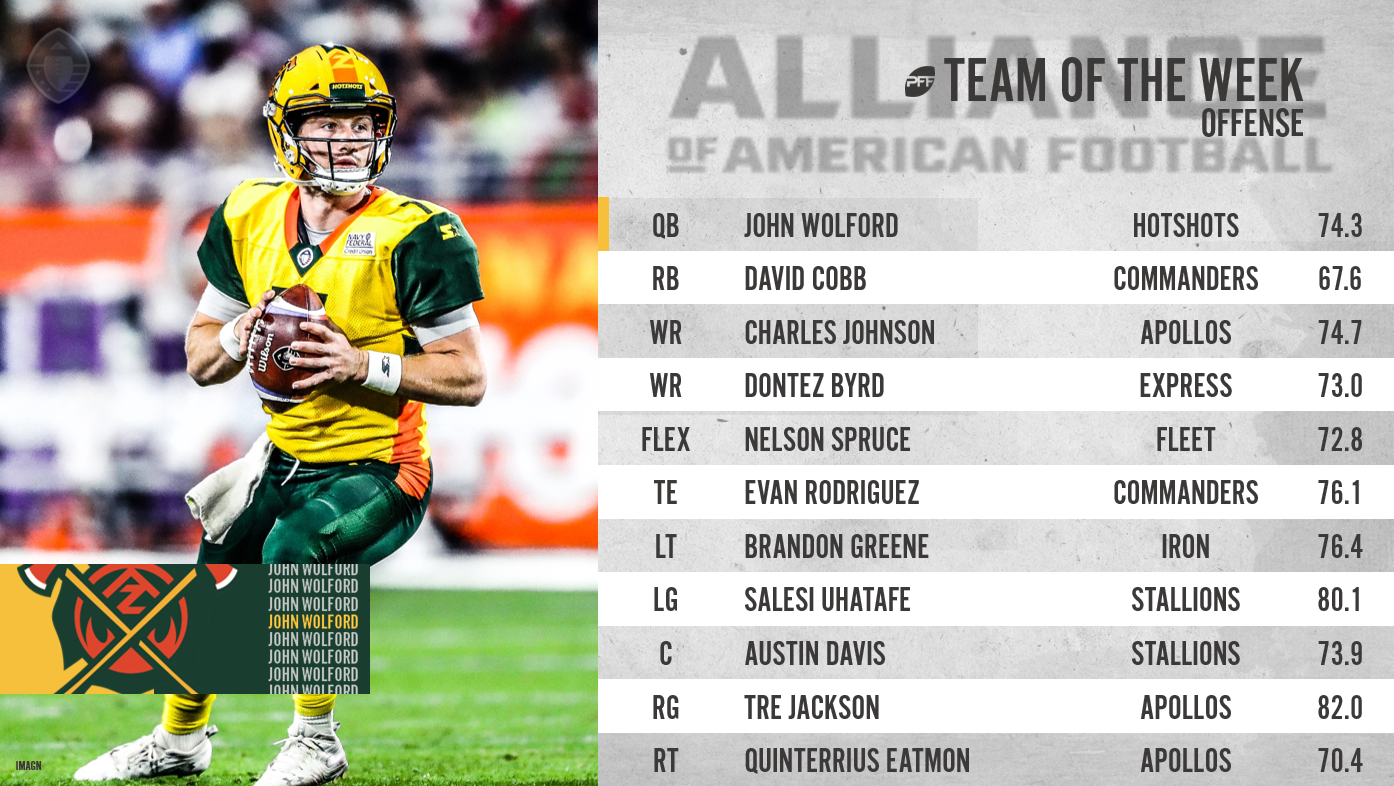 Quarterback
John Wolford, Arizona Hotshots – 74.3 overall grade
Wolford had an efficient outing, completing 70.8% of his passes but as he was hit as he threw once, had two passes dropped and another batted at the line of scrimmage, his adjusted completion percentage of 85.7% tied for tops in the league in Week 8.
Running back
David Cobb, San Antonio Commanders – 67.6 overall grade
There were no real dominant rushing efforts in Week 8 and Cobb takes home RB of the Week just purely based off the fact that on four of his nine carries, he recorded a first down, and despite just nine attempts, he led the league with 45 yards after contact.
Wide receiver
Charles Johnson, Orlando Apollos – 74.7 overall grade
The league's highest-graded receiver hauled in 8-of-12 targets for 135 yards and a score. Four of his receptions allowed moved the chains and his 41 yards after the catch made up for two costly drops.
Wide receiver
Dontez Byrd, Memphis Express – 73.0 overall grade
Byrd caught five passes for 52 yards and a score, while three more of his receptions moved the chains in the Express' upset bid (that was ultimately unsuccessful) against Orlando.
Flex O
Nelson Spruce, San Diego Fleet – 72.8 overall grade
Spruce was targeted a league-high 15 times and he made the most of them when he could, gaining four first downs and 79 yards that including 26 yards after the catch.
Tight end
Evan Rodriguez, San Antonio Commanders – 76.1 overall grade
Rodriguez led all AAF tight ends in overall grade and did so with 35 yards receiving and plus grades in pass protection and run-blocking. On 28 run-blocking snaps, he put forth the league's top run-blocking grade at tight end (77.7).
Left tackle
Brandon Greene, Birmingham Iron – 76.4 overall grade
Greene's 86.7 pass-blocking grade was more nearly 10-grade points higher than his closest counterpart as he allowed just a single hurry from the left tackle spot on 36 snaps in pass protection.
Left guard
Salesi Uhatafe, Salt Lake Stallions – 80.1 overall grade
It was Uhatafe's run-blocking prowess that sees him land here as his 80.0 run-blocking grade was first among left guards by a long shot.
Center
Austin Davis, Salt Lake Stallions – 73.9 overall grade
On 22 pass-blocking snaps, Davis did not allow a pressure while he put forth the center position's third-highest run-blocking grade in Week 8.
Right guard
Tre Jackson, Orlando Apollos – 82.0 overall grade
Jackson did not allow a single pressure on 48 snaps in pass protection and had the league's third-highest run-blocking grade among all guards.
Right tackle
Quinterrius Eatmon, Orlando Apollos – 70.4 overall grade
Eatmon's positive grades in pass protection (No. 2 among RTs) and blocking for the run (No. 2 among RTs) paced the all-around effort that saw him finish as the highest-graded overall right tackle.
Defense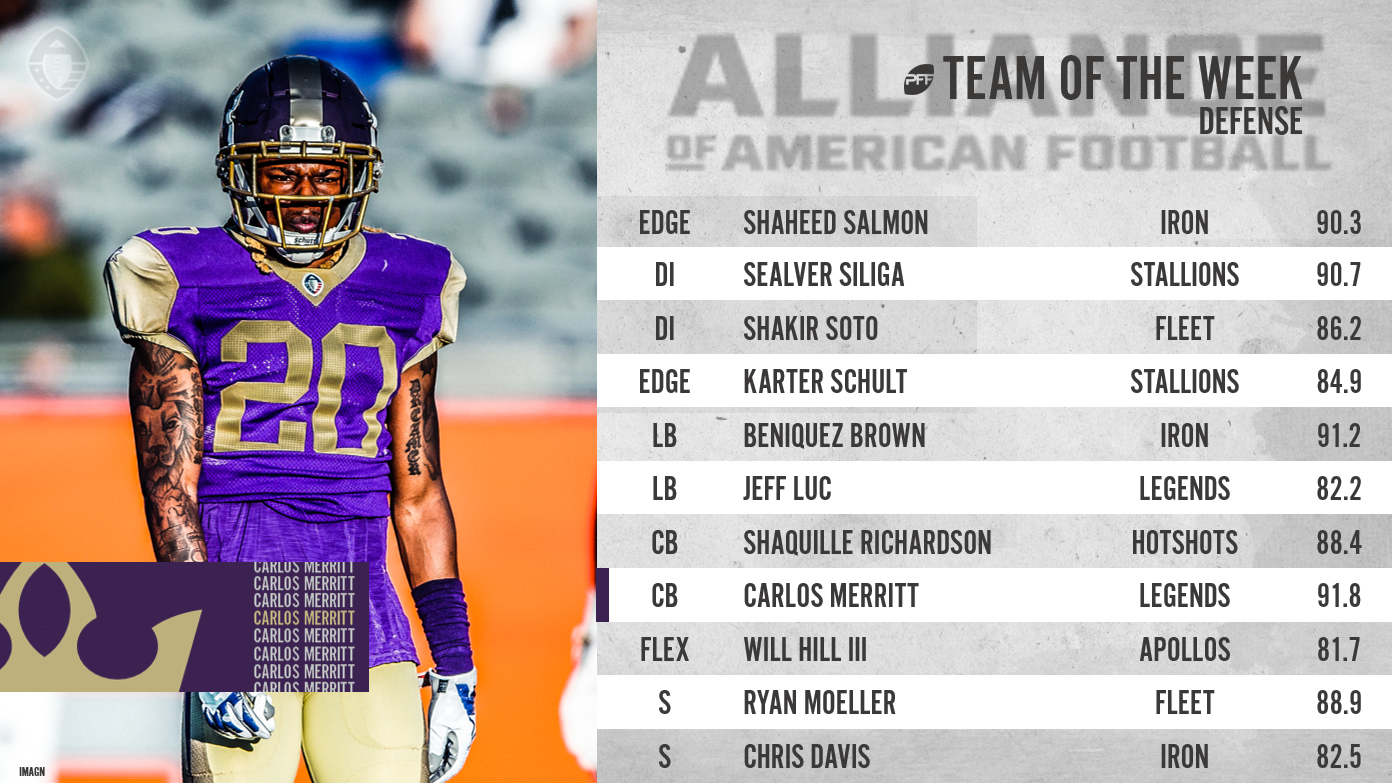 Edge defender
Shaheed Salmon, Birmingham Iron – 90.3 overall grade
Salmon was a force in both run defense and when dropping into coverage, making six solo tackles and four defensive stops while allowed just 18 yards receiving on his 23 snaps in coverage.
Defensive interior
Sealver Siliga, Salt Lake Stallions – 90.7 overall grade
On 39 pass-rushing snaps, Siliga brought home four pressures and a batted pass while in run defense, he forced a fumble and his lone solo tackle when for a defensive stop.
Defensive interior
Shakir Soto, San Diego Fleet – 86.2 overall grade
With just his 19 snaps in run defense, Soto racked up two defensive stops and did not miss a single tackle.
Edge defender
Karter Schult, Salt Lake Stallions – 84.9 overall grade
Schult, once again, dominated on the pass-rush, leading the way this week with seven pressures that included four QB hits. He had three defensive stops on only nine run-defense snaps to boot.
Linebacker
Beniquez Brown, Birmingham Iron – 91.2 overall grade
Another lesser-known Iron defensive player stepping up, Brown recorded two pressures on just eight pass-rushes while he was also a stalwart in coverage. On just a single target as the primary coverage defender on 34 snaps, he still managed to get his hands on three pass breakups as he flew all over the field.
Linebacker
Jeff Luc, Atlanta Legends – 82.2 overall grade
Needing just six pass-rushing snaps to do his damage, Luc recorded three sacks and five total defensive stops in the game for the Legends. In coverage, despite allowing six receptions, he limited those to just 15 yards after the catch.
Cornerback
Shaquille Richardson, Arizona Hotshots – 88.4 overall grade
Richardson spent 43 snaps in coverage and was targeted just three times. He allowed one reception on those targets for a mere 11 yards while he broke up one of the others.
Cornerback
Carlos Merritt, Atlanta Legends – 91.8 overall grade
Merritt was only targeted twice, breaking up one and not allowing the other to be caught. He allowed a quarterback rating of just 39.6 on throws his direction, the same rating a quarterback would see if he threw the ball into the dirt instead.
Flex D
Will Hill III, Orlando Apollos – 81.7 overall grade
Hill played downhill, per his usual standards, making two defensive stops and allowing just 13 yards into his primary coverage. He recorded a pass breakup and had an interception that all helped offset his two missed tackles against Memphis.
Safety
Ryan Moeller, San Diego Fleet – 88.9 overall grade
Moeller was solid in coverage and once again found himself in the right place at the right time, intercepting two passes on 29 snaps in coverage. He recorded six total tackles without a miss as well.
Safety
Chris Davis, Birmingham Iron – 82.5 overall grade
Recording a defensive stop and a forced fumble, Davis also did work in coverage for the Iron, limiting receivers to just eight yards on three targets as the primary coverage defender.