The seventh week of action in the Alliance of American Football's first season is in the books, as are our grades for every player on every play of every game. Mirroring our Team of the Week from the NFL side of things, this season we'll award players to our team of the week in an attempt to shed light on the top performances from the previous weekend's slate of action.
The team format will match the All-Pro system when it comes to offensive and defensive formation, with a flex player for both sides of the ball that can be either a receiver, slot weapon, tight end or running back on offense, and anybody in the defensive secondary on defense. This gives us the flexibility to reward the player that best deserves it across multiple positions, rather than shoehorning in somebody just to fit a slot receiver or cornerback role.
We lend some weight to playing time, and a variety of factors are considered, but these will largely be the best-graded players at their respective positions throughout the league.

Offense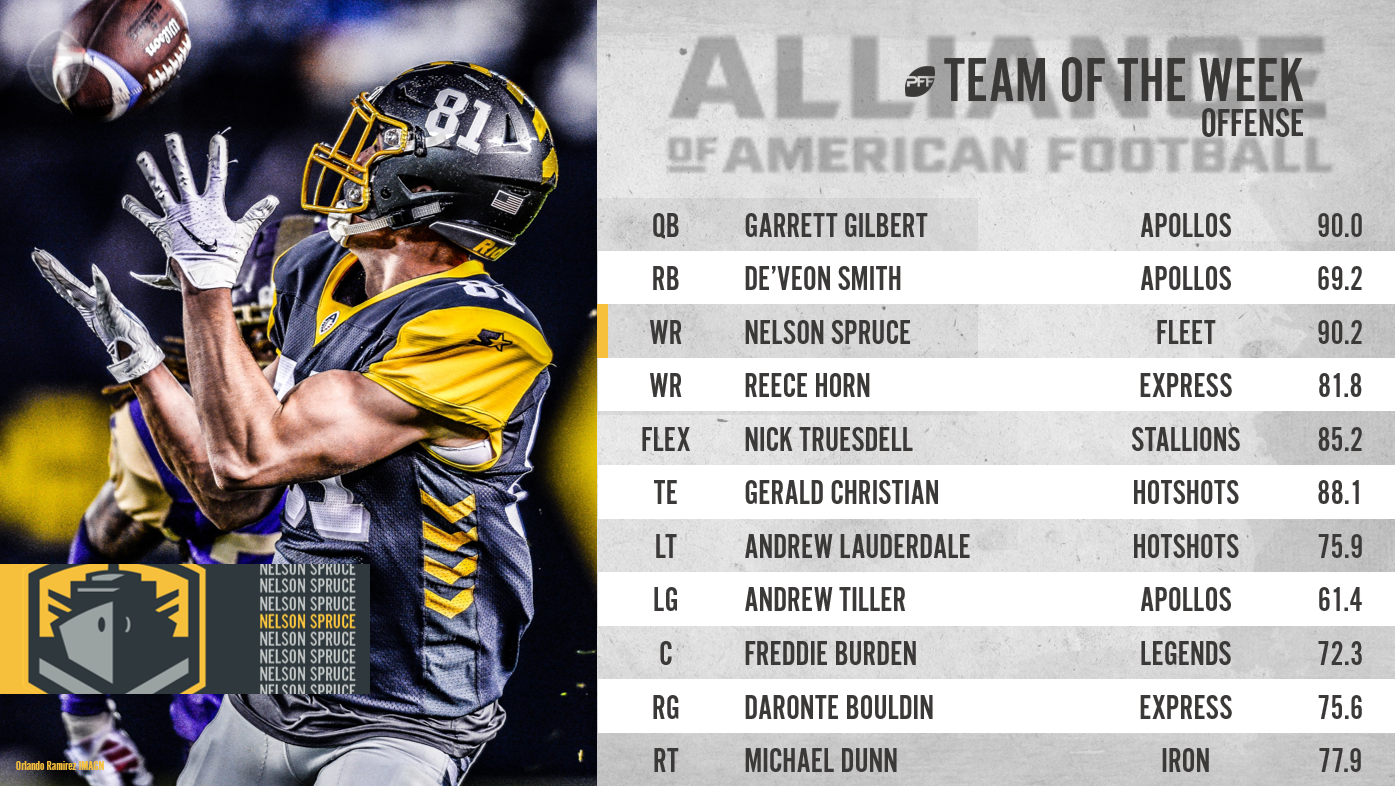 Quarterback
Garrett Gilbert, Orlando Apollos – 90.0 overall grade
Gilbert was as sharp as ever, throwing just four incompletions in the big win over Atlanta. He rebounded nicely after the first loss of the season and of those incompletions, three of them weren't his fault as two were throwaways and another was a drop. He remains the AAF's highest-graded quarterback through seven weeks.
Running back
De'Veon Smith, Orlando Apollos – 69.2 overall grade
Smith toted the rock 15 times for just 40 yards but it was his work in the trenches that got him here. He scored three touchdowns and broke a league-leading four tackles on his carries as he actually gained more yards after contact (45) than he had total rushing yards on Saturday.
Wide receiver
Nelson Spruce, San Diego Fleet – 90.2 overall grade
Spruce's game grade would have been even higher had it not been for a fumble but he still performed at a high level despite the loss. On 14 targets, he hauled in 12 receptions for 146 yards and racked up 62 yards after the catch. His seven first-down receptions led the league this weekend.
Wide receiver
Reece Horn, Memphis Express – 81.8 overall grade
Johnny Manziel took the headlines but Horn's performance in the Express' come-from-behind win over Birmingham was terrific. He hauled in seven receptions for 113 yards and a score with an additional five first-down catches and a ridiculous 155.8 passer rating when targeted.
Flex O
Nick Truesdell, Salt Lake Stallions – 85.2 overall grade
Truesdell led the league's tight ends with four receptions and 74 yards as he broke a tackle and averaged 10.8 yards after the catch per reception. Combine that with plus-grades in run-blocking
Tight end
Gerald Christian, Arizona Hotshots – 88.1 overall grade
While Christian hauled in only 22 yards on two receptions, his work in pass protection and in the run game give him a spot here. On 19 run-blocking snaps, he put forth the league's third-highest run-blocking grade among qualifying tight ends and a top half pass-blocking grade.
Left tackle
Andrew Lauderdale, Arizona Hotshots – 75.9 overall grade
Lauderdale bounced around at left and right tackle, but it didn't seem to matter as he did not allow a single pressure on 15 pass-blocking snaps and had the league's highest run-blocking grade at tackle.
Left guard
Andrew Tiller, Orlando Apollos – 61.4 overall grade
Tiller finished with the league's second-highest pass protection grade which more than made up for his lacking in run blocking. He didn't allow a single pressure on 26 snaps in pass protection.
Center
Freddie Burden, Atlanta Legends – 72.3 overall grade
Combining the highest pass-blocking grade and the second-highest run-blocking grade, Burden once again put forth an all-around game for the Legends despite some shaky blocking next to him. He's been a bright spot on the Legends offensively this season.
Right guard
Daronte Bouldin, Memphis Express – 75.6 overall grade
Bouldin allowed a single pressure on his 50 snaps in pass protection and put forth the league's seventh-highest run-blocking grade among all linemen.
Right tackle
Michael Dunn, Birmingham Iron – 77.9 overall grade
Dunn allowed three pressures on his 53 pass-blocking snaps but was absolutely dominant on run blocks. His 85.2 run-blocking grade was by far the highest among any offensive lineman in Week 7.
Defense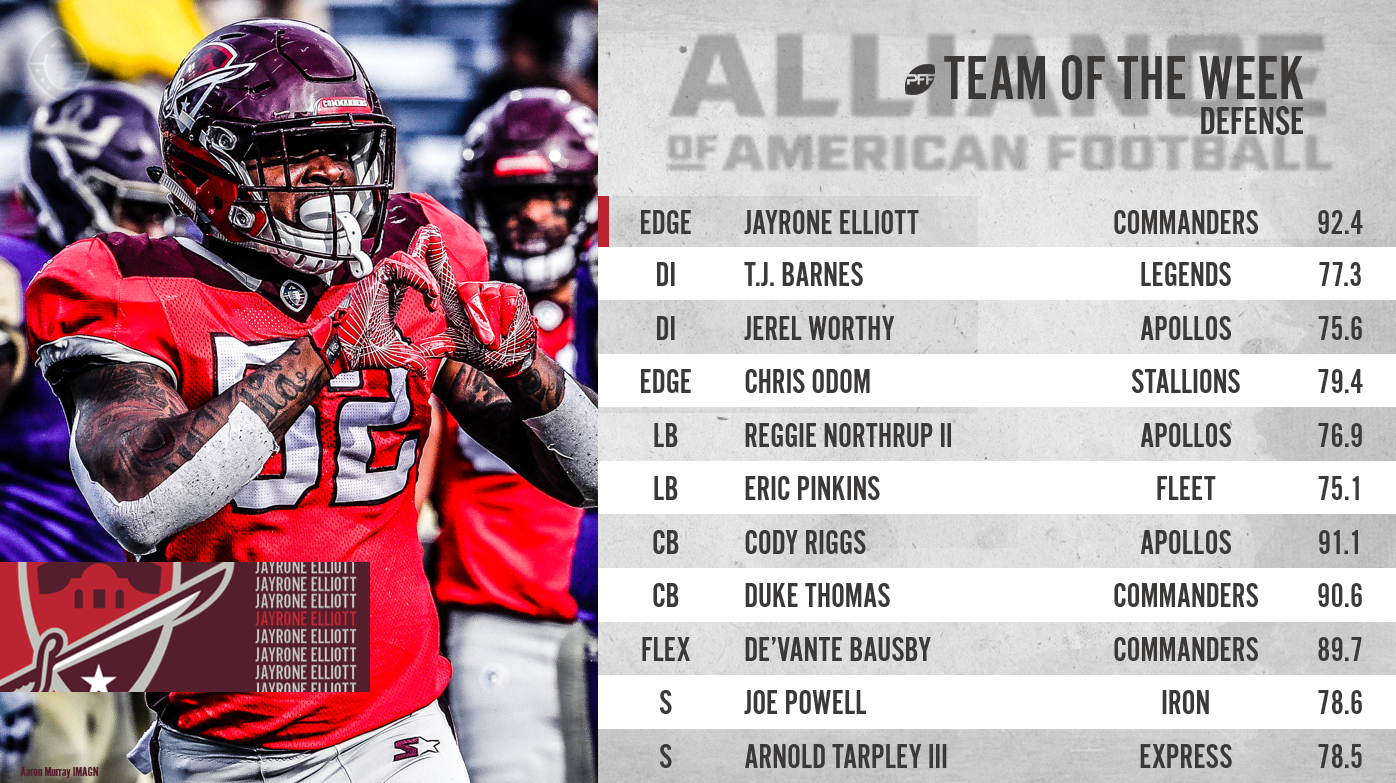 Edge defender
Jayrone Elliott, San Antonio Commanders – 92.4 overall grade
Elliott was a force against the pass for the Commanders. On just 22 pass-rushes, he recorded five pressures including a sack and a QB hit. His three defensive stops were the third-most among edge defenders this week and he forced a fumble to round out his day.
Defensive interior
T.J. Barnes, Atlanta Legends – 77.3 overall grade
Registering just a single tackle and a single pressure doesn't seem like much but that's how effective Barnes was despite the loss for the Legends. At times he seemed unblockable but was suspect to the Apollos quick passing game before a pressure could register.
Defensive interior
Jerel Worthy, Orlando Apollos – 75.6 overall grade
Worthy recorded two QB pressures on just 16 pass-rushes and made two defensive stops against the run. Not bad for a guy who played only 29 snaps in the decisive win for Orlando.
Edge defender
Chris Odom, Salt Lake Stallions – 79.4 overall grade
Odom needed just 14 pass-rushes to record two pressures and just 25 total snaps to make his impact felt. His three defensive stops tied Elliott for third most this weekend.
Linebacker
Reggie Northrup II, Orlando Apollos – 76.9 overall grade
Flying to the ball like his days at Florida State, Northrup made a ridiculous five defensive stops while he limited receivers in his coverage to just 38 yards on 36 snaps against the pass. His eight total tackles help tell a part of the story as he was seemingly all over the field for Orlando.
Linebacker
Eric Pinkins, San Diego Fleet – 75.1 overall grade
Pinkins put forth a strong outing, playing tight coverage for the Fleet as well as putting for strong grades across the field. On 13 snaps in coverage, he wasn't even targeted while he made a defensive stop and five total tackles without a miss.
Cornerback
Cody Riggs, Orlando Apollos – 91.1 overall grade
The Apollos are once again represented on the CB of the week list after missing out for the first time all season a week ago. It shows how valuable coverage is in today's football as Riggs allowed just three receptions on six targets and had an interception and a pass breakup to tally just a 22.2 passer rating when targeted.
Cornerback
Duke Thomas, San Antonio Commanders – 90.6 overall grade
Thomas was also extremely impressive in coverage, allowing just 20.0% of the targets into his primary coverage to be caught. He saw five passes come his way, allowed just one reception, intercepted another and broke up two more. All told, he allowed a passer rating of 0.0 into his coverage.
Flex D
De'Vante Bausby, San Antonio Commanders – 89.7 overall grade
Bausby sealed the deal for the Commanders with his 2-point conversion 'pick-6' as he also had quite the day in coverage elsewhere. On five total targets, he allowed just 22 yards and limited receivers to no yards after the catch.
Safety
Joe Powell, Birmingham Iron – 78.6 overall grade
Powell was kept relatively quiet for the Iron and may have missed out on the 'flash plays' that make safeties famous, but for those reasons, he earns his spot here. He was rarely out of position and on the lone target sent into his coverage, he broke up the pass.
Safety
Arnold Tarpley III, Memphis Express – 78.5 overall grade
Tarpley broke up a pass in coverage but it was his effort across the field that sees him here. He made four total tackles and limited mistakes, including no missed tackles in both the passing game and in run defense.