The fourth week of action in the Alliance of American Football's first season is in the books, as are our grades for every player on every play of every game. Mirroring our Team of the Week from the NFL side of things, this season we'll award players to our team of the week in an attempt to shed light on the top performances from the previous weekend's slate of action.
The team format will match the All-Pro system when it comes to offensive and defensive formation, with a flex player for both sides of the ball that can be either a receiver, slot weapon, tight end or running back on offense, and anybody in the defensive secondary on defense. This gives us the flexibility to reward the player that best deserves it across multiple positions, rather than shoehorning in somebody just to fit a slot receiver or cornerback role.
We lend some weight to playing time, and a variety of factors are considered, but these will largely be the best-graded players at their respective positions throughout the league.

Offense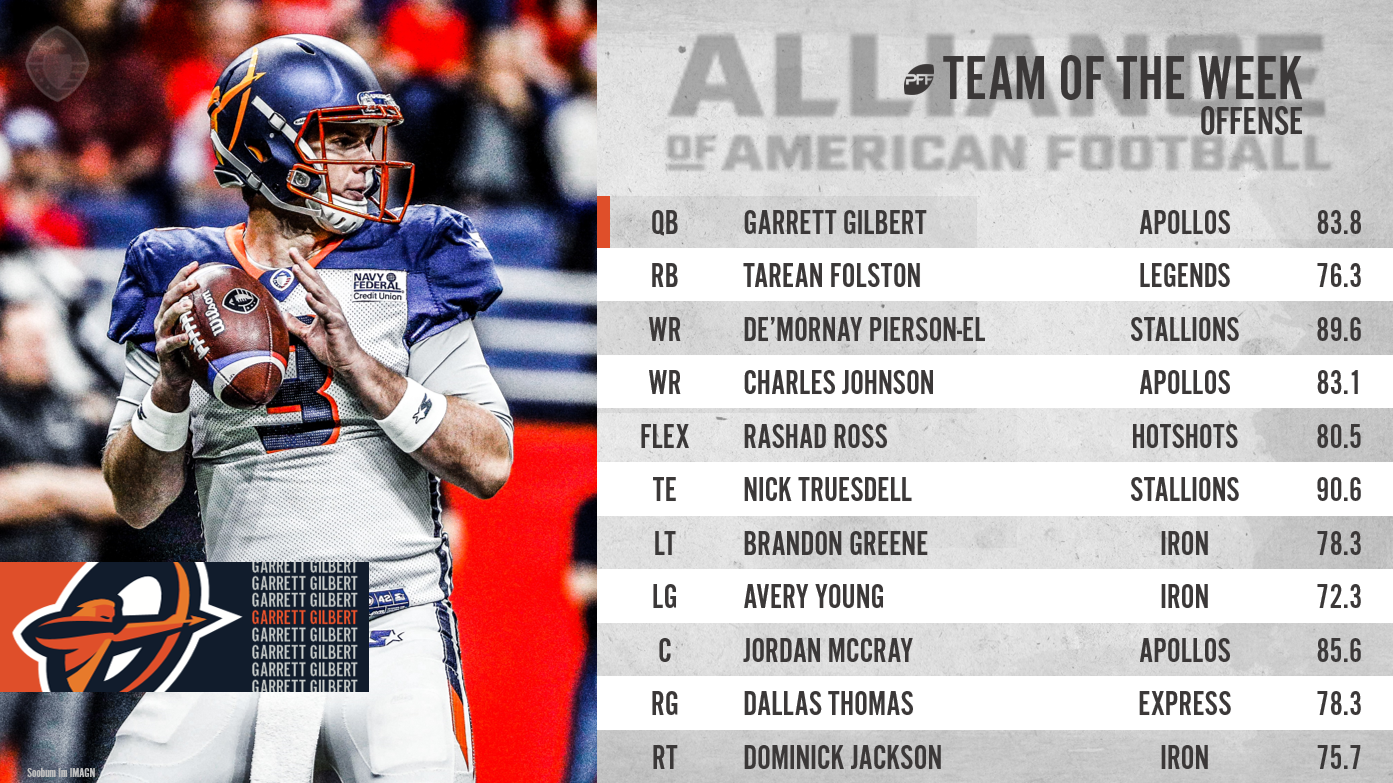 Quarterback
Garrett Gilbert, Orlando Apollos – 83.8 overall grade
The league's top-graded quarterback was at it again, completing his passes at a high rate while testing the defense at the right time and maintaining the pace of the game for the Apollos. If he keeps this rate of play up, there's a legitimate chance Orlando could run the table through the whole season.
Running back
Tarean Folston, Atlanta Legends – 76.3 overall grade
Folston again looked sharp as the Legends got their second win in as many weeks with Ken Zampese at offensive coordinator. Folston toted the ball just 11 times but etched out 83 yards that included six first-down runs, five missed tackles forced and 24 yards after contact.
Wide receiver
De'Mornay Pierson-El, Salt Lake Stallions – 89.6 overall grade
It didn't quite go the way of the Stallions on Saturday, but in their comeback effort, Pierson-El was dominant. He hauled in 130 yards on eight catches, six of which went for a first down and broke four missed tackles after the catch for the league's top grade from a receiver in Week 5.
Wide receiver
Charles Johnson, Orlando Apollos – 83.1 overall grade
Johnson and Gilbert keep their respective places on the team of the week, as Johnson went for 83 yards on six catches and a touchdown. He has now hauled in at least 50 yards and three catches in every game this season as he leads the league in receptions and yards.
Flex O
Rashad Ross, Arizona Hotshots – 80.5 overall grade
Ross is the AAF's league leader in receiving touchdowns, scoring his sixth of the year in the Hotshots come-from-behind attempt against San Antonio. Despite the loss, Ross still managed 106 yards on just five catches and saw a whopping 153.3 passer rating when targeted in Week 5.
Tight end
Nick Truesdell, Salt Lake Stallions – 90.6 overall grade
The AAF has been lacking in tight end production through five weeks but that changed in Week 5. Truesdell secured one of the four touchdowns by a tight end, doubling the number of touchdowns scored by tight ends through the first four weeks. Truesdell brought down six receptions for a touchdown and three additional first downs on the evening.
Left tackle
Brandon Greene, Birmingham Iron – 78.3 overall grade
Greene was solid across the board despite allowing a sack in pass protection. He finished with the league's second-highest pass-blocking grade and third-highest run-blocking grade among tackles in Week 5.
Left guard
Avery Young, Birmingham Iron – 72.3 overall grade
Young played a little bit of both guard spots for the Iron this weekend and was strong no matter where he suited up.  His 83.6 pass-blocking grade was the second best at any position along the offensive line this weekend.
Center
Jordan McCray, Orlando Apollos – 85.6 overall grade
Finding his way back on the team of the week, McCray didn't allow a single pressure in pass protection while his 84.0 run-blocking grade was the best regardless of position among offensive linemen in Week 5.
Right guard
Dallas Thomas, Memphis Express – 78.3 overall grade
Thomas opened up holes left and right for the Express on the ground, leading the way with his 76.3 overall run-blocking grade. He also allowed just one pressure in pass protection.
Right tackle
Dominick Jackson, Birmingham Iron – 75.7 overall grade
Jackson was dominant in pass protection for the Iron, allowing just two pressures on his 46 snaps in pass protection.
Defense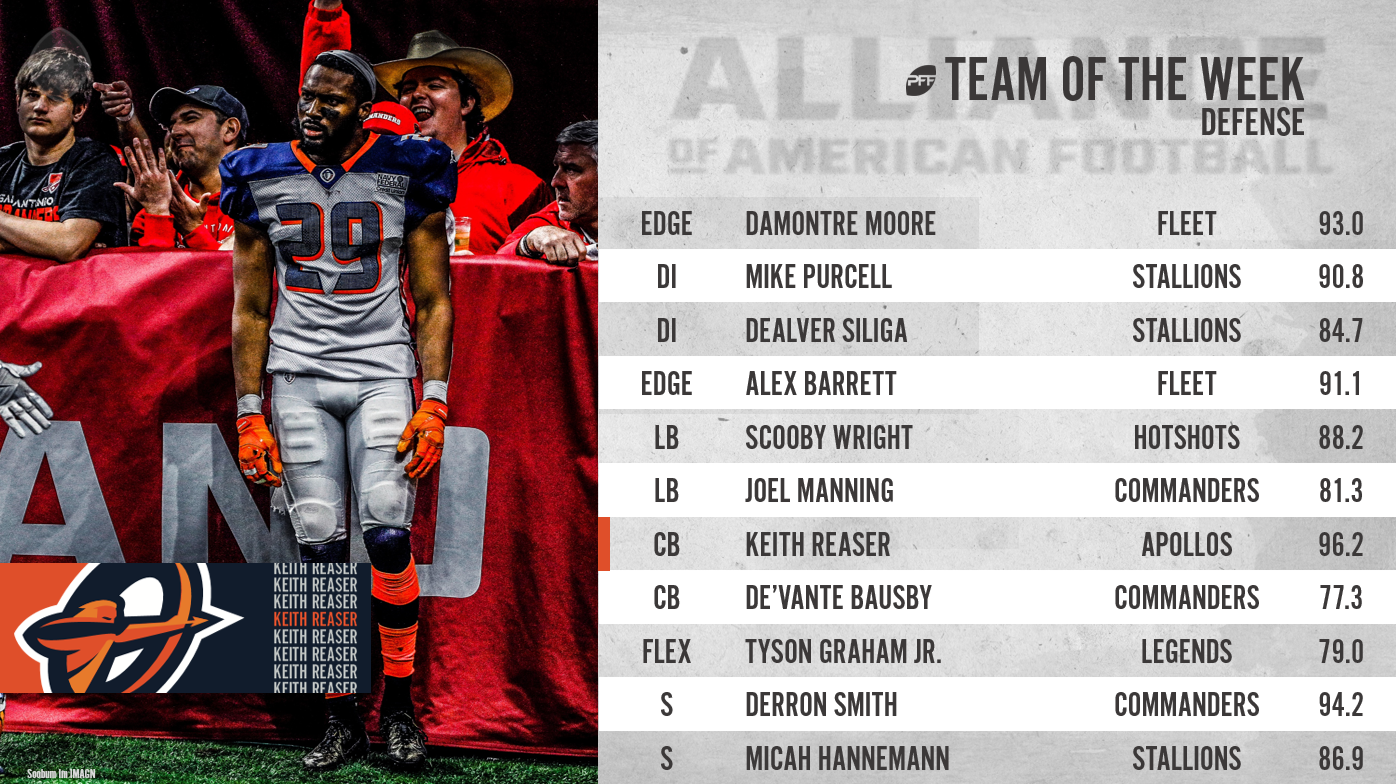 Edge defender
Damontre Moore, San Diego Fleet – 93.0 overall grade
Moore is making a case for defensive player of the year in the AAF, increasing his pressure total on the season to 27 with his 7-pressure performance against Salt Lake in Week 5. He got home with two sacks and three additional QB hits on just 38 pass-rushes this weekend.
Defensive interior
Mike Purcell, Salt Lake Stallions – 90.8 overall grade
Purcell is joined by his interior teammate as they led the Stallions defense despite the result. Purcell led all interior defensive linemen with six QB pressures that included three QB hits on his 40 pass-rushes.
Defensive interior
Sealver Siliga, Salt Lake Stallions – 84.7 overall grade
Siliga got it done on the pass-rush as well with four pressures, but his 90.4 elite run-defense grade was the best at the position this weekend.
Edge defender
Alex Barrett, San Diego Fleet – 91.1 overall grade
Barrett also got home with pressures but he made an even bigger impact in run defense for San Diego, leading the position with an elite 93.9 run-defense grade.
Linebacker
Scooby Wright, Arizona Hotshots – 88.2 overall grade
That's the Scooby we remember from his college days, flying around to the football like a man possessed. He recorded three solo tackles that went for two stops and limited receivers to just nine yards on his four targets, two receptions allowed stat line.
Linebacker
Joel Lanning, San Antonio Commanders – 81.3 overall grade
The former Iowa State quarterback looked the part of a run-stuffing linebacker for San Antonio, making three defensive stops and forcing a fumble on just 12 snaps against the run.
Cornerback
Keith Reaser, Orlando Apollos – 96.2 overall grade
For the fifth time in as many weeks, an Apollos cornerback finds their way on the team of the week. Reaser is by far the league's highest-graded player and making a case for MVP with his dominant season so far. His pick-6 was just another highlight-reel moment that will likely see him called back to the NFL in the near future.
Cornerback
De'Vante Bausby, San Antonio Commanders – 77.3 overall grade
Bausby was strong in coverage for San Antonio, seeing four passes come his way while intercepting one, breaking up another and allowed just eight yards on one catch. In total, his 0.0 passer rating when targeted matched Reaser's for best on the weekend.
Flex D
Tyson Graham Jr., Atlanta Legends – 79.0 overall grade
After a two-game stint with mediocre grades, Graham finds himself on the team of the week with strong coverage grades and tackling numbers. He didn't miss a single tackle on six attempts and found his way to an interception and a pass breakup on 22 snaps in coverage.
Safety
Derron Smith, San Antonio Commanders – 94.2 overall grade
Smith is the only real pressing threat to Reaser's defensive player (and even MVP) of the year awards as Smith also recorded a pick-6 that just tipped the iceberg of what his season has been like. He was four targets, came away with two interceptions and a pass breakup in coverage while he also stuck his nose in on run defense for a defensive stop on the day.
Safety
Micah Hannemann, Salt Lake Stallions – 86.9 overall grade
Living up to his college billing, Hannemann was a force against the run and blanketed receivers in coverage. On 49 snaps against the pass, he wasn't targeted a single time yet he still recorded four tackles without a miss in run defense.