The fourth week of action in the Alliance of American Football's first season is in the books, as are our grades for every player on every play of every game. Mirroring our Team of the Week from the NFL side of things, this season we'll award players to our team of the week in an attempt to shed light on the top performances from the previous weekend's slate of action.
The team format will match the All-Pro system when it comes to offensive and defensive formation, with a flex player for both sides of the ball that can be either a receiver, slot weapon, tight end or running back on offense, and anybody in the defensive secondary on defense. This gives us the flexibility to reward the player that best deserves it across multiple positions, rather than shoehorning in somebody just to fit a slot receiver or cornerback role.
We lend some weight to playing time, and a variety of factors are considered, but these will largely be the best-graded players at their respective positions throughout the league.

Offense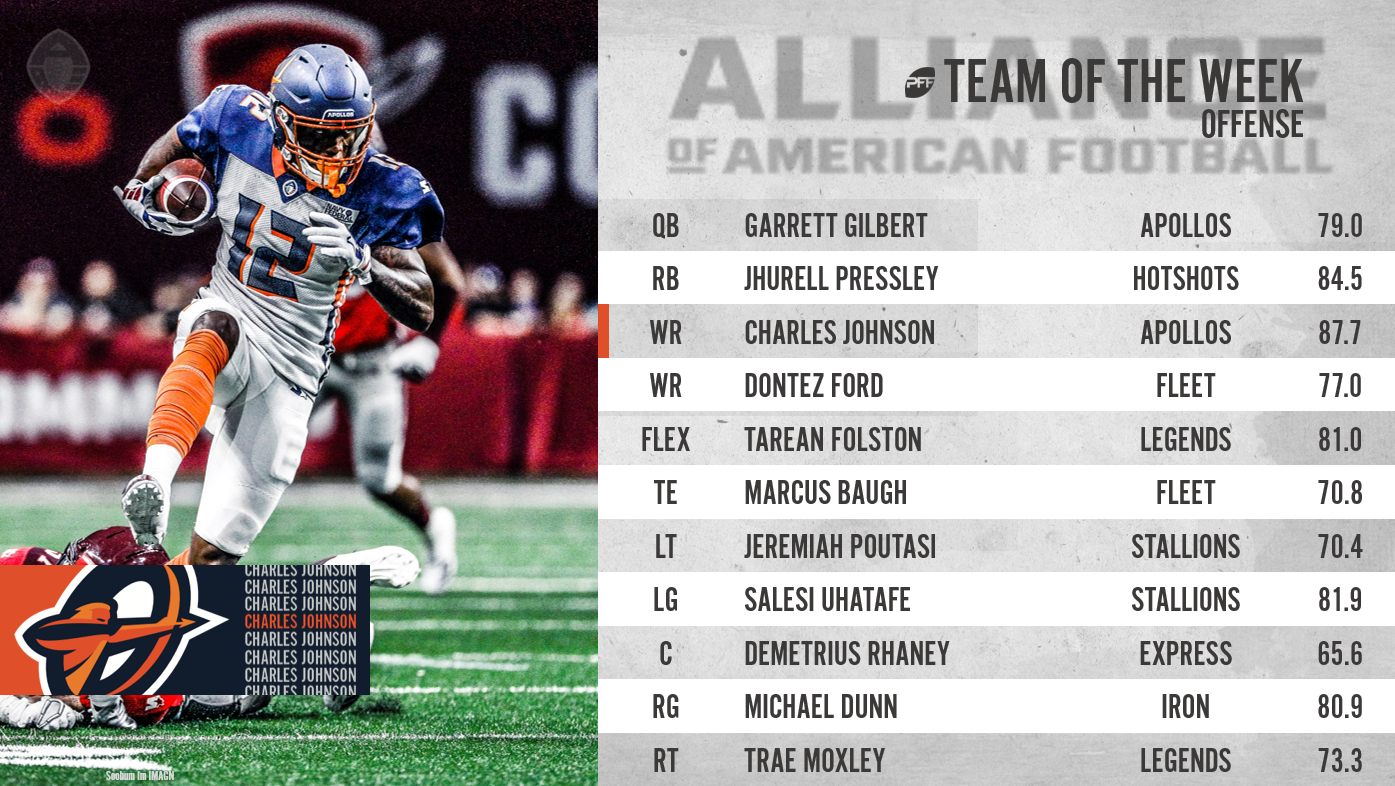 Quarterback
Garrett Gilbert, Orlando Apollos – 79.0 overall grade
Gilbert remains the league's top-graded passer after putting on a strong display amidst poor conditions in the snow. He led the Apollos to their fourth straight win to start the season with a smart, calculated passing attack.
Running back
Jhurell Pressley, Arizona Hotshots – 84.5 overall grade
Sure Kenneth Farrow carried the ball 30 times and recorded 142 yards on the ground but it was Pressley who was more impressive with the ball in his hands this weekend. Despite the loss, Pressley was still as sharp as one would hope, rushing 14 times for 110 yards that included 76 yards after contact. He forced five missed tackles and even added a first-down reception out of the backfield.
Wide receiver
Charles Johnson, Orlando Apollos – 87.7 overall grade
When the Apollos needed a first down, Gilbert looked Johnson's way more often than not. He was held out of the end zone, Johnson still tallied 105 receiving yards on nine catches, eight of which moved the chains for a first down.
Wide receiver
Dontez Ford, San Diego Fleet – 77.0 overall grade
Ford was as shifty as ever, racking up 57 of his 71 yards after the catch in the Fleet's loss. He hauled in just three catches but scored once and finished the game with a 132.6 passer rating when targeted.
Flex O
Tarean Folston, Atlanta Legends – 81.0 overall grade
Folston brought the spark that the Legends needed to grab their first ever victory, making waves on the ground but also through the air. He hauled in three receptions, each of them going for a first down, and actually saw more yards come after the catch than he had total receiving yards.
Tight end
Marcus Baugh, San Diego Fleet – 70.8 overall grade
Baugh led all tight ends with four receptions and 54 yards receiving as he became just the fourth tight end to catch a touchdown pass in AAF history and the first to do it since Week 2. Baugh's big day receiving was complemented with strong outings in run blocking and in pass protection that helped offset a drop on one of his seven targets.
Left tackle
Jeremiah Poutasi, Salt Lake Stallions – 70.4 overall grade
Poutasi put forth plus-grades in run blocking and despite allowing a sack on one of his 28 pass-blocking reps, still looked sharp on most occasions against Orlando's strong defensive front.
Left guard
Salesi Uhtafe, Salt Lake Stallions – 81.9 overall grade
Uhatafe's best work came in the running game as he paved the way for the Stallions rushing attack throughout the snow. His 84.4 run-blocking grade was second among guards this week.
Center
Demetrius Rhaney, Memphis Express – 65.6 overall grade
No center graded particularly well in Week 4 as Rhaney led the charge at just 65.6 overall. He allowed just one hurry on 31 pass-blocking snaps and led all centers in run-blocking grade.
Right guard
Michael Dunn, Birmingham Iron – 82.4 overall grade
Dunn played some snaps at right tackle for the Iron in Week 4 but logged the majority of snaps at right guard, dominating in the run game. His 93.4 run-blocking grade became the first ever elite run-blocking outing in AAF history. In fact, it was exactly 9.9 grade points higher than the previous best by a lineman, set in Week 1 by Orlando's Quinterrius Eatmon.
Right tackle
Trae Moxley, Atlanta Legends – 73.3 overall grade
It was a suspect performance in pass protection, allowing two pressures that included a sack, but Moxley's strong outing with his run blocking was second to no lineman in Week 4. His 82.2 run-blocking grade powered the way as the highest among all tackles this week.
Defense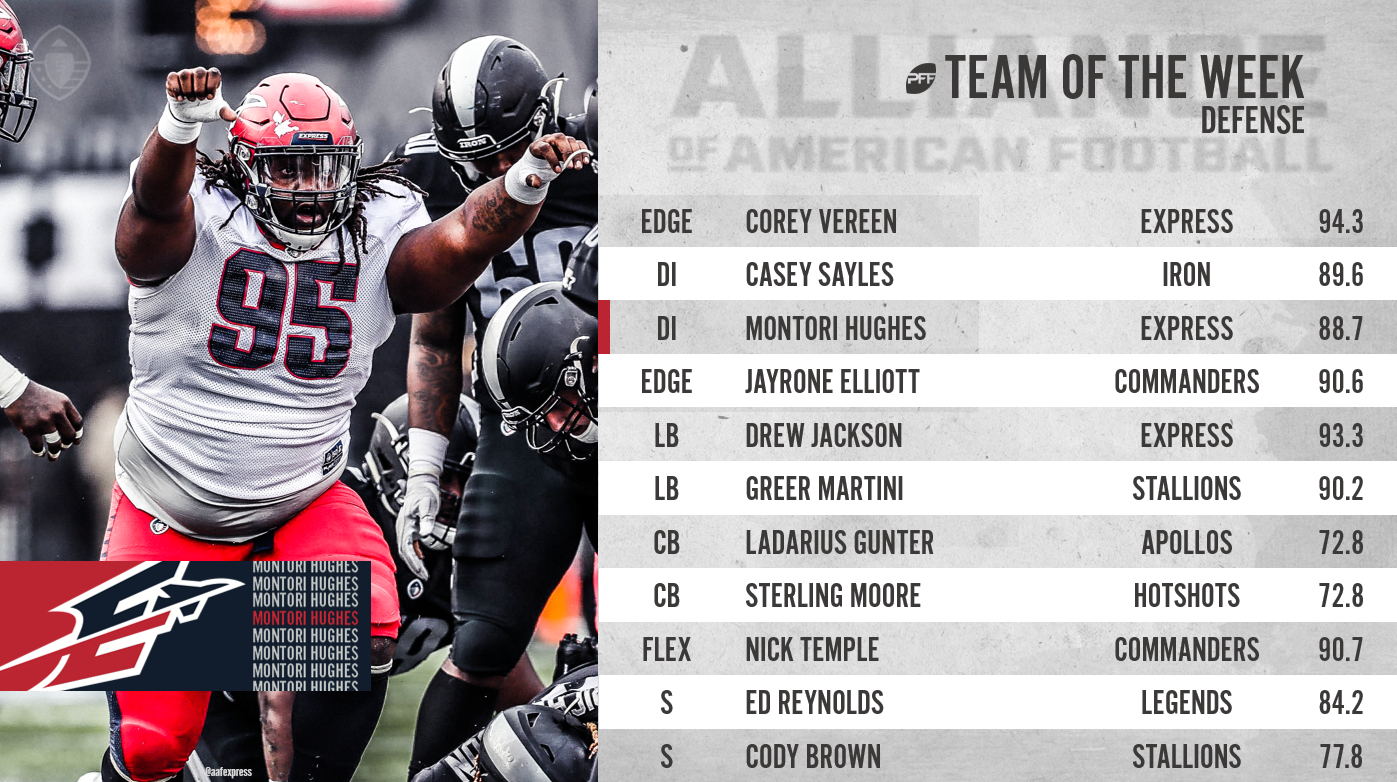 Edge defender
Corey Vereen, Memphis Express – 94.3 overall grade
Vereen was a big influence in the Express' first-ever victory, registering two sacks and two forced fumbles in the process. His 94.6 pass-rushing grade topped all defenders this week.
Defensive interior
Casey Sayles, Birmingham Iron – 89.6 overall grade
For the second consecutive week, Sayles finds himself on our list as he was a force in the running game once again. He also put forth plus-grades on the pass-rush and with his tackling, but his two stops against but the icing on the cake of his run-stopping prowess in the Iron's tough loss.
Defensive interior
Montori Hughes, Memphis Express – 88.7 overall grade
Hughes was kept off the pass-rushing stat sheet, but he forced a fumble and made numerous plays in the run game to thwart any sort of Fleet rushing attack through the middle.
Edge defender
Jayrone Elliott, San Antonio Commanders – 90.6 overall grade
Elliott is racking up the pressures this season as he has 11 total so far on just 69 pass-rushing snaps. In all but one game this year, Elliott has recorded multiple pressures but his latest outing against Birmingham was a season-best with six total.
Linebacker
Drew Jackson, Memphis Express – 93.3 overall grade
Jackson recorded a ridiculous 10 defensive stops on his 12 solo tackles while he also recorded a clean-up sack in this one. He was just as sharp in coverage as he allowed just four receptions for 39 yards and had a whopping four plays on the ball (1 INT, 3 PBU).
Linebacker
Greer Martini, Salt Lake Stallions – 90.2 overall grade
For the second straight week, Martini finished the game with an elite grade above 90.0 as he's rounding into form for the Stallions. Martini was once again awesome in coverage, stopping the Apollos for negative yards on his targeted passes and recording a pass breakup and nine total tackles.
Cornerback
LaDarius Gunter, Orlando Apollos – 72.8 overall grade
Orlando has produced a cornerback of the week in three straight weeks after Keith Reaser grabbed honors in Week 2 and Cody Riggs in Week 3, it's Gunter's turn in Week 4. His coverage was so stout against Salt Lake that he wasn't even tested with a target his way and he chipped in with a run stop in the process.
Cornerback
Sterling Moore, Arizona Hotshots – 72.8 overall grade
The NFL vet had his best game yet for the Hotshots, despite the outcome. On five targeted passes his way, Moore allowed just three receptions for 38 yards and only seven yards after the catch. He recorded a pass breakup and two of his tackles in coverage went down for stops.
Flex D
Nick Temple, San Antonio Commanders – 90.7 overall grade
Another linebacker deserves to be squeezed in here as Temple recorded six solo tackles, a forced fumble and allowed just a long of seven yards on four targeted passes his way. His plus-grades in run defense, coverage and in tackling earn him the nod over any other back-seven player.
Safety
Ed Reynolds, Atlanta Legends – 84.2 overall grade
If for one reason only, Reynolds' play for the Legends needed recognition this week as he became the first defender to record a safety in AAF play. Still, Reynolds was sharp across the field as he recorded nine total tackles, three stops and limited receivers to just four yards on two receptions into his coverage.
Safety
Cody Brown, Salt Lake Stallions – 77.8 overall grade
Brown, like Reynolds before him, was stingy in coverage. On four throws into his primary coverage, he broke up one, allowed two catches for just two yards and saw a 56.3 passer rating when targeted.