The historic first week of The Alliance of American Football kicked off, much to the delight of football fans across the country. We here at Pro Football Focus had been extremely excited for some time as we'll be grading every player on every play of every game throughout the entire AAF inaugural season.
After the first weekend went off without a hitch, we hit the PFF books to really see what happened during the AAF's opening slate of games.

Atlanta Legends vs Orlando Apollos
The Apollos scored the most points of opening weekend, including the league's very first touchdown, cruising to a victory in head coach Steve Spurrier's return to the sidelines, 40-6. QB Garrett Gilbert looked sharp after a rough first series and finished the game with two passing touchdowns on 15 completions. The defense forced four turnovers from Atlanta as QB Matt Simms tossed two interceptions to Apollos LB Terence Garvin and in relief, QB Aaron Murray threw another interception and a muffed punt led to more points for the Apollos.
Jalin Marshall had arguably the biggest night of any Orlando player, however, as he successfully ran the 'Orlando Special' and hit his quarterback for a 5-yard touchdown pass in closing moments of the second quarter. This was after he also caught the league's first touchdown earlier in the frame as well.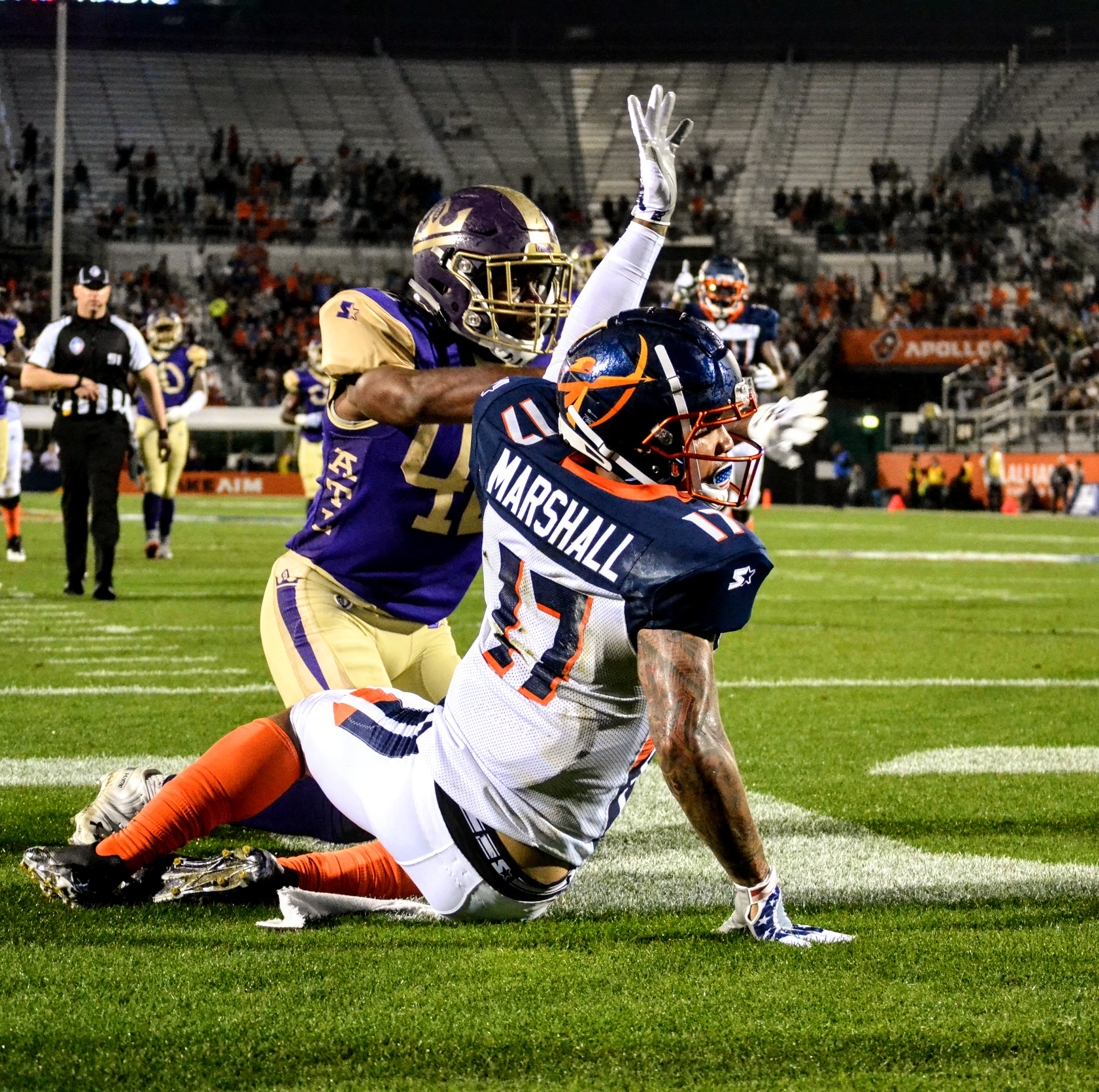 Marshall finished the evening with four targets and three receptions for 51 yards, a touchdown receiving and a passing touchdown. All in all, a strong debut for the former Ohio State Buckeye and former New York Jet.
San Diego Fleet vs San Antonio Commanders
It took a while to get a touchdown in this one but what lacked in points, certainly didn't lack in highlights. Included in that highlight was the 'AAF hit heard 'round the world' when Fleet QB Mike Bercovici was sacked by Shaan Washington.
What. A. Hit. ????@aafcommanders | #SDvsSA pic.twitter.com/cZIyt91mTz

— The Alliance (@TheAAF) February 10, 2019
When all was said and done with this one, Bercovici struggled and was replaced by Phillip Nelson, who was also named the starter for Week 2 for San Diego.
On the flip side, Logan Woodside was impressive for San Antonio, despite completing less than 50.0% of his passes, he was subjected to three drops and did find success on the deep pass. Woodside's talented cast of receivers each had their moments with explosive plays and RB Kenneth Farrow II scored the first touchdown in Commandeers history. With their strong defense and Woodside developing chemistry with his receivers, San Antonio could be a team to reckon with in the Western Conference.
Memphis Express vs Birmingham Iron
The first weekend of games also brought with it the first shutout as Birmingham's defense stymied Memphis' offense, limiting them to just 202 net yards. Christian Hackenberg mustered all of 10 completions on 23 attempts with an interception. For the Fleet, their 26-0 win could have been an even bigger margin if it weren't for five dropped passes on Luis Perez' 33 attempts. He lit up the field with big-time throws and had an all-around great performance.
The Iron defense saw a strong performance from CB Jamar Summers who came down with an interception and two forced incompletions on his four targeted passes. The Iron's defense will likely be tested a bit more next week when they take on Salt Lake, but as it stands now, they're the league's top defensive unit
Salt Lake Stallions vs Arizona Hotshots
Point blank: John Wolford was dominant. The Hotshots QB finished as by far the highest-graded quarterback from the weekend as he hit his receivers at will to all levels of the field. His numbers could look even better than they do on the box score if it weren't also for three dropped passes as he led the league in yards per attempt at 9.5. While they allowed the Stallions to climb back into this one late, Wolford's fourth touchdown pass of the night in the third quarter really put this one out of reach at 35-16.
.@aafhotshots. Deep ball. Six.#SLvsAZ pic.twitter.com/WkQr2vn0Vs

— The Alliance (@TheAAF) February 11, 2019
Entering the week as the betting favorite to take down the first AAF crown, if the Hotshots Week 1 performance is any indicator, they'll be even stronger favorites to win the first-ever championship.