The Atlanta Legends may have jumped out to an early 9-0 lead but sloppy weather and adverse conditions wouldn't deny the triumphant return of professional football to San Diego as the Fleet got their first win as an organization in come-from-behind fashion, 24-12, over the visiting Legends.

PFF's ReFocused series this season features immediate takeaways and a key to the victory from PFF's lead AAF analysts and grabbing quick first-run statistics from our team of analysts who watched every player on every play of the game. For more data and analysis from the game, utilize our Premium Stats 2.0 dashboard to expand your knowledge on the key players, signature stats and much more.
Malachi Jones hauled in the Legends first-ever touchdown after they were limited to just two field goals in the season debut as Atlanta jumped on San Diego and new starting quarterback Philip Nelson early. However, despite a slow start and sluggish conditions thanks in part to a decent rainfall, Nelson and a revamped rushing attack got things rolling in the second half.
Ja'Quan Gardner scored two fourth-quarter touchdowns and the Fleet gained a total of 185 yards on the ground. Gardner finished the game with 15 carries for 104 yards and two scores as he was elusive as they come.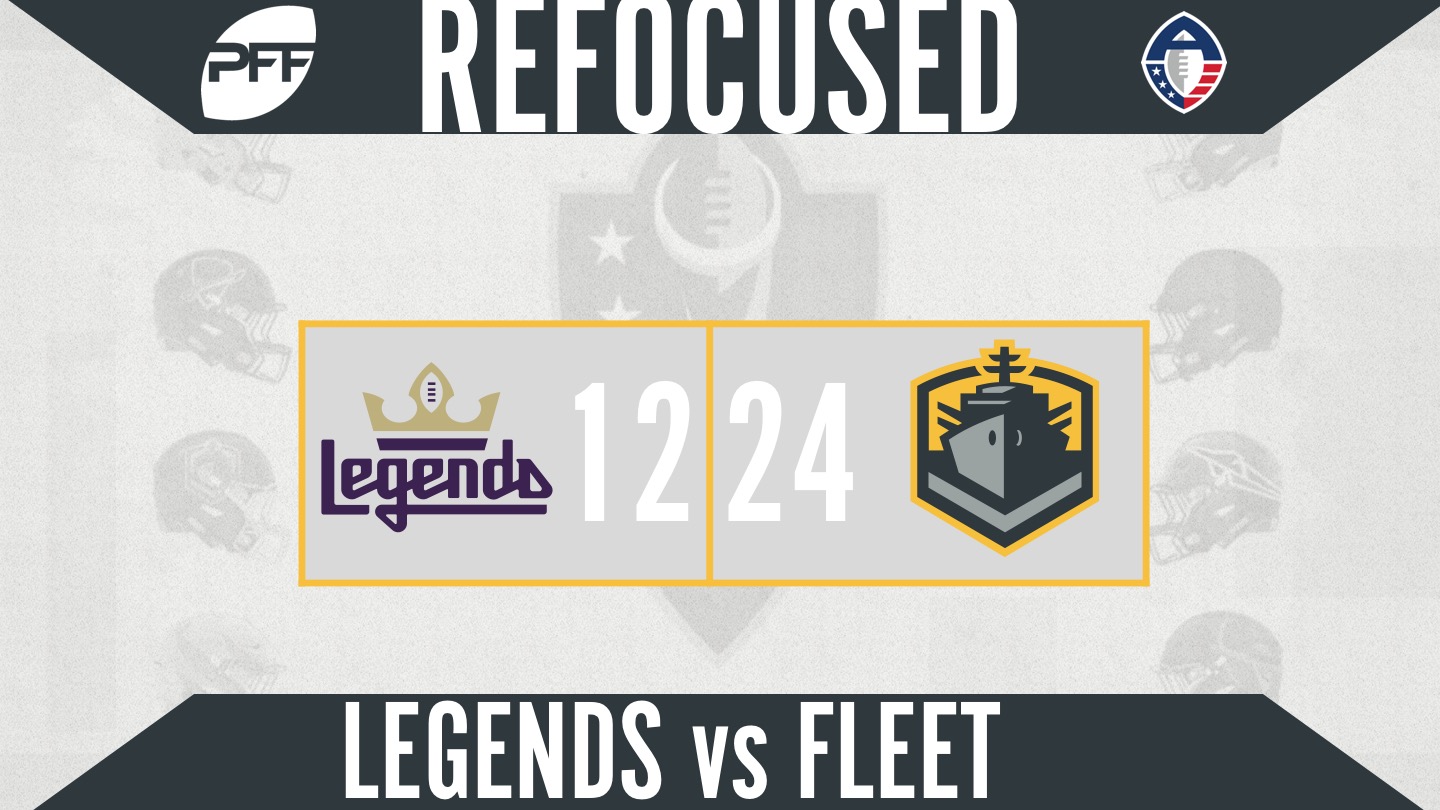 Nelson was relatively sluggish in his first start for San Diego, completing 14-of-30 passes for 142 yards and an interception while Atlanta QB Matt Simms didn't fare much better, especially in the second half.
Up front for the Fleet, they were paced by their strong interior defensive line and linebacker A.J. Tarpley, who delivered a strong performance all over the field. Safety Ryan Moeller grabbed his second interception of the season for the Fleet as they snagged their first victory as a franchise and for head coach Mike Martz.
A bright spot for Atlanta was the play of their running back, Akrum Wadley, out of the backfield. One of the more elusive running backs in recent memory in college football, Wadley was excellent on receptions from the backfield, hauling in eight catches for 70 yards and making numerous highlight-reel cuts and forcing missed tackles seemingly at will.
The Fleet play host to the San Antonio Commanders next weekend while the Legends get to taste action on their home turf for the first time this season after two away games to open their first two weeks.
[Editor's note: All exclusive data mentioned in PFF's ReFocused series for the AAF is from our first run and before final review. Statistics will be checked against the official game books for any inaccuracies while our team of analysts undergoes the final review process for several hours after the game's ending. All first-run data should be considered as subject to change upon review.]
For more access to AAF data – sign up for PFF Elite to check out grades and stats from every player on every play of every game from the 2019 season!