The Memphis Express finally got their first victory, four weeks into the season, as they came back in dramatic fashion against the San Diego Fleet, 26-23. Behind the arm of Zach Mettenberger, the Express have likely seen their last days of Christian Hackenberg as Mettenberger led two impressive drives in crunch time to secure the victory.

PFF's ReFocused series this season features immediate takeaways and a key to the victory from PFF's lead AAF analysts and grabbing quick first-run statistics from our team of analysts who watched every player on every play of the game. For more data and analysis from the game, utilize our Premium Stats 2.0 dashboard to expand your knowledge on the key players, signature stats and much more.
Mettenberger finished the game completing 18-of-25 passes for 174 yards and a touchdown while he also ran in another score on the ground. Reece Horn was again his go-to receiver, hauling in all four of his targeted passes for 63 yards but it wasn't all good for the Express on offense.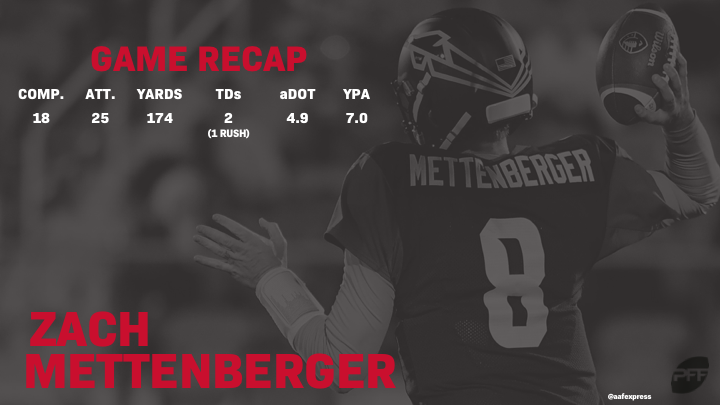 They were outgained by the Fleet, 285 to 225, as San Diego jumped out to an early lead of 14-3 at the end of the first quarter. Fleet defensive back Ron Brooks etched his name into the history book as he became the first player in AAF history to return a punt for a touchdown as he started the scoring on the opening punt of the game after Mettenberger and the Express went 3-and-out.
However, the Fleet offense would be undone by four turnovers and a late surge that saw Mettenberger plunge into the end zone on a two-point conversion attempt with 6:08 remaining to tie the game at 23. Austin MacGinnis would knock home his fourth and final field goal just before the two-minute warning to give the Express the go-ahead points before their defense locked down and intercepted Alex Ross in the waning moments of the fourth quarter.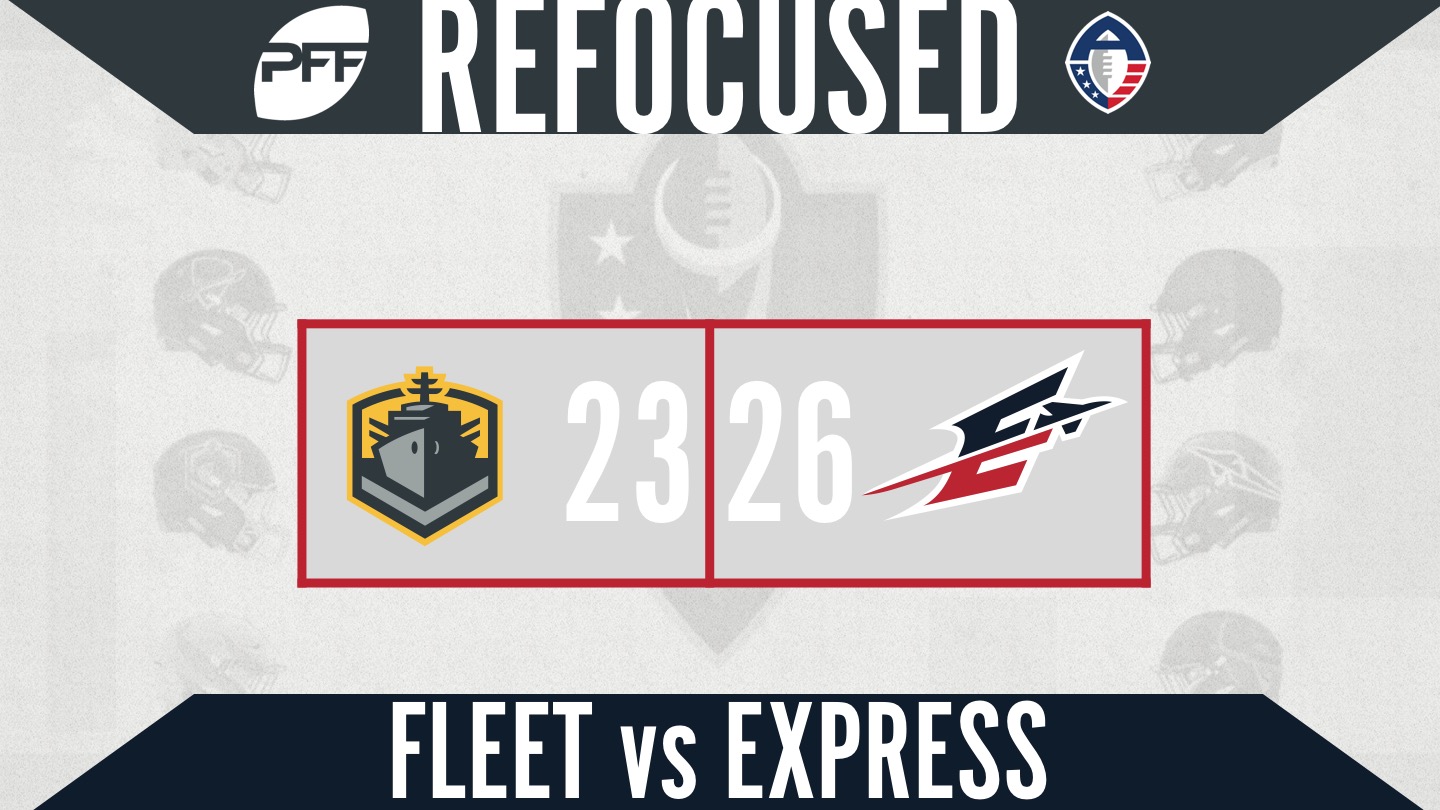 For Memphis' defense, LB Drew Jackson and edge defender Corey Vereen flew around the field as Jackson recorded 12 total tackles and was a force in coverage as well as against the run. Vereen secured four pressures as he and fellow edge defender Anthony Johnson (seven pressures) made life miserable for Fleet quarterbacks.
The Fleet head into Week 5 with a 2-2 record, losing their first game after riding a 2-game winning streak while the Express will travel to Atlanta in Week 5 with a 1-3 record.
[Editor's note: All exclusive data mentioned in PFF's ReFocused series for the AAF is from our first run and before final review. Statistics will be checked against the official game books for any inaccuracies while our team of analysts undergoes the final review process for several hours after the game's ending. All first-run data should be considered as subject to change upon review.]
For more access to AAF data – sign up for PFF Elite to check out grades and stats from every player on every play of every game from the 2019 season!