Perhaps the league's hottest team, and maybe even the new No. 1 in our Power Rankings when they're released next week, the San Antiono Commanders continued their winning ways with a 37-6 drudging of the Atlanta Legends on Saturday afternoon.

PFF's ReFocused series this season features immediate takeaways and a key to the victory from PFF's lead AAF analysts and grabbing quick first-run statistics from our team of analysts who watched every player on every play of the game. For more data and analysis from the game, utilize our Premium Stats 2.0 dashboard to expand your knowledge on the key players, signature stats and much more.
This one was basically over before it began as San Antonio pulled out to an early 20-0 lead behind two Logan Woodside touchdown passes in the first half. Kenneth Farrow also added a rushing touchdown in the half before the special teams and defense took over for the Commanders. In total, Woodside finished the day 17-of-23 passing for 164 yards and his two second-quarter touchdowns while Farrow needed just nine carries to hit 35 yards and a score.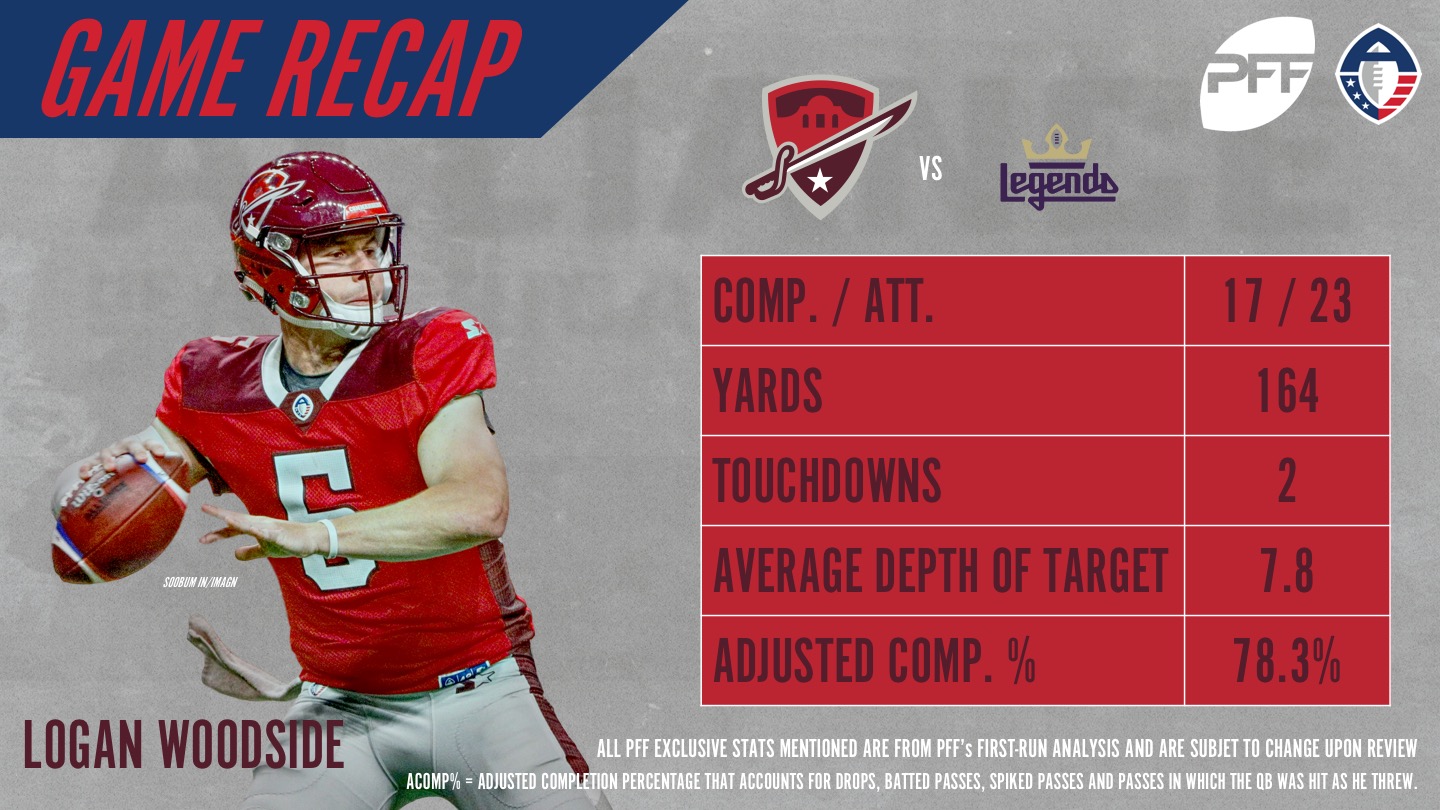 Their point total may be a bit misleading as the offense mustered just 234 total net yards, it was the San Antonio defense that really commanded this game. They limited Atlanta to just 4.3 yards per play and forced four turnovers including three interceptions of Legends QB Aaron Murray. The league's highest-graded safety in Derron Smith got in on the interception and the scoring action, picking off a Murray pass midway through the fourth quarter and taking it back 87 yards for a pick-six.
Smith's continued hot streak of play fueled the Commanders defense as he put up an elite game grade of 91.8 on first run.
For Atlanta, after Murray replaced Matt Simms, the former Georgia standout quarterback seemed lost at times and put the ball in harm's way more often than he had in all his previous games this season combined as he tallied six turnover-worthy plays. His struggles paved the way for Peter Pujals to see action and it remains to be seen what the prognosis is for next week at starting quarterback for the Legends.
The Commanders head back home next week to host the Salt Lake Stallions while Atlanta hosts Orlando in a rematch of their Week 1 game that kicked off this inaugural AAF season.
[Editor's note: All exclusive data mentioned in PFF's ReFocused series for the AAF is from our first run and before final review. Statistics will be checked against the official game books for any inaccuracies while our team of analysts undergoes the final review process for several hours after the game's ending. All first-run data should be considered as subject to change upon review.]
For more access to AAF data – sign up for PFF Elite to check out grades and stats from every player on every play of every game from the 2019 season!