The Orlando Apollos utilized a strong second half in a true bounce-back effort to defeat the San Antonio Commanders, 37-29, improving to 2-0 on the season. The Apollos saw a dominant performance from their quarterback as well as some key defensive moments to secure their first ever road victory.

PFF's ReFocused series this season features immediate takeaways and a key to the victory from PFF's lead AAF analysts and grabbing quick first-run statistics from our team of analysts who watched every player on every play of the game. For more data and analysis from the game, utilize our Premium Stats 2.0 dashboard to expand your knowledge on the key players, signature stats and much more.
Apollos QB Garrett Gilbert not only became the first AAF quarterback to throw for over 300 yards in a game, he nearly reached 400 and did so on just 19 completions. All told, his masterful evening saw him finish 19-of-28 passing for 393 yards and two touchdowns. He lit up the field with five big-time throws and averaged a staggering 12.7 yards per attempt.
Gilbert wasn't just dinking and dunking and letting his receivers get the yards for him, no, in fact, he averaged a whopping 13.5 yards per target, testing the San Antonio defense on multiple occasions with great success.
His favorite target was certainly Charles Johnson who hauled in seven receptions for 192 yards and a touchdown, including a big momentum-boosting reception in the third quarter after the Apollos had fallen down 12 points, 29-17. However, after Johnson and the Apollos got the ball rolling, they didn't look back, scoring the game's final 20 points of their own. After two Elliott Fry field goals brought it within a one-score game, Gilbert would hit Jalin Marshall for the tying score, knotting the action at 29 points apiece.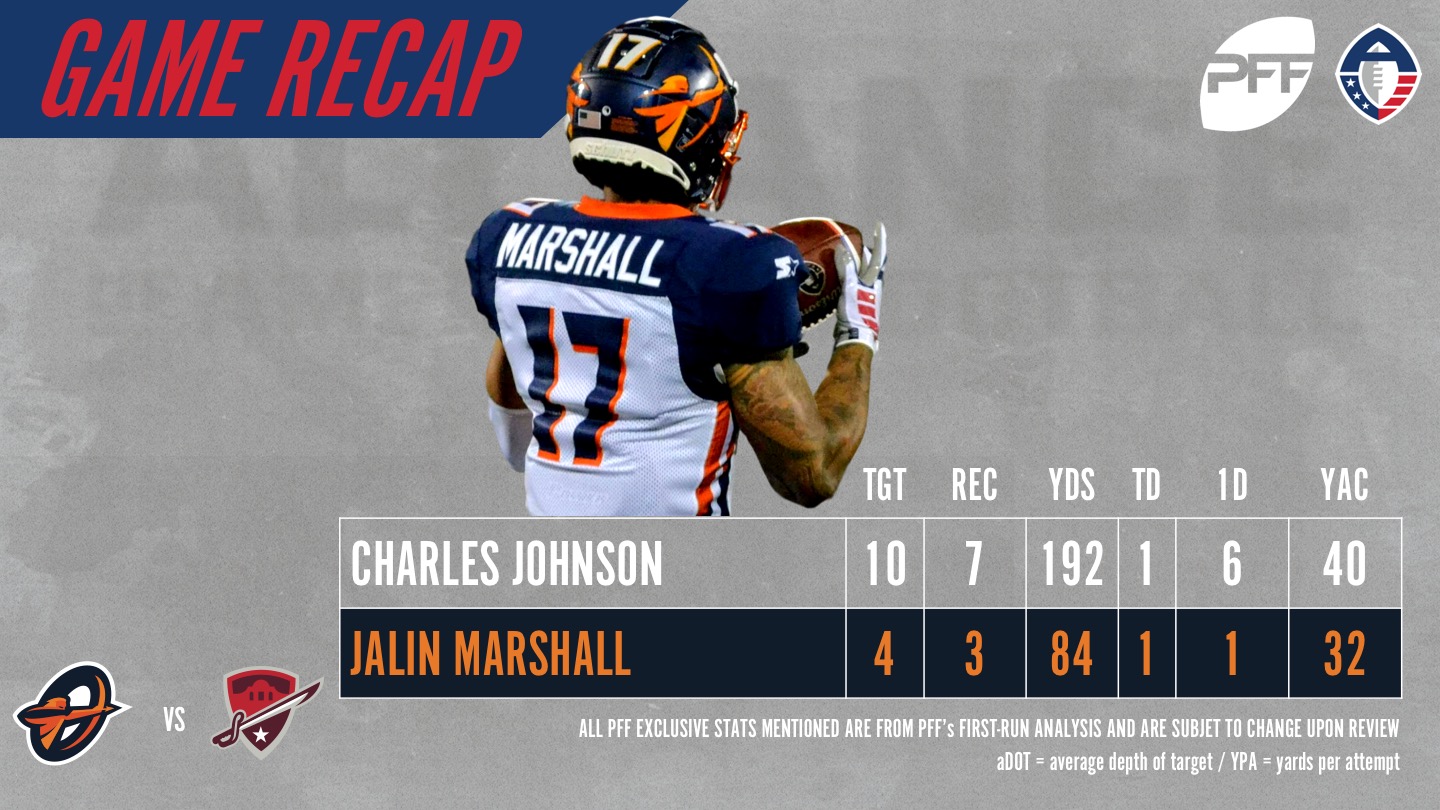 On the ensuing drive, Commanders quarterback Logan Woodside, who had some strong play early in the game, didn't quite look off his first read on an out route that reigning Team of the Week member Keith Reaser jumped and intercepted, returning it 38 yards for the game-winning score.
Woodside finished the game with 20 completions for 223 yards and a touchdown but the costly interception in the game's final frame. He would draw San Antonio closer, but a fourth-and-goal stand by the Apollos defense shut the door and Orlando was able to run the clock out on the final possession.
Orlando joins the Birmingham Iron and Arizona Hotshots as the only remaining undefeated teams and adds their name to more records including Gilbert and Johnson's career days passing and receiving.
[Editor's note: All exclusive data mentioned in PFF's ReFocused series for the AAF is from our first run and before final review. Statistics will be checked against the official game books for any inaccuracies while our team of analysts undergoes the final review process for several hours after the game's ending. All first-run data should be considered as subject to change upon review.]
For more access to AAF data – sign up for PFF Elite to check out grades and stats from every player on every play of every game from the 2019 season!