After a couple of weeks off, we're back to picking a game against the spread for AAF. We're currently 1-0, having picked the Stallions to cover against the Fleet in San Diego in Week 5. Our model is based on our ELO model that is part of our power rankings article each week, along with a model that translates ELO from NCAA, NFL and now AAF to betting lines. This model will obviously evolve as more (hopefully) AAF data continues to flow in.  
This week we're going to wait until Sunday night, with the Arizona Hotshots going into San Antonio to face the Commanders. The spread on the game is currently San Antonio (-1.5, from an open of -1), where we think it should be a tad over a field goal. Below is our point-counterpoint of this pick: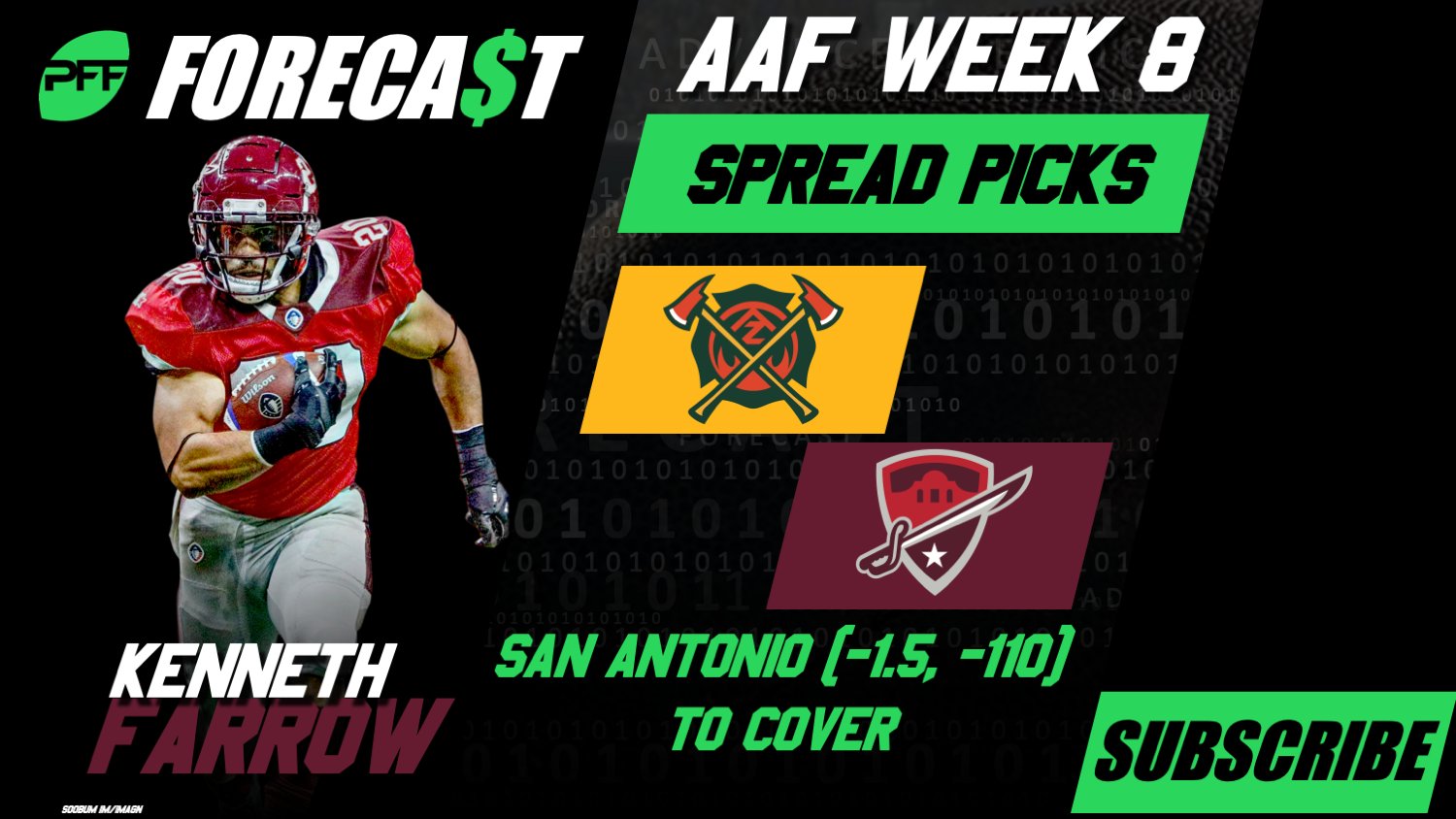 Arizona at San Antonio (-1.5, -110)
Pick: San Antonio covers
Point (Ben Brown): In a game that will have significant implications for playoff seeding in the West Division, the Commanders check in as -1.5 favorites over the Hotshots. This line expresses recency bias towards Arizona who has had an impressive two-game stretch against some of the best in the AAF. Prior to this two-game stretch, however, these very same teams matched up in Week 5 with San Antonio dominating on the road as 3-point dogs, going up 29-11 before the Hotshots scored twice late to make the game closer than it really was. Our goal cannot be to determine which Arizona team "shows up" this weekend and we simply look to find value on a mispriced line based on our ranking system. All things considered, despite an impressive two-game stretch from Arizona, they should be more than a 1.5-dog on the road to the second-best team in the AAF.
Counterpoint (Eric Eager): The question one has to ask is if the actual Arizona Hotshots are the team that was the odds-on favorite to win the AAF going into the season — the team that started 2-0, the team that lost three consecutive games during the middle part of the season or the team that has handled a great and pretty good team the last two weeks. John Wolford has gone as the Hotshots as a team have gone, leading the AAF in touchdown passes with 13, and earning grades above 78.0 each of their last two wins after grading extremely well in the league's first two weeks. Logan Woodside was a bit banged up against Salt Lake, and is leading the Alliance with 17 sacks taken and seven interceptions thrown. If Arizona's middle-of-the-pack pass-rush defense can elevate their play and make it tough on the Commander's quarterback, this could be a lot closer than our model suggests.