We're almost to the halfway point of the inaugural AAF season, and while we've been supplying the good folks weekly power rankings for a couple of weeks, it's time to find some value in the betting markets. After an opening weekend that saw all home teams favored by around 2.5 to 3.5 points and all totals around 50 (ha!), Weeks 3 and 4 saw totals in the 30s and multiple double-digit spreads and many more out around a touchdown. In a league where quarterbacks are being injured at a higher rate, and only one truly dominant team (Orlando) has emerged, true value exists indeed.
For our first printed spread pick of the AAF season, we're going to go back to a team we've said was undervalued, both in our power rankings article and on the PFF Forecast in the Salt Lake Stallions.  
Enjoy!
Salt Lake (+5.5, -115) at San Diego
Pick: Salt Lake covers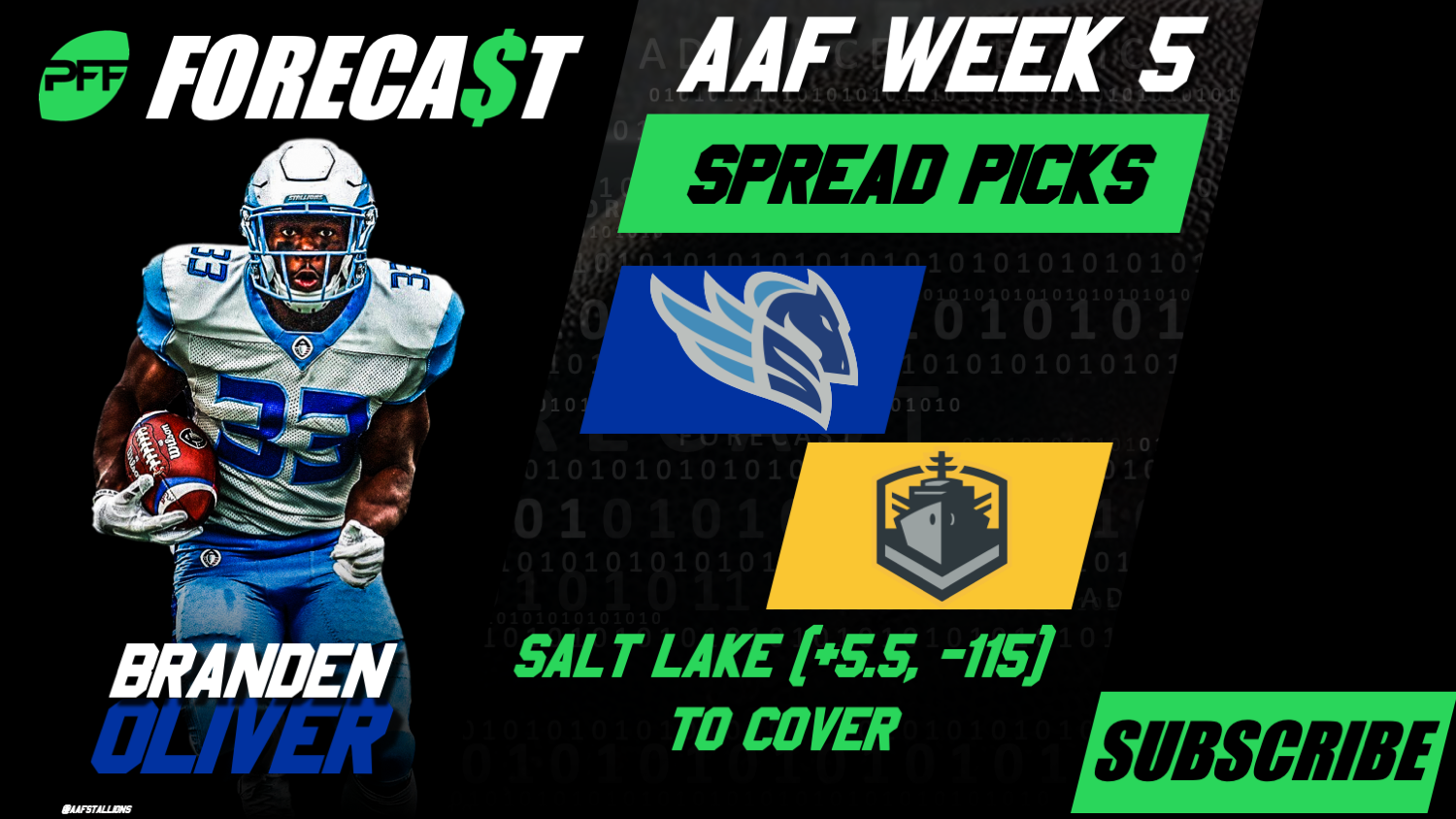 Point (Ben Brown): The Stallions go on the road as 5.5-point dogs to face the trendy Fleet, in a game that opened at +6. Even with losing this extra point, this price feels oddly mispriced with second-stringer Mike Bercovici set to run the Mike Martz offense. Quality quarterback play has been scarce in the AAF, but judged among his peers, Josh Woodrum has actually performed well especially when kept clean. Going 1-of-9 on third downs torpedoed drives against the Apollos last week, but previously Woodrum has been efficient on third-down throws.
Salt Lake figures to receive the better quarterback play, but facing off against a backup QB also serves their defense well. The Stallions rush defense grades by far the best in the AAF, and while this matters less in the NFL, it's marginally more important at the AAF level. If Salt Lake moves the ball early and gets out ahead, they could be in for an outright upset victory, making a 5.5-point cushion seem way too enticing.
Counterpoint (Eric Eager): Salt Lake is 1-3 for a reason, and while we're bullish on them moving forward as a dark horse team, they have struggled hanging onto the ball and making things happen after the catch in the passing game (they own the second-worst receiving grade as a team in the AAF), which we know to be a top-three variable at least at the NFL level.  
While San Diego's offense will certainly take a step backward with Philip Nelson's injury, they still possess a top-four AAF defense by our grades, featuring the highest-graded pass-rush led by Damontre Moore and his 20 total pressures so far this season (91.1 overall grade in that department). Salt Lake has been the league's best pass-protecting unit through four weeks, but it's often the case that great pass-rush can stymie great protection, leaving inexperienced quarterbacks like Woodrum (91.4 rating under pressure) regressing to the mean quickly. All this said, I'm with Ben that this is drastically mispriced.