NFL free agency is upon us, which means monster signings and new beginnings for players around the league. Sure, a team can sign the biggest name, but there are diamonds in the rough that can be effective contributors as well.
Click here for more PFF tools:
Draft Guide & Big Board | Mock Draft Simulator
Dynasty Rankings & Projections | Free Agent Rankings | 2022 QB Annual
Player Grades
---
Let's dive into the cheap and pricey options at each position in NFL free agency.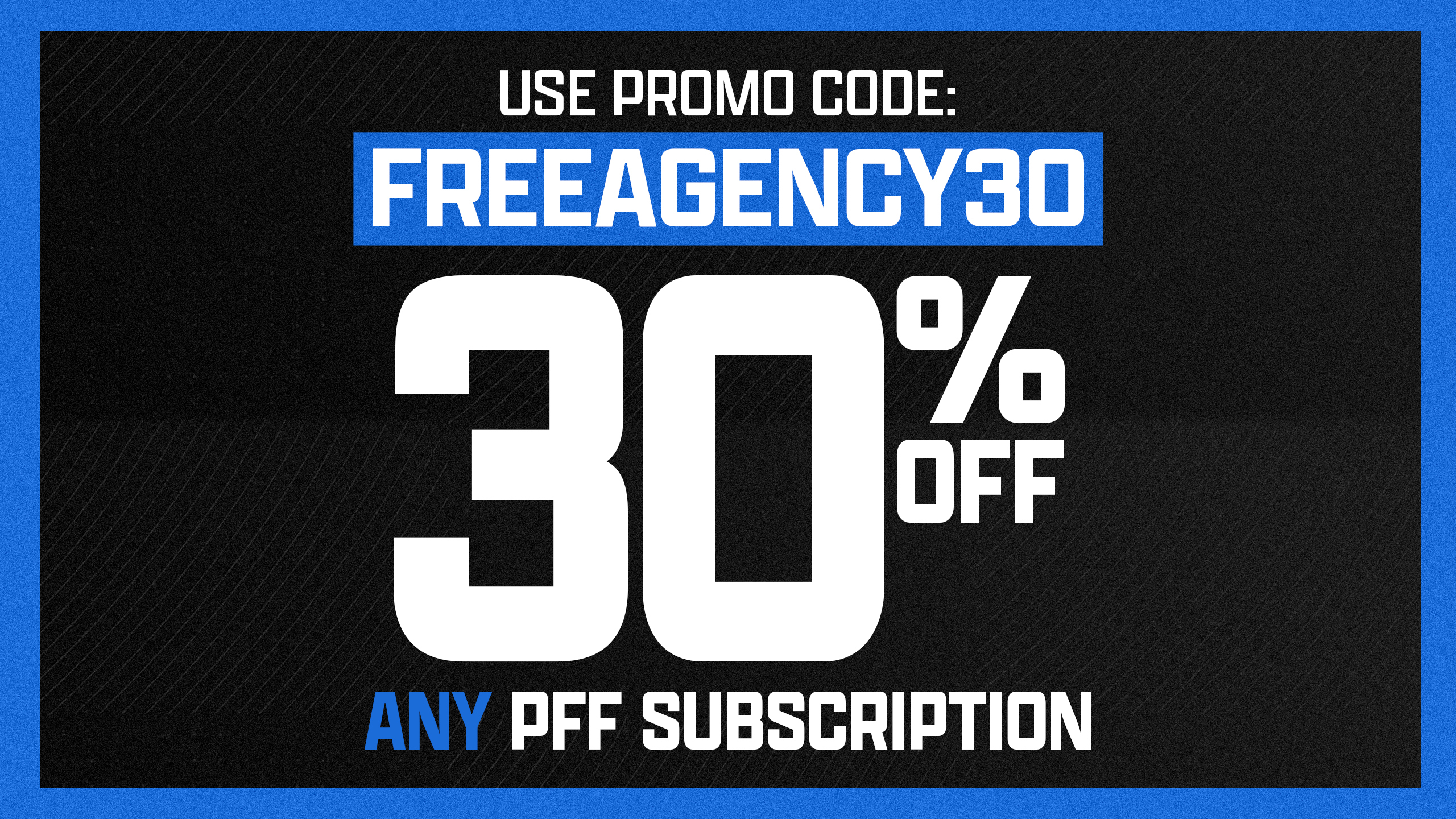 QUARTERBACK
The quarterback position in this free agency class is strange — none of the quarterbacks are necessarily guaranteed starters, but some have been starters at some point, whether it be due to an injury or something else.
Two seasons ago, Brissett played 947 snaps in Indianapolis and received a 59.2 season grade. Since then, he came to Miami and served as a backup for Tua Tagovailoa, who has battled injury and bad play. Brissett stepped into a solid role this past season and posted a 76.3 grade through 376 snaps — a 17.1-point improvement.
If signed, he could be a solid backup option or a bridge quarterback for a team that has or is drafting a young quarterback. While the young signal-caller is preparing to take over the team, Brissett can provide decent play for a short few years.
PROJECTED CONTRACT: Three years, $8.33M average per year
Most of the free-agent quarterbacks are priced similarly, which is why there is only a $5 million difference between Brissett and Trubisky.
The former Bears starter had trouble in Chicago, but some of that can be attributed to external challenges, such as a tough division or even coaching. When he arrived in Buffalo, Trubisky backed up one of the best young talents in the league.
With a price point of only $7 million each year for two seasons, Trubisky can bridge the gap for a team with playoff hopes while also trying to reignite his career. His seasonal grade has stayed around the same the past three seasons, but he is still relatively young.
PROJECTED CONTRACT: Two years, $7M average per year
---
RUNNING BACK
One of the biggest risers at the running back position in the league has been Fournette during his time in Tampa. With a 64.75 average seasonal grade between the 2019 and 2020 seasons, the former LSU Tiger's professional career appeared to be stuttering. During the 2020 playoffs, Fournette went crazy and gained the nickname "Playoff Lenny," which quickly turned to "Super Bowl Lenny" after he earned a championship ring and had a monster 2021 season.
This past season, he improved his season grade to 75.1 over 685 snaps. With a 0.16 PFF WAR, he became the sixth-most valuable running back, which improved his stock and value to his future team.
While running back production tends to decrease with age, Fournette seems to have hit a second wind and will be a solid running back for a team without a rusher. Additionally, he can be a great addition to a rotation. His projected contract length is similar to other running backs, but his 2021 explosion increases his value by $2 million per year.
PROJECTED CONTRACT: Two years, $8M average per year
The NFC West has one of the most underrated groups of running backs in the league, which made Penny's big 2021 season harder to recognize. Still, after 253 snaps, the former San Diego State Aztec had the best season grade (80.5) of his professional career. He started a little slow, but he got increasingly better as the season progressed.
Penny's one-year, $2 million contract is a steal for a team in need of a rusher. Sure, he has a scary injury history, but at 26 years old, he can make a big impact on a playoff-hopeful team.
PROJECTED CONTRACT: One year, $2.02M average per year
---
WIDE RECEIVER
Robinson is coming off a down year where he suffered career-lows in offensive grade (66.9) and receiving grade (67.0) behind the passing carousel known as the Bears' quarterback room. A bounce-back year will be dependent on him landing with an ideal passing game situation. However, it's a bit hard to consider shelling $16 million per year to Robinson, who didn't even surpass 500 receiving yards from 66 targets this past season.
PROJECTED CONTRACT:  Three years, $16M average per year
This choice will be controversial — just like Brown. With a one-year, $4 million projected contract, Brown could help a team attempt a move similar to what Odell Beckham Jr. and the Super Bowl champion Los Angeles Rams did. After producing at a high level with Tom Brady in Tampa Bay, Brown showed that he didn't lose any of the talent he had in Pittsburgh. Brown certainly has the ability to be the best receiver on any team that picks him up.
Now, the elephant in the room must be addressed. Part of the reason that Brown is valued at just $4 million is his off-the-field antics. While the receiver posted an impressive 87.4 grade in 2021, Brown is a massive gamble. He generated bad publicity a few times in Tampa, but it came to a head when he walked off the field in the middle of a game against the New York Jets while the Bucs were vying for a top playoff seed in the NFC.
Brown truly is a boom-bust player, meaning he could go off and have another monster year if he likes his environment or generates bad publicity for a team that wants their name in headlines for other reasons.
PROJECTED CONTRACT: One year, $4M average per year
---
TIGHT END
Everett had the third-lowest receiving grade of his career (64.5) this past season and has received at least 60 targets only once in his NFL career. He's yet to fully breakout in two separate pass positive offenses and is expected a deal north of almost $8 million. Such a transaction is a risky gamble with a downside to go nuclear.
PROJECTED CONTRACT:  three years, $7.5M average per year
Gronkowski is the biggest toss-up of any free-agent tight end. He is up there in age at 32 years old, but he has proven to be one of the best tight ends in NFL history.
The former Patriot was there during much of the New England dynasty, and his connection with Brady is unmatched. If he decides to continue playing, whoever signs him will get a great tight end who is a multi-Super Bowl champion, a probable Hall-of-Famer and a great leader. He can block defensive ends on one play and transition to being a great pass-catcher the next.
His year-to-year performance has definitely regressed since he originally retired, but he still has at least a season in the tank, posting a 76.5 grade over his 771 snaps in 2021.
PROJECTED CONTRACT: One year, $7M average per year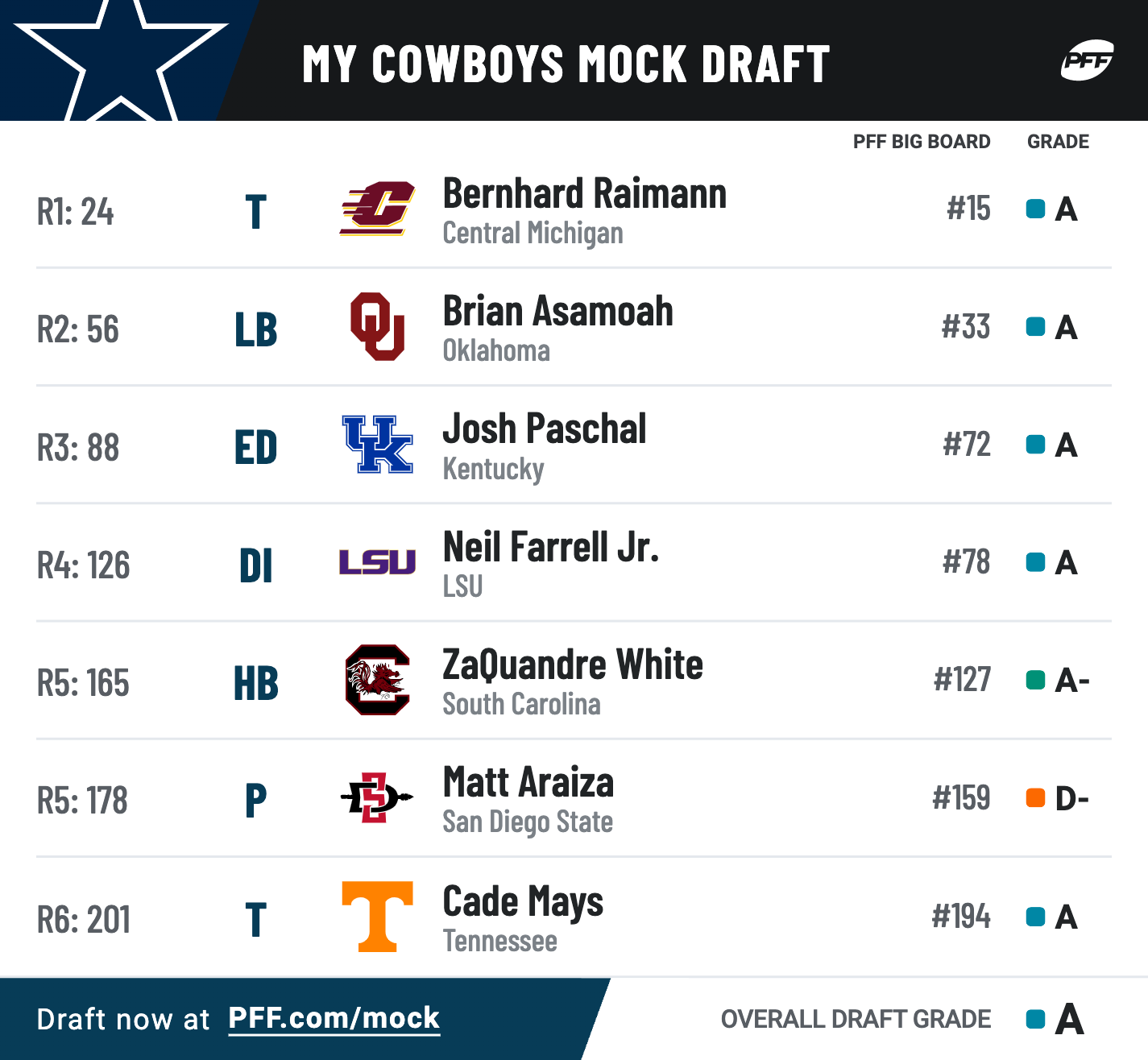 CENTER
Bozeman produced career-high PFF graded numbers in 2021 as a first year center for the Baltimore Ravens. A positive offensive grade (73.3),  pass-blocking grade (73.8) and run-blocking grade (70.7) all propelled Bozeman to the potential payday of his dreams. However, his projected annual salary of nearly $10 million per year may be too extreme of a price tag for a potential one season wonder.
PROJECTED CONTRACT: Four years, $9.5M average per year
COST-EFFICIENT OPTION: BEN JONES
With Ryan Jensen resigning to the Buccaneers, more teams might be looking at Jones. The Tennessee Titans free agent is 32 years old, but his past three seasons have proved that he's still near the pinnacle of his career. Since the 2019 season, he's received season grades in the mid-to-high 70s. He is reliable and a great run-blocker. As written in his free-agent profile, he even has experience at guard, which increases his value. Having this good of a center for less than $7 million per year could make him the best value in this year's free agency.
PROJECTED CONTRACT: Three years, $6.67M average per year
---
GUARD
Tomlinson might be entering his 30s, but the last three seasons have proved that he is rock-solid and a great addition to any offensive line. The San Francisco 49er has played over 1,000 snaps in each of those seasons while posting top-10 WAR among guards each of those years.
He is a little pricey at $9 million per year, which is already a little expensive, but his age makes it an even bigger gamble. Who knows how he'll be performing as a 33-year old, but regardless, he will fit right into a run-heavy scheme.
PROJECTED CONTRACT: Three years, $9M average per year
Not only does Williams have the lowest projected per-year deal of any guard in the top-100 free agents, but the Dallas Cowboy is young and consistently improving each year. Since 2019, he has improved from a 60.9 grade over 727 snaps to a 70.8 grade over 1,146 snaps and then to a 75.2 grade last season with 1,020 snaps.
Not even 25 years old, Williams is a great fit for rushing-heavy teams and will continue to improve. By the time he turns 30 years old, he might be one of the top three guards in the league. In only his fourth season, he's nearly cracked the top 10 in WAR among guards.
PROJECTED CONTRACT: Three years, $6.67M average per year
---
TACKLE
Fisher registered his third-lowest offensive grade (68.2) and second-lowest pass-blocking grade (61.0) of his career. He didn't surpass 1,000 snaps for the second time in three years and posted the Colts' 10th-best pass-blocking grade on the roster. Expecting to nab Fisher at a projected $14 million tag considering his injury history and recent porous play isn't a bargain worth settling for.
PROJECTED CONTRACT: Three Years, $14M average per year
Lucas's age could be slightly concerning now that he is in his 30s, but he should only garner a short-term contract. With that being said, the past two seasons, which involved grades in the mid-to-high 70s have been the best of his career. Lucas has even improved his WAR to 23rd in the league among guards.
His snap count, though, is not positive. By not exceeding 650 snaps any season, he has yet to prove whether he has the longevity to play a full season.
Still, Lucas is a great swing tackle and be a solid backup for teams that need depth upfront.
PROJECTED CONTRACT: Two years, $2.5M average per year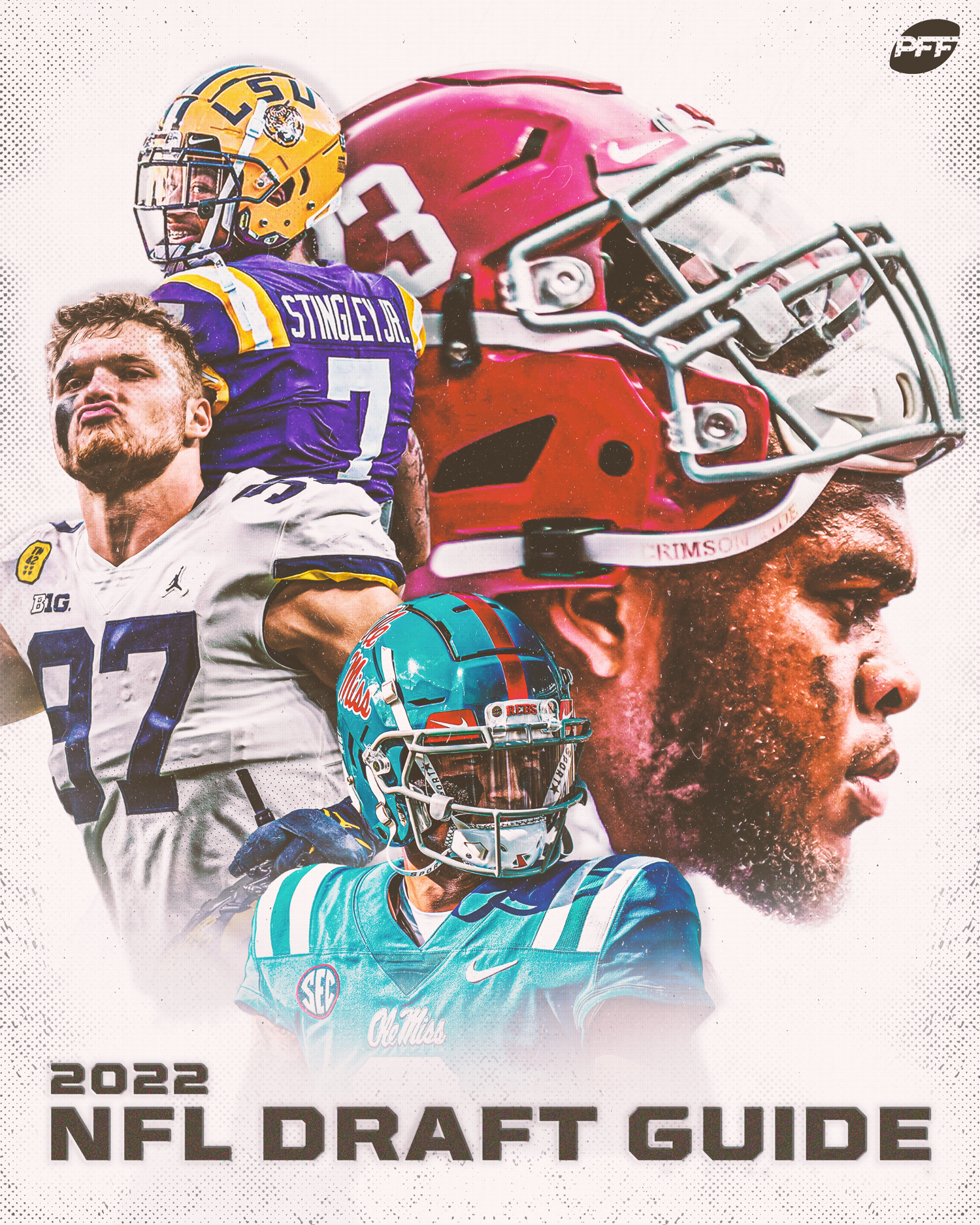 EDGE DEFENDER
Clowney's run defense and pass-rushing grades declined in Cleveland last season with rather underwhelming 62.8 and 69.1 finishes respectively. Anyone projected to give the former top draft pick a $10-plus million deal is only setting its franchise up for a free agency mishap.
PROJECTED CONTRACT: One year, $15M average per year
Gregory registered 14 hits and six sacks during the highest pass-rushing graded season of his career (84.7). After registering the second straight 80-plus pass-rushing grade of his Cowboys tenure, Gregory is in line to be one of the better free-agent bargains of the offseason.
PROJECTED CONTRACT: Two years, $12.5M average per year
---
INTERIOR DEFENSIVE LINEMEN
While Collins did post a career-high run-defense grade (61.7) and the third-highest pass-rushing grade on the Houston Texans (71.0), his price tag may be slightly expensive than what he'll provide to a team. If he hits the open market, someone may just be paying for an interior lineman whose underwhelming strength as a pass-rusher won't counter his sub-par run defense. 
PROJECTED CONTRACT: Three years, $9.25M average per year
Even in an injury-riddled 14th season, Campbell recorded the second-highest defensive grade on the team (80.8) alongside the eighth-best run defense grade among all interior defensive linemen (77.9). At 35 years old, he can still be a valuable piece on a championship-driven front seven.
PROJECTED CONTRACT: One year, $8M average per year
LINEBACKER
In his first season eclipsing over 1,000 defensive snaps, Oluokun starred as a tackling machine by amassing a 76.8 tackling grade. However, he was underwhelming against the run (43.3) and registered the lowest pass-rushing grade of his career (49.8). Investing heavy monetary capital in Oluokun to be your full-time off-ball linebacker might not be the best move.
PROJECTED CONTRACT: Four years, $10M average per year
Campbell flourished as his team's three-down backer, registering career-highs in run defense (81.5), coverage (83.9) and defensive grade (86.0). His performance at 28 years old opens the door for another bargain deal if the right squad features his ideal role. 
PROJECTED CONTRACT: 2 years, $9M average per year
---
CORNERBACK
Williams' career arc took a hit this past season after a down year in coverage (60.1). He struggled in man coverage (59.4) and wasn't that much better in zone (64.7), which brings about further questions regarding his elevated price tag.
PROJECTED CONTRACT: Three years, $13M average per year
Gilmore had the 11th-highest man coverage grade last year (79.4) despite playing just eight games and only 172 man coverage snaps. The former All-Pro could get a solid two-year deal for a team that maximizes his one-on-one coverage skills at a bargain price.
PROJECTED CONTRACT: Two years, $14M average per year
---
SAFETY
The Honey Badger is getting up there in age, and in the last two seasons, his defensive grade hovered just around the 67.0 mark. While he bounced back with an eight-point increase in his coverage grade this past season, his run-defense and tackling grades each took substantial hits. Whoever decides to bring him in probably won't be getting the same Swiss Army knife free safety on the defensive backend. 
PROJECTED CONTRACT: Three years, $16.25M average per year  
COST-EFFICIENT OPTION: MARCUS MAYE
Everything hinges on Maye's from his Achilles injury, but when right, he's one of the most underrated safeties in football. Maye's last full season featured career-highs in defensive grade (82.9) and coverage grade (85.8), including the second-highest zone coverage safety season in 2020 (90.6). Whoever gets him on the market will receive a top-flight steal at a favorable bargain.
PROJECTED CONTRACT: One year, $6M average per year