We are now through the 2022 World Cup quarterfinals, and just four teams remain: Argentina, Croatia, France and Morocco.
We've dug into our data and metrics and identified the most impressive performances from the last round of action. Here is PFF's Team of the Quarterfinals, which includes Argentina's Lionel Messi, Brazil's Neymar and Morocco's Sofiane Boufal.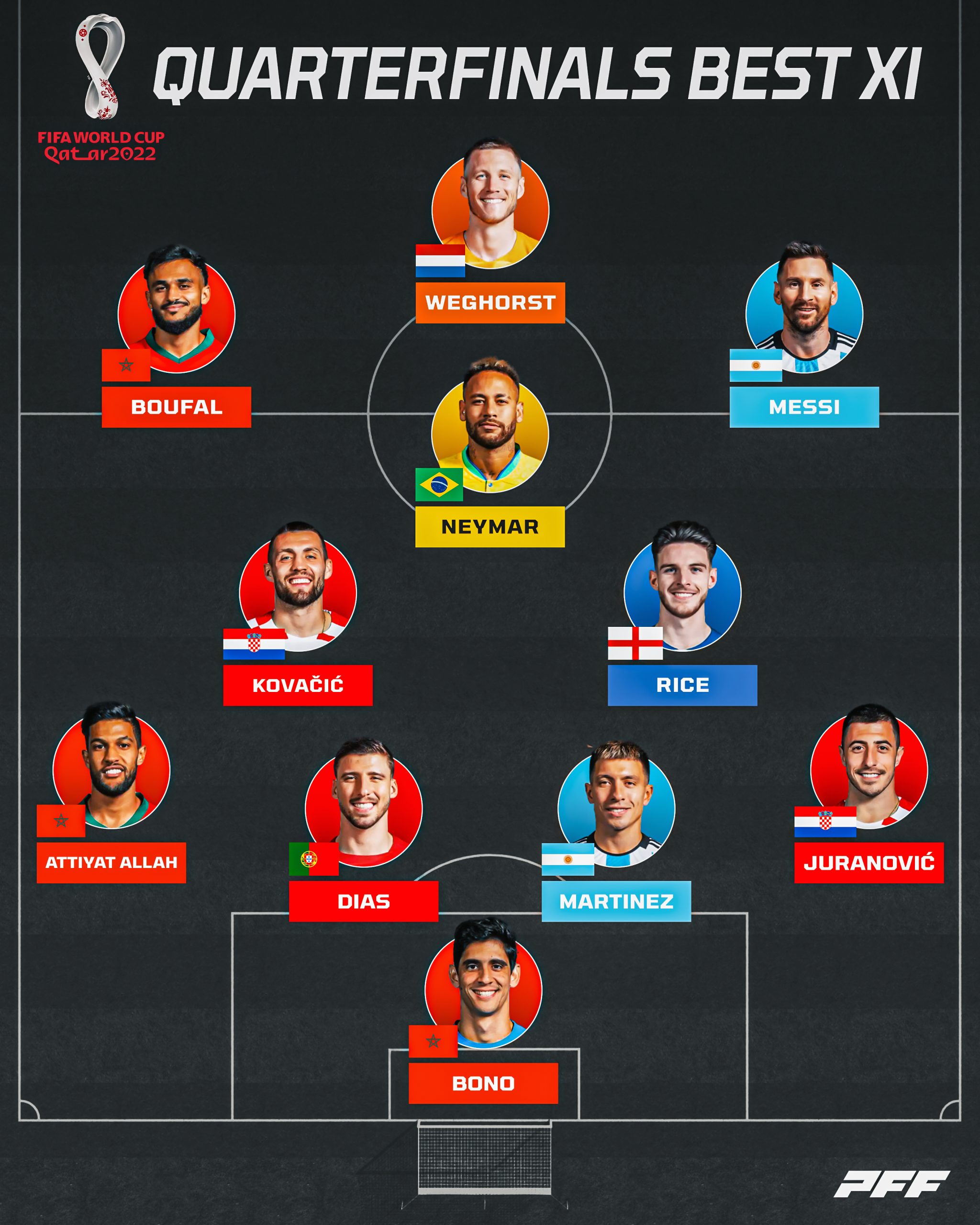 The Sevilla goalkeeper continued his outstanding World Cup with another great performance against Portugal. His 74.3 passing grade led all goalkeepers in the quarterfinals. He also kept another clean sheet and put up an 84.2 shot-stopping grade.
Probably the least-known player to make this team, Attiyat Allah is 27 and has played most of his career in the Moroccan leagues. He provided the assist for his country's goal, but he also graded well across the board. His 75.5 challenge grade is especially impressive when you realize his most common opponents included Bruno Fernandes and Bernardo Silva, some of the Premier League's best.
Dias was involved in Morocco's goal, but almost all the blame has to go to Diogo Costa. Outside of that, Dias was his usual stalwart self, earning an 82.5 challenge grade and zero positioning downgrades. He also posted an 82.0 passing grade, the second-highest passing grade for a defender in the quarterfinals.
Martínez got his first start since the group stages and repaid the decision with an excellent all-around performance. He graded well in all facets, most notably leading all center-backs in challenge grade (85.8).
The Celtic man put on a strong performance in an attacking sense, which included a 78.9 passing grade. However, his 87.4 challenge grade was the highest of any defender in the quarterfinals — and doing that against the gauntlet of Vinícius Júnior, Neymar and Rodrygo makes it almost unbelievable.
Rice posted another typically dominant performance in his midfield role. He showed how well-rounded he is as a player, posting 70.0-plus grades in five facets. His 87.4 challenge grade and 74.7 aerial-duel grade help explain why France struggled to attack down the middle.
All three of Croatia's midfielders could have claimed this spot, but Kovacic just beat out his compatriots. It was a typical Kovacic performance that displayed all of his technical abilities, but most notable was his one-on-one defending — his 93.0 challenge grade was easily the highest of any player in the quarterfinals and takes his mark for the tournament to a staggering 98.6, easily the highest facet grade and brilliant over a large sample size. 
Boufal is one of the better-known players here, as he's enjoyed stints in both the Premier League and Ligue 1. Posting an 85.7 passing grade and 77.7 dribbling grade in a victory over Portugal to send Morocco to the semifinals will undeniably be one of the peaks of his career.
In what could be Neymar's final World Cup performance, the Brazilian legend showed why he is one of the best in the world. Media focus may obsess over his place in the penalty shootout queue, but he was the best player on the pitch during the match, and his goal was pure brilliance. He graded well in all attacking facets, with his 90.9 crossing grade the best mark of the knock-out stage.
We very nearly saw our final Lionel Messi performance at a World Cup, and it would have been a typical Messi performance. His pass to assist the first goal received the highest grade PFF has given to a pass at the World Cup so far. The rest of his attacking performance was excellent, and his downgrade for an intentional handball isn't enough to keep him off this team. 
France's Olivier Giroud had an excellent performance, but this spot has to go to Weghorst, whose two goals in the final 18 minutes could easily have made him one of the greatest substitutions in football history had the penalty shootout gone differently. Unsurprisingly, his 86.9 shooting grade was the best of the quarterfinals.