With the 101 best players in the NFL now named, J.J. Watt sits atop the list, which won't come as a surprise to anybody familiar with PFF, or indeed Watt himself.
This is a player that won PFF's Dwight Stephenson Award, given to the league's best player in a given season, three years running before losing it to Aaron Donald after the 2015 season.
Watt is the single-most dominant player in the league, and even hampered by injuries in 2015, was good enough to rank as one of the runners-up of the Stephenson award. He was No. 5 on the Top 101 of the 2015 season, operating with one hand for a stretch of the season and a groin injury for another part of it—an injury that ultimately shut him down in the playoffs.
Watt began his NFL career as a conventional 3-4 defensive end, but his production and dominance has seen the Texans first move him around the defensive front, and then transition him to more of an edge rusher entirely, which at 290 pounds, is very unusual.
On the edge, Watt has too much power for blockers used to dealing with that kind of speed, but not used to it coming from a 290-pound player with that kind of size and power. He overwhelms perimeter blockers with that power and has the quickness to finish plays once he is by them.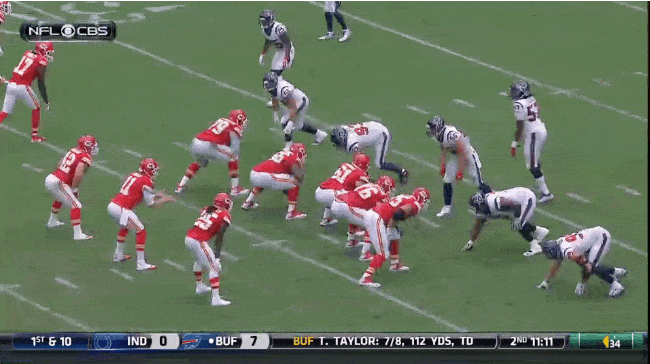 A perfect example of this came in the first game of the season against the Kansas City Chiefs. The first thing to note on the play is where Watt is lined up. Strictly speaking, that is only a three-man line, but the Texans are essentially showing a four-man rush with LB Brian Cushing also threatening the A-gap up the middle. This is why the 3-4 or 4-3 talk is often an abstract concept. This particular front in Houston's sub-package could be deemed either, depending on what you want to focus on. In terms of alignment, Watt is way outside the tackle lined up almost as a wide-9 defensive end, rather than an interior 3-technique.
When people think of where Watt plays as a "3-4 end," they typically expect him to line up where Jared Crick (No. 93) or Vince Wilfork (No. 75) are on this play.
Watt is going against Jah Reid at RT, and though this is a mismatch in Watt's favor, Reid actually does a pretty good job initially, and would probably have successfully blocked most regular edge rushers on the play. He mirrors Watt well off the line, gets in good position, and even gets a pretty solid pair of hands on him, but Watt just powers through the block—and then the hands to the face—in a way most edge rushers simply don't have the ability to.
This is part of the difference between interior rushers and edge defenders. There are plenty of defensive tackles or interior rushers that would have this kind of power, but most wouldn't be able to team it with the quickness, burst, speed and agility that Watt has.
Look at the point in which Reid goes to make contact—Watt is already five yards deep and trying to turn the corner before Alex Smith has even hit the top of his drop.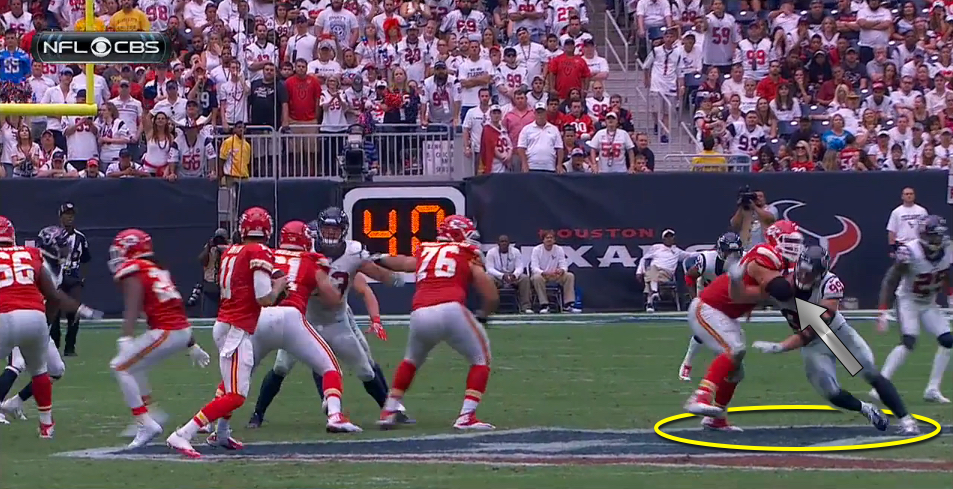 The same thing happened later in the game, with Watt generating pressure and drawing a holding flag from Reid. This time, he swats Reid's punch aside and is able to power through the bigger man leaning on him in a way that probably would have succeeded against most edge rushers. At the very least, Reid would likely have been able to prevent the pressure even if this block was still deemed a holding penalty, but Watt was able to drive back against the tackle and force his way through the hold to generate quick pressure anyway.
Watt still lines up inside at times, typically when Houston is in base defense, before he kicks outside in any kind of sub-package, and that combination of speed and strength kills interior players as much as it does tackles.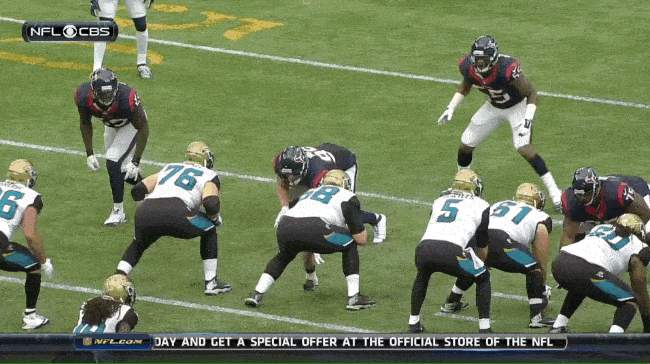 It's also effective against the run, and not just as a pass-rusher. Watt plays in the backfield, and penetration will disrupt both types of play. Take this example against the Jaguars in the final week of the regular season (above). This is ugly from the LG, Zane Beadles, but Watt looks to be playing at a completely different speed. He has already pulled a feint and made contact before Beadles has even struggled out of his stance and lunged forward. With that kind of difference in speed Watt is past him before he even knows what happens to make the tackle in the backfield and kill the play.
The bottom line is that Watt is a physical freak, but the NFL is full of those. What separates Watt is his consistency and drive to make the play every time. He is too quick for interior players to handle and too strong for tackles and tight ends to contend with. He is a rare combination of strength and agility, and undeniably an all-time great player.
When all is said and done, he has a real chance to go down as one of the best defenders to ever play the game, but for right now, he can settle with a place atop this 101 list as the best player in the game right now.