· PFF's highest-graded defense, the 49ers maintained their 90-plus% zone usage in Week 3.
· Detroit's opponents continue taking advantage of its league-high man-coverage rate (53.8%).
· Will Buffalo (NFL-low 8.9% man-coverage rate) alter its gameplan in Baltimore, where high-flying Ravens have seen NFL-high 49.5% man looks?
• New users who bet $10 or more at BetMGM will receive a free year's subscription to PFF+ — a $79.99 value.
Estimated reading time: 6 mins
---
Whether to run man coverage or zone coverage is a big decision for each NFL team, and many factors influence their decisions during and in preparation for the game, including the talent level of the defense itself and the talent level of the offense they will be facing. Some teams' schemes work better with man coverage, while others work better with zone, and PFF's Arjun Menon and Judah Fortgang analyzed this in a previous article titled "Should NFL teams be playing more man or zone coverage".
Each week, we will detail how teams varied in the use of man and zone coverage, and how it may have differed from their previous week. As we get more data, we will eventually make predictions for each team's man and zone coverage rates for the next week, and analyze those predictions.
---
Week 3 Man and Zone Rates
Playing man and zone coverage could depend on the strengths and weaknesses of the opponent the team faces. In Week 3, the league as a whole ran man coverage 32.3% of the time, up from 28.4% last week. Highlighted in this week's Coverage Update article, here are the teams that ran the most man and zone coverage in Week 3:
• Man — Detroit Lions (69.6%), New England Patriots (58.8%), Chicago Bears (54.3%)
• Zone — Seattle Seahawks (92.6%), Buffalo Bills (92%), San Francisco 49ers (90.5%)
Note: From 2019-2021, the league average for running man coverage was 33.9%, and zone was 66.1%.
The Lions ran the most man coverage this week, running it nearly 70% of the time against the Minnesota Vikings. They continue to run a heavy amount of man coverage, and it may not be paying off, as their defensive backs, specifically cornerbacks, are not the strongest — and opposing offenses are taking advantage of the man-to-man coverage mismatches.
The Seahawks, Bills, and 49ers all chose to run mostly zone again this week, which is consistent with their cumulative rates. However, their defensive game plans were not entirely successful (with the exception of the 49ers, who only held the Denver Broncos to 9 offensive points), as each of those teams lost this week.
Evolving Defensive Man and Zone Rates
Some teams' man and zone rates will vary by opponent, while some will stay steady throughout the season. So far, the league as a whole ran man coverage 28.9% of the time, therefore running zone on 71.1% of plays. From 2019-2021, the average man coverage percent was 33.9%, so the league is running about 5% more zone coverage this season. Below, we can see how each team's percentage of running man and zone coverage evolves each week.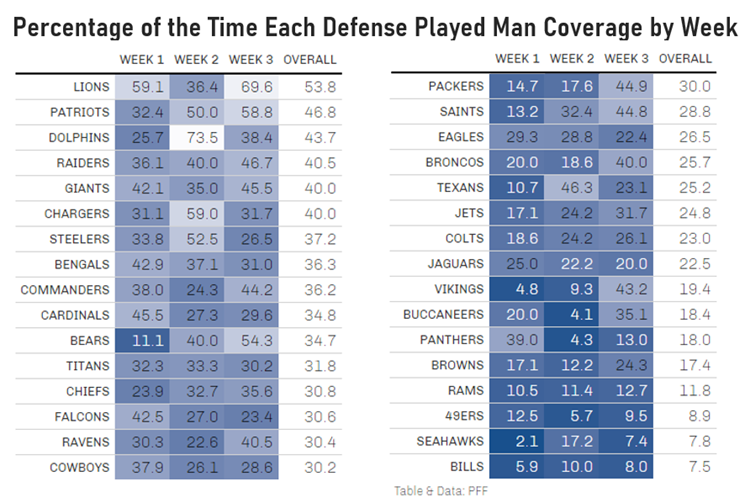 The Tennessee Titans have had almost the exact same coverage gameplan in each of their games this season, running man coverage almost the exact same amount in every game. The Bills are another team that has only really run zone coverage this season, while the Patriots have increasingly been using more man.
Some teams changed it up significantly in Week 3, specifically the Miami Dolphins, Green Bay Packers, and Minnesota Vikings. The Dolphins have tailored their coverage gameplan to their specific opponent, with entirely different man coverage percentages in each of their three games, and so far it has worked in leading their team to 3-0. The Packers and Vikings were two teams that ran mostly zone coverage in Weeks 1 and 2, but chose to run a hefty amount of man coverage in Week 3, and both of them contained their opponents' offenses enough to get the win.
Man and Zone Rates Each Offense Faced
Teams often base their defensive coverage play calling on the particular opponent they are facing. Let's see how often each offense had faced man and zone coverage by the opposing defense, and how it's differed by week.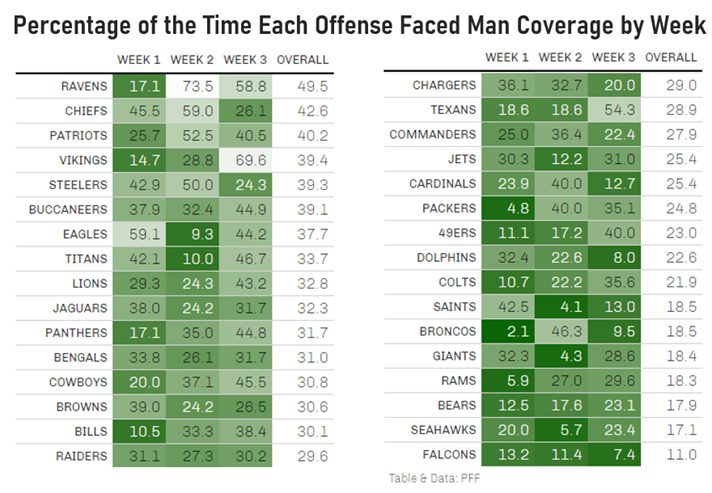 After 3 weeks, the Baltimore Ravens offense has faced the most man coverage by opponents. After facing the most amount of man coverage after the first two weeks, the Kansas City Chiefs faced a below average amount of man coverage from the Colts defense and their cover 3 scheme. The Indianapolis Colts strategy was ultimately successful in containing Patrick Mahomes and the Chiefs offense, something the Chiefs' previous opponents couldn't do using their man coverage strategies.
The Titans passing game got into a good rhythm this past week against a Las Vegas Raiders defense that used man coverage nearly 50% of the time. So far, the Titans offense has struggled when they faced mostly zone, and succeeded against the teams that ran more man coverage.
In Week 1, the New Orleans Saints offense tore apart the Atlanta Falcons defense that used a large amount of man coverage, but since then, they've faced almost entirely zone coverage and struggled to put points on the board.
Best and Worst CB trios in Week 3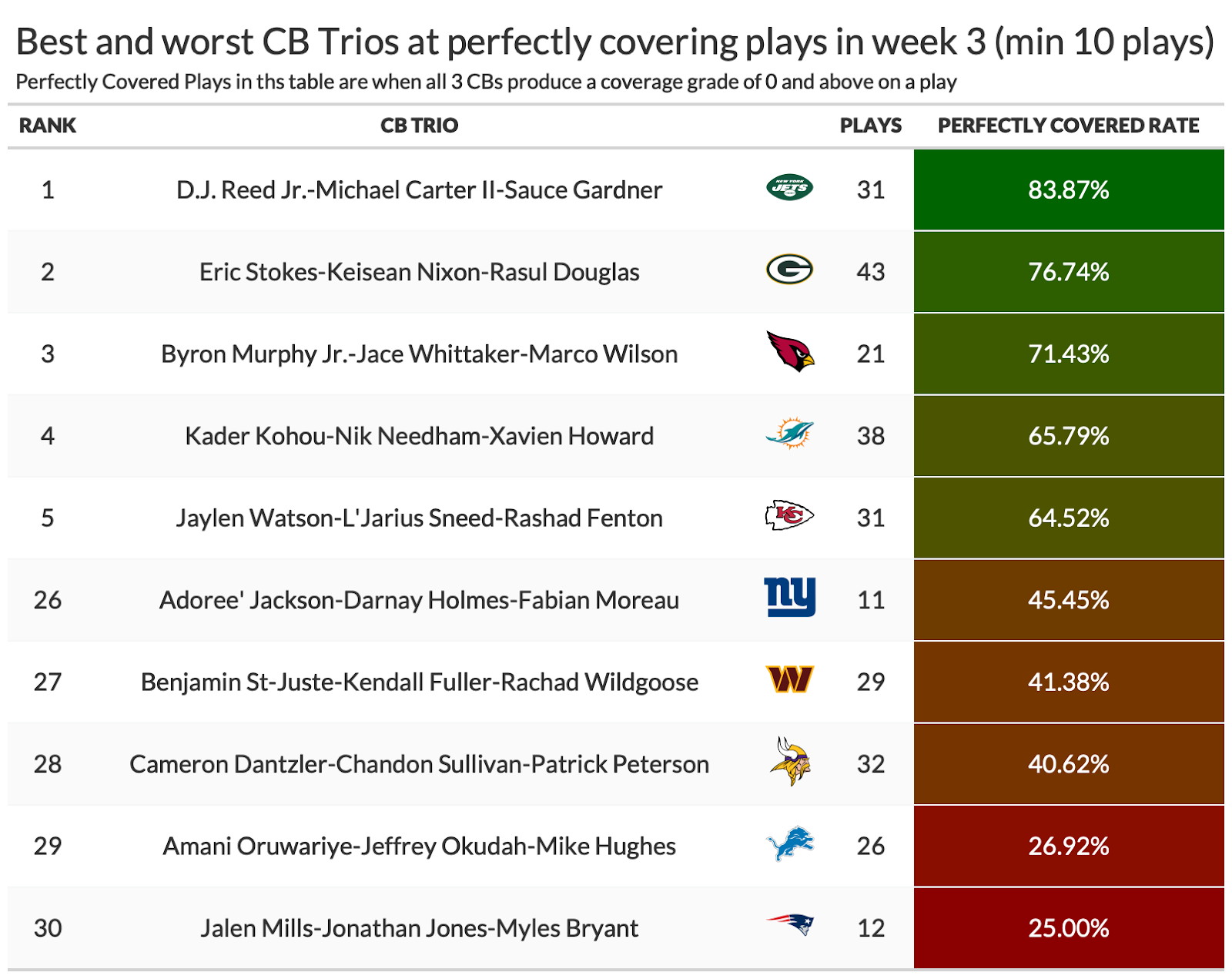 As a whole, the New York Jets weren't great as a defense as they gave up 270 yards and 3 passing TDs to Joe Burrow and the Cincinnati Bengals. But zoom into their 3 main CBs specifically, and it paints a different picture. Despite going up against arguably the best WR trio in the NFL, they had a perfectly covered play rate of 83.87%, which was the highest number in Week 3, and the third-highest number so far this season.
Despite Jeffrey Okudah having a wonderful day against Justin Jefferson (2 catches for 9 yards on 31 snaps being the primary coverage defender), the rest of Detroit's unit was subpar. Amani Oruwariye had a day to forget, and their ranking here just shows how much of a weak-link system coverage is. Kirk Cousins repeatedly went after the Oruwariye-Adam Thielen matchup on the outside and saw a good amount of success doing so.
Week 4 Questions and Matchups to Watch
The Colts figured out how to contain the Chiefs offense last week, running less man coverage than the Chiefs' previous opponents. This week, the Chiefs face a Tampa Bay Buccaneers defense that has run a lot of zone defense this season.
· Will the Buccaneers continue the trend and see if their strong zone defense is able to contain the Chiefs offense?
The Titans kept their gameplan the same across their three previous opponents. Will they keep running a little over 30% man coverage this week against the Colts or finally tailor their coverage scheme to their opponent?
Also look to see how the Titans offense faces against the Colts' primarily cover 3 zone defense, since they haven't gotten into a rhythm when facing zone this season. 
With the Bills running almost entirely zone coverage this season, they're facing a Ravens offense that has faced the most man coverage thus far.
· Will the Bills change their defensive gameplan and run more man coverage?
· If the Bills continue running mostly zone defense this week, how will the Ravens' offense adjust? 
After running a ton of zone coverage in Weeks 1 and 2, the Vikings ran a lot of man in Week 3.
· Will Minnesota go back to Weeks 1-2, when they were primarily zone, to face a Saints offense that has struggled against zone coverage?