· Parlay Justin Jefferson 100 rec. yards and a TD, Kirk Cousins 300+ pass yards, MIN -5.5: Vikes continue scheming Jefferson open en route to win.
· Parlay Stefon Diggs TD, Dawson Knox TD, Josh Allen 275+ pass yards, Derrick Henry U 87.5 rush yards: Buffalo poised to steamroll again on offense.
• New users who bet $10 or more at BetMGM will receive a free year's subscription to PFF+ — a $79.99 value.
---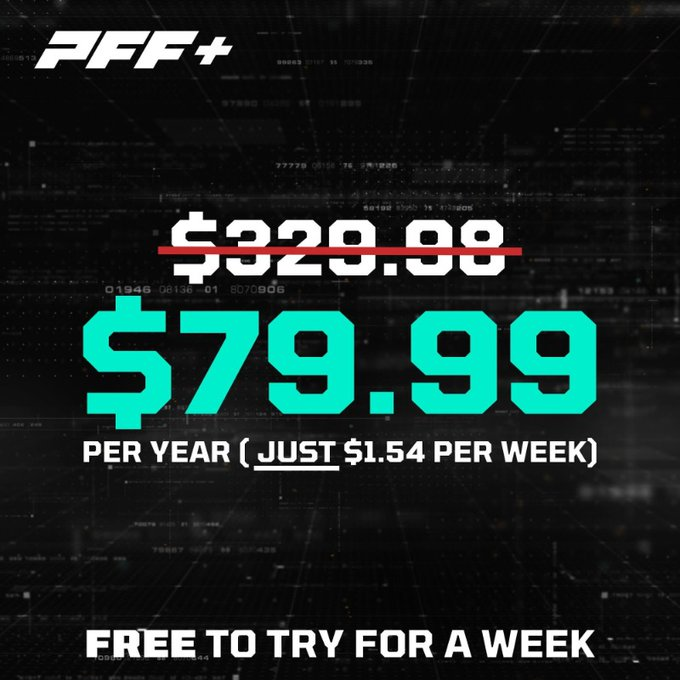 Estimated reading time: 3 mins
· While same game parlays (SGPs) are big money makers for the sportsbooks, that does not mean betting edges don't exist. SGPs offer two unique opportunities unavailable in other markets: they uniquely tell a story that we can create through props, spreads, and totals; and (2) SGPs allow us to combine outcomes that are correlated through a particular game angle, but will not be priced into the odds set by books.
· The goal in this space, then, will be to hit on SGPs that either tell unique stories about games and/or uncover correlated outcomes available only through SGPs.
Story: Bills Offense steamrolls Titans 'D'
• While we don't want to overreact too strongly to Week 1, all signs from the offseason into this one indicate these teams are in fundamentally different tiers. The 2021 Bills were almost .70 Drive EPA (expected points added) better than the Titans.  This trend was only exacerbated in Week 1, as you see below, despite the Titans playing the Giants and the Bills playing the Rams.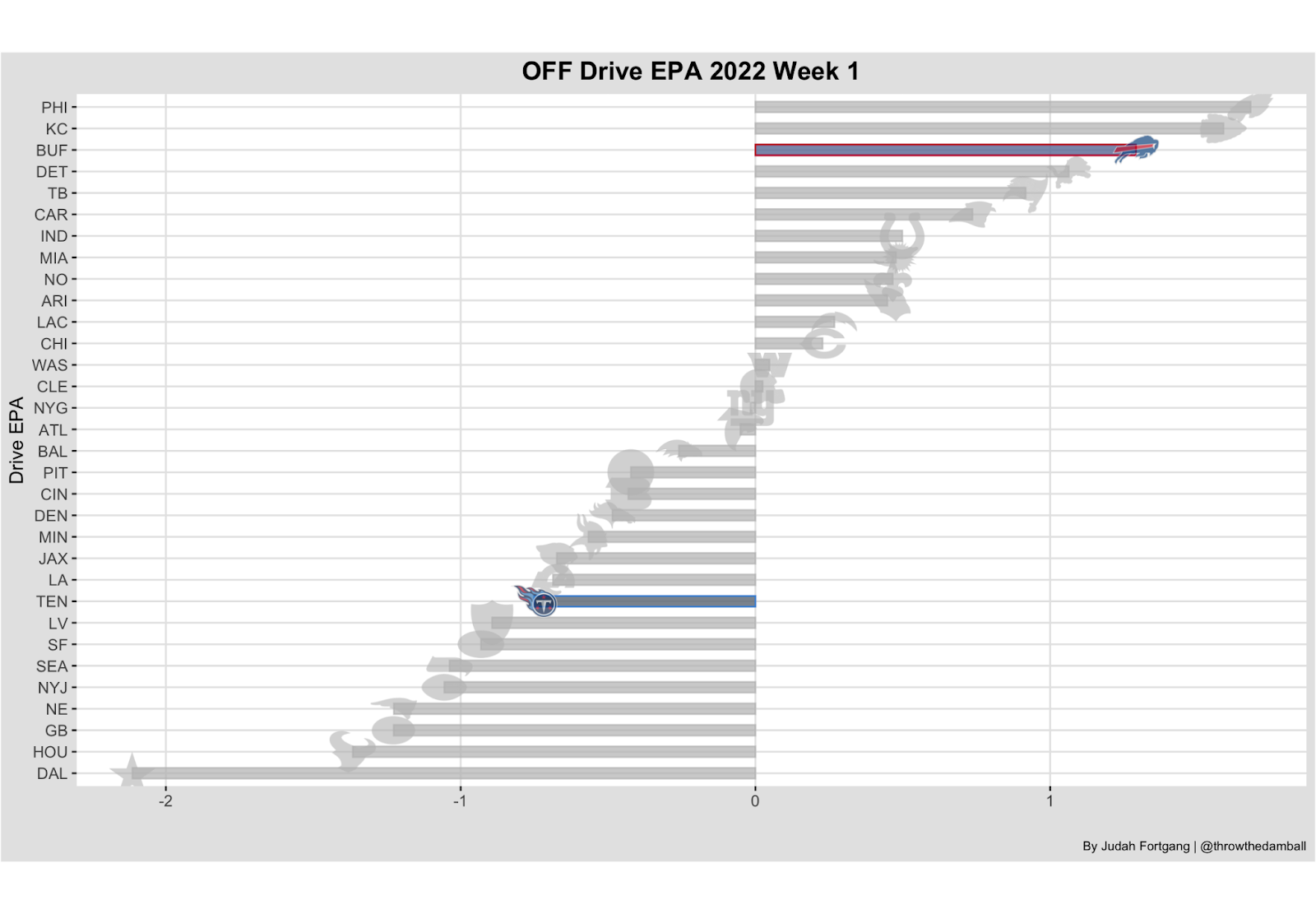 • The Bills should be able to move the ball at will and they will do so through the air.  
• Since 2021, Stefon Diggs ranks 2nd in Red Zone targets and Dawson Knox is 13th. With a banged-up Gabriel Davis, look for these guys to continue to getting opportunities close to the end zone and add some juice to our SGP. 
• Should the Bills jump out to a big lead, the Titans will have to abandon the run, and Derrick Henry's under represents another correlated leg to our bullish Bills thesis. 
SGP Build +1875 (FanDuel)
• Stefon Diggs TD Scorer
• Josh Allen 275+ Passing Yards
• Derrick Henry Under 87.5 Rushing Yds
• Dawson Knox TD Scorer
---
Story: Kevin O'connell continues scheming justin Jefferson open en route to Vikings Win
• Not much needs to be said about Justin Jefferson and his absolutely elite receiving skills. He is a threat to go off any game.

• In Week 1, Jefferson was matched up on a CB on 57% of his snaps, including 20% snaps matched up against edge and linebackers, a testament to Kevin O'Conell's ability to scheme his receivers open.  
• Some SGPs don't need to be too fancy. With Jefferson schemed to match up against defense's weakest links, and until defenses learn to adjust to O'Connell's new scheme, look for Jefferson to pop once again and lead the Vikings to victory. 
SGP Build (+1233 FanDuel):
• Justin Jefferson TD scorer 
• Kirk Cousins 300+ Passing Yards
• Vikings alt spread -5.5
• Justin Jefferson 100+ Yards
---