A certain college running back on a national title-contending team is hoping this year to duplicate his monster 2015 season, in which he ran for 1523 yards, scored 13 touchdowns and forced 67 missed tackles on his way to averaging 5.4 yards per carry. Who is this back? One may guess LSU's Leonard Fournette or Florida State's Dalvin Cook, but they'd be wrong; the answer is Wayne Gallman — the often overlooked man from Clemson.
Of the FBS backs returning in 2016, Gallman had the eighth-highest overall grade, and ranked in the top ten in virtually every statistical category — most notably carries and the aforementioned forced missed tackles. Playing in the shadow cast by QB Deshaun Watson, who could be the number one pick in next year's NFL draft, is a big reason for the lack of buzz around Gallman. He deserves credit for not only being a productive runner, but also being one of the better all-around backs in college football.
His production numbers are on par with the best backs in FBS, despite lacking top-end burst and explosion. His speed limitations are not only apparent on film, but backed by our statistical analysis, as his 19 runs of 15 yards or more ranks him only 19th among returning players. We consider these runs to be breakaways, and with only 32.9 percent of his yards last year coming on huge plays he ranked just 33rd in the category (Cook led the country with 62.9 percent of his yards coming on breakaways).
One area he clearly excelled at in comparison to the likes of Cook, Fournette and even Stanford's Christian McCaffrey is pass blocking. He took 181 reps in pass protection (third-most in FBS) and yielded just 6 hurries (with no sacks or hits given up), ranking him fourth among returning backs in pass blocking efficiency. This is an impressive feat considering he was just a sophomore, and a marked improvement over his three sacks, two hits and three hurries yielded on just 87 reps as a freshman.
His film in pass protection is even more impressive than the analytics show, as he clearly has a strong understanding of his assignments, and utilizes a variety of techniques to win at the point of attack and keep Watson clean.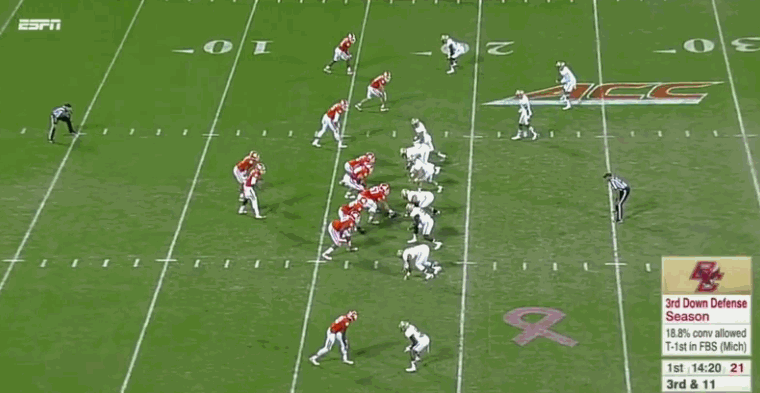 On this rep he stays patient, allowing him to sniff out the stunt off the blitz. Once he engages, he does an excellent job of riding his man's momentum through the back of the pocket, giving Watson a clean lane to step into. His film is full of plays like this, as he consistently makes quick, correct decisions in terms of assignments and can win as he did in this play, as well as by standing his man up at the point of attack or cutting him down. He also was an effective run blocker, with almost 200 reps to his name in his two-year career.
After playing in last year's national championship game, Clemson is going to be a heavy favorite to return to the playoff this coming season. While much of the media focus throughout 2016 and into draft season will rightfully be on Clemson's star QB, Gallman's running and blocking makes him the unsung hero of the Tigers' offense.