This was the second straight year Pro Football Focus has partnered with the Reese's Senior Bowl. PFF sent a group of analysts down to Mobile, Alabama, to watch and grade practices. Here are the biggest takeaways and highest-graded players in this year's Reese's Senior Bowl, which the South won 16-15.
North
Quarterback grades: Nathan Peterman, 68.3; Sefo Liufau, 60.0; C.J. Beathard, 60.0
Peterman gets the most of the game reps
Pitt's Nathan Peterman had the strongest week of practice among the North quarterbacks and he was awarded with the most game snaps. Peterman didn't attempt any deep passes of 20 or more yards in the game but he completed 6 of his 9 passes thrown to the intermediate level of 10-19 yards downfield. Peterman impressively completed 7 of his 10 passes under pressure and he definitely helped himself the most of the North team quarterbacks during his time in Mobile.

Top offensive grades:
WR Zay Jones, 84.6
FB Sam Rogers, 82.4
C Tyler Orlosky, 73.6
G Jordan Morgan, 72.4
HB Kareem Hunt, 71.4
PFF College's highest-graded skill players shine for the North
East Carolina's Zay Jones followed a regular season that saw him finish as PFF College's highest-graded receiver with a great showing all week in Mobile, both in practices as well as the game. Jones caught passes against four different coverage defenders and the QB rating when targeting Jones during the game was 139.6. Virginia Tech fullback Sam Rogers was a lead-blocking machine and finished with a game-high 79.8 run-blocking grade. West Virginia's Tyler Orlosky did not allow a sack, hit or hurry of North quarterbacks on his 23 pass-blocking snaps.
We have been a big fan of Toledo halfback Kareem Hunt's game for years and he finished the season as PFF College's highest-graded halfback. Hunt has elite balance, which allows him to stay on his feet to pick up extra yardage when most running backs would have fallen down. Hunt rushed for 87 yards after contact and forced 5 missed tackles on only 15 carries. Hunt showed all season long and all week long that he can be a factor in an NFL team's passing game as well. Hunt really helped himself in Mobile this week.
Top defensive grades:
S Lorenzo Jerome, 85.0
S Obi Melifonwu, 80.8
OLB Vince Biegel, 80.4
DT Jaleel Johnson, 77.1
OLB Derek Rivers, 75.6
Small school safeties support wily rushers
Despite living in the backfield throughout 2016, Vince Biegel only managed four sacks his senior season. He still registered 51 total pressures, though, including 41 hurries (second among FBS OLBs). Biegel recorded six combined hurries in the senior bowl, over a quarter of the 21 total his side managed. On the back end, safeties Obi Melifonwu and Lorenzo Jerome illustrated ideal center-field play. The St. Francis product picked off a pair of passes, reading Antonio Pipkin's eyes perfectly on one red-zone pick. Jerome proved his potential by stepping up with the level of competition. The same can be said of Connecticut's Melifonwu, who filled running lanes with authority throughout the day.
South
Quarterback grades: Joshua Dobbs, 71.5; Davis Webb, 73.9; Antonio Pipkin, 52.1
Webb catches fire, propelling South win
Davis Webb of Cal changed the narrative around his disappointing practices with an impressive display to conclude the week. He was perfect from the line of scrimmage to 20 yards downfield, connecting on all eight targets for 78 yards. Although Webb was less efficient downfield, he still made a couple of big-time throws including a perfect strike in the right corner of the end zone to Josh Reynolds. Starter Josh Dobbs also made an impact in his cameo, connecting on 12 of 15 attempts for 104 yards. His interception was unfortunate. The ball lofted harmlessly into the defender's arms after he was faced with little chance from a total offensive line breakdown. Otherwise, Dobbs enhanced his stock.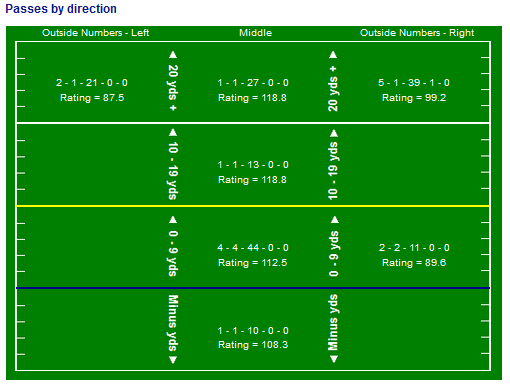 Top offensive grades:
C John Toth, 81.8
WR Fred Ross, 74.3
QB Davis Webb, 73.9
HB Jamaal Williams, 71.6
QB Joshua Dobbs, 71.5
Toth demonstrates ground game dominance
John Toth capped a fine career at Kentucky will a brilliant display in his postseason All Star game. He was easily the most impressive lineman on the South squad, flashing impressive athleticism on inside zone-rushing plays in particular. Toth's movement skills enable him to make blocks in space. He looks comfortable in the screen game or when required to cut off linebackers at the second level. Although those particular plays caught the eye, Saturday proved a complete display. Toth's strength was also evident as he continuously widened lanes on solo blocks in-line.
Top defensive grades:
ED Jordan Willis, 85.5
DI Montravius Adams, 81.0
ED Tanoh Kpassagnon, 80.5
LB Harvey Langi, 80.5
LB Alex Anzalone, 79.8
Edge rushers dominate for the South
PFF College's highest graded edge-rusher this season was Kansas State's Jordan Willis, and he finished the Senior Bowl with a game-high 88.5 pass-rushing grade. Willis finished the game with 2 sacks and 4 hurries on only 22 pass-rush snaps essentially backing up his season-long performance. Villanova's Tanoh Kpassagnon dominated from the weigh-in through practices and into the game. Kpassagnon had 1 sack, 2 hits and 1 hurry on only 18 pass-rush snaps and his 84.0 pass-rushing grade ranked No. 2 among all defensive players. Auburn's Montravius Adams had 3 run stops and the highest run-defense grade among the South defensive interior linemen. The No. 2 run defense grade for the game went to UCLA's Eddie Vanderdoes, who had a strong week in Mobile.