OAKLAND, CA - AUGUST 31: Trevone Boykin #2 of the Seattle Seahawks throws a pass against the Oakland Raiders during the second quarter of their game at the Oakland-Alameda County Coliseum on August 31, 2017 in Oakland, California. (Photo by Thearon W. Henderson/Getty Images)
The Seahawks would take the lead early in this one, getting a field goal and a QB Trevone Boykin touchdown pass to WR Rodney Smith in the first quarter. The Raiders would storm back, getting a field goal of their own and a QB EJ Manuel touchdown pass to Keon Hatcher to keep it tied by the end of the third quarter.
In the fourth quarter, the Raiders pulled ahead with a Giorgio Tavecchio field goal, but the Seahawks would win 17-13 on the strength of a QB Austin Davis touchdown pass with a 1:10 left in the game. With that, we give you our PFF exclusive takeaways from the contest for each team.

Top 5 grades
CB Pierre Desir, 90.3 overall grade
C Joey Hunt, 87.6 overall grade
G Jordan Roos, 81.3 overall grade
S Kache Palacio, 80.6 overall grade
WR Kasen Williams, 80.2 overall grade
Performances of Note:
C Joey Hunt, 87.6 overall grade
Hunt finished with the Seahawks highest grade on offense, his run blocking really set him apart as he recorded an 86.4 grade in that department. He was efficient in pass pro as well, surrendering only on pressure on 31 pass block snaps.
Williams has been a pleasant surprise for the Seahawks this preseason, that continued tonight as he hauled in two catches for 57 yards while showing the ability to get yards after the catch. Williams ends the preseason catching 9 of his 13 targets for 209 yards.
Desir came away with the game ball and highest grade. He allowed only one catch on seven targets and recorded a pass breakup. Desir had a great preseason, allowing only four catches in coverage on 17 targets. Perhaps more impressive is he allowed only 4 yards after the catch through the four games.
Palacio finished the game with an overall grade of 80.6, he was the top run defender for Seattle recording a grade of 81.0 as he ended the night with 7 tackles and one stop.

Top 5 grades
CB Dexter McDonald, 86.7 overall grade
LB Xavier Woodson-Luster, 81.7 overall grade
CB Breon Borders, 81 overall grade
WR Keon Hatcher, 80.8 overall grade
DI Darius Latham, 79.1 overall grade
Performances of Note:
QB EJ Manuel, 64.7 overall grade
Manuel didn't face much pressure from the Seattle front seven, only attempting two passes while under pressure. When not pressured, Manuel finished the game with an average of 5.2 yards per attempt as the majority of his targets were under 10 yards.
Hatcher was Oakland's most effective receiver, ending the game with a receiving grade of 80.1. He caught five of his seven targets for 48 yards, Hatcher's 61 snaps more than tripled his previous preseason high of 19.
McDonald was targeted eight times, allowing three receptions for 48 yards. While those numbers don't stand out, he did flash good technique against the Seahawks as he was typically in good coverage position when targeted. McDonalds 134 total snaps this preseason was the most in his three year career.
Woodson-Luster was sound against the run, slipping linemen at the second level on his way to a run defense grade of 87.9. His three defensive stops tied for the team high, he also recorded one of the three sacks for the Raiders defense.

PFF Game Ball: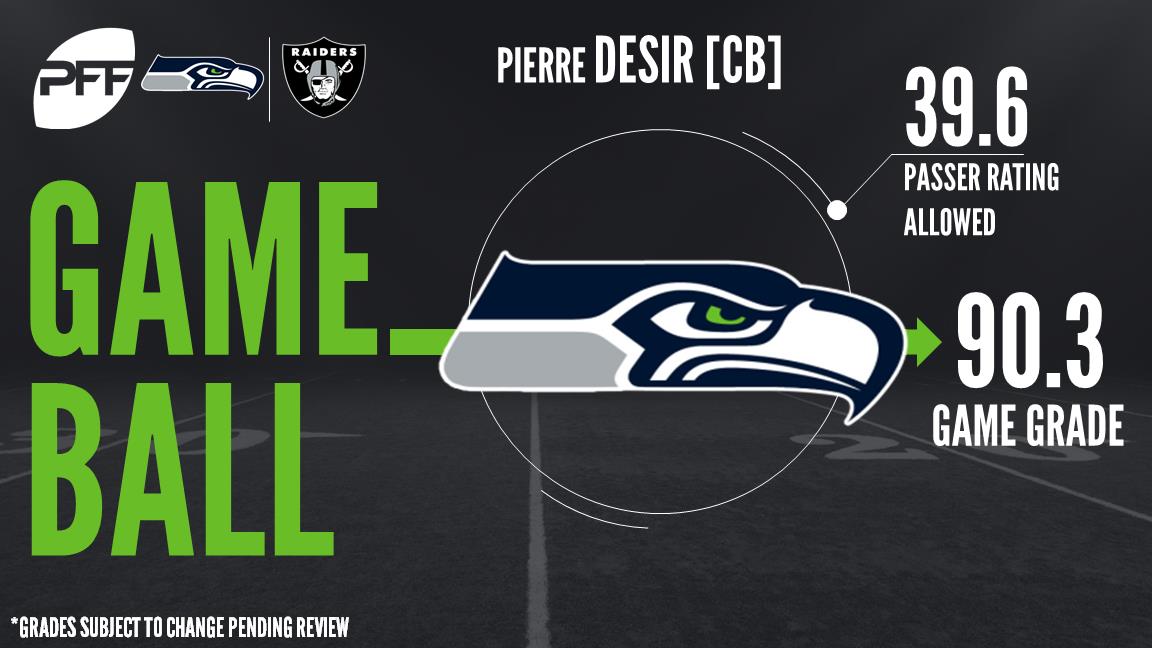 *Grades subject to change pending review