Although Ben Roethlisberger led the NFL in passing yards last season — attempting a league-high 675 passes had a lot to do with that — it's hard to argue that he performed at the level the Pittsburgh Steelers have grown accustomed to seeing over his career. In 2017, Roethlisberger ranked second among all quarterbacks in PFF WAR, behind only Tom Brady. He ranked fourth among quarterbacks in overall grade. He was still very much one of the elite quarterbacks in the league. Those ranks fell to 16th and 15th, respectively, last season. What caused the decline in performance? Was 2018 the beginning of the end for Roethlisberger, or is he set to bounce back to top-five form? I'll attempt to answer the first question below, but it's the second question that will likely determine the Steelers' fate in 2019.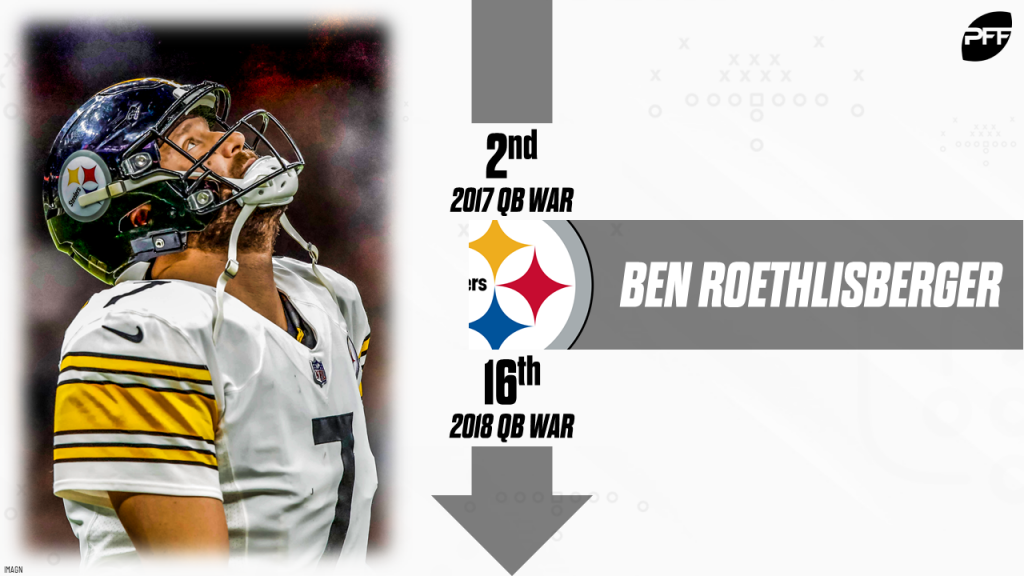 THE BEN TO AB CONNECTION WASN'T QUITE THE SAME
Antonio Brown made waves in the NFL world this past week with his threats to retire should the NFL not cave in to his helmet demands, highlighting why the Steelers were content to trade an elite talent like Brown for merely a third- and fifth-round draft pick. Getting masked by some of the drama toward the end of the relationship, though, was the fact that Roethlisberger and Brown weren't on the same page as they had been for the better part of eight years. The numbers told the story that the two were drifting apart before the fireworks prior to Week 17 signaled it loud and clear.
Subscribe to PFF Edge to continue reading
Already have a subscription? Sign In