The NFL regular season is nearly upon us, so with three weeks of preseason play-by-play grading under our belts, it's time we unveil our list of the highest-graded first-year quarterbacks.
Some of these guys were drafted to be the future of their respective franchises, others were brought in as a "camp arm" but ended up balling out with the dregs of the team's depth chart. Here is PFF's list of the top-15 rookie quarterbacks (with a minimum of 50 snaps) heading into the fourth and final game of the 2019 NFL preseason.

[Editor's Note: All of PFF's player grades and advanced statistics are finalized and made available to ELITE subscribers before 5 pm ET on the Monday following each weekend's slate of games during the season. Sign up today to gain access!]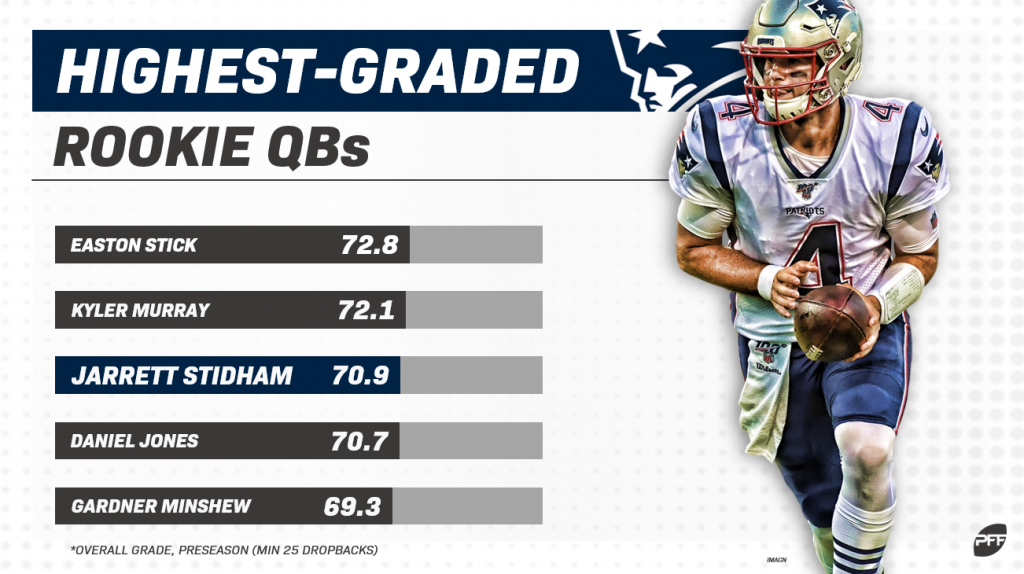 The Chargers' fifth-round pick ended the 2018 college season with an elite 91.1 overall grade that tied for second among the draft class, so it's not a shock to see that he's got off to a relatively solid start. So far, Stick has completed 24 of his 40 attempts for 222 yards, one touchdown and two interceptions (but only one turnover-worthy play).
His work as a passer has been good, not spectacular: his 66.9 passing grade ranks fifth among first-year quarterbacks, and his class-leading 21.4% positively graded play rate is coupled with the fifth-highest negatively graded play rate. However, his work on the ground has been excellent so far. In three games, the North Dakota State product has picked up 34 rushing yards on four designed rushing attempts, and he added a spectacular 31-yard touchdown run from his lone scramble in Week 1. With one game left to play, Stick's 82.4 rushing grade ranks fourth among all quarterbacks, while his 5.40 yards after contact per carry ranks third.
We've seen two very solid performances and one forgettable one from the Cards' first overall pick, but his combined work across all 42 dropbacks is still good enough to crack the top three on this list. Through three games, Murray has completed 63.9% of his 36 pass attempts for 193 yards, three big-time throws and not a single turnover-worthy play, and his 75.9 passing grade ranks second to only Daniel Jones among rookie quarterbacks.
So far, we've seen much of what we expected to see from the Heiman-winning quarterback: His 17.9% positively graded play rate ranks second among first-year players at the position, as does his 8.3% big-time throw percentage. In terms of throw-for-throw accuracy, only Daniel Jones (63.3%) and Jarrett Stidham (61.8%) have recorded a higher accurate-pass percentage than Murray (59.4%).