PFF's player projections, calculated by Eric Eager and Jeff Ratcliffe, are made available to all EDGE and ELITE subscribers as part of PFF's fantasy suite. PFF Greenline, a betting tool available to just ELITE subscribers, uses the same player projections to make predictions for the spread, moneyline and over/under.
Below, we've highlighted the nine running backs PFF currently projects to go over 900 rushing yards in 2019.
[Editor's Note: Subscribe to PFF's ELITE subscription to gain access to player projections and PFF Greenline.]
Elliott sitting atop this list is a product of above-average talent on his part, opportunity, and a Cowboys offensive line that should continue to pave the way for him as they have all throughout his career. Using a Massey-type rating system, we at PFF adjust our play-by-play grading by opponent and rank offensive lines in run blocking. Dallas has finished in the top-six in each of the past three years, and we currently have the team's front five as the second-best offensive line in the NFL entering the 2019 season. Add that to Elliott's strong skill set and the bevy of touches he'll get as the focal point of the Cowboys' offense, and it's no surprise that our projections have him as the league's leading rusher this upcoming season. His current 2019 projection is 1,236.6 rushing yards and 8.5 rushing touchdowns.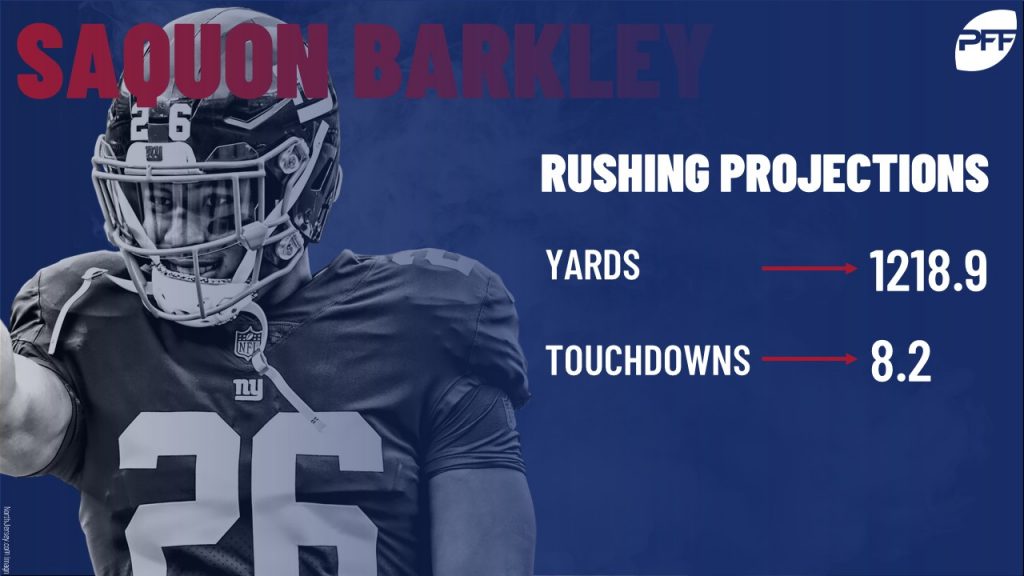 We've already seen enough from Barkley to slot him at No. 43 on our list of the 50 best NFL players entering the 2019 season. His 85.9 overall grade, 84.6 rushing grade and 86.4 receiving grade all rank inside the top-five among qualifying rookie running backs in the PFF era (2006-18). Looking specifically at his pass-catching ability, Barkley caught more passes (91), gained more yards after the catch (787) and forced more missed tackles on receptions than any rookie running back since 2006.
And all signs point to Barkley being much more than a one-year wonder. He earned 81.0-plus overall grades in all three years at Penn State (2015-17) and logged 80.0-plus receiving grade in his last two collegiate seasons.
While the Giants aren't expected to have the same level of success as the Cowboys in the trenches or overall, Barkley will have all the opportunity in the world to put his dynamism on display as the team's go-to option on the ground and in the passing game. He is currently projected to rush for 1,218.9 yards and 8.2 touchdowns this upcoming season.
PFF's Jeff Ratcliffe tagged Joe Mixon as a top-tier breakout running back in June of this year, calling out his improved efficiency in 2018 and new head coach Zac Taylor's offense as key reasons why.
"Following a rookie season where he averaged just 3.4 yards per carry, we saw significant improvement out of Mixon from an efficiency standpoint. The Bengals back bumped that number up to an impressive 5.0 and also saw his workload increase to just under 20 touches per game. That's bell cow territory, which is rare in today's NFL. 
Unfortunately, the overall state of the Bengals' offense put a cap on Mixon's upside last year. That has the potential to change in 2019 with the new coaching regime in place under head coach Zac Taylor. As a Sean McVay protégé, expect to see similar things out of the Bengals that we've seen from the Rams. That means Mixon will likely be put in a position to succeed from the gate. Mixon still comes with some volatility, but he has the potential to jump up a tier if things break the right way this year." 
Mixon's current stat projection for this season is 1,045.3 rushing yards and 5.5 rushing touchdowns.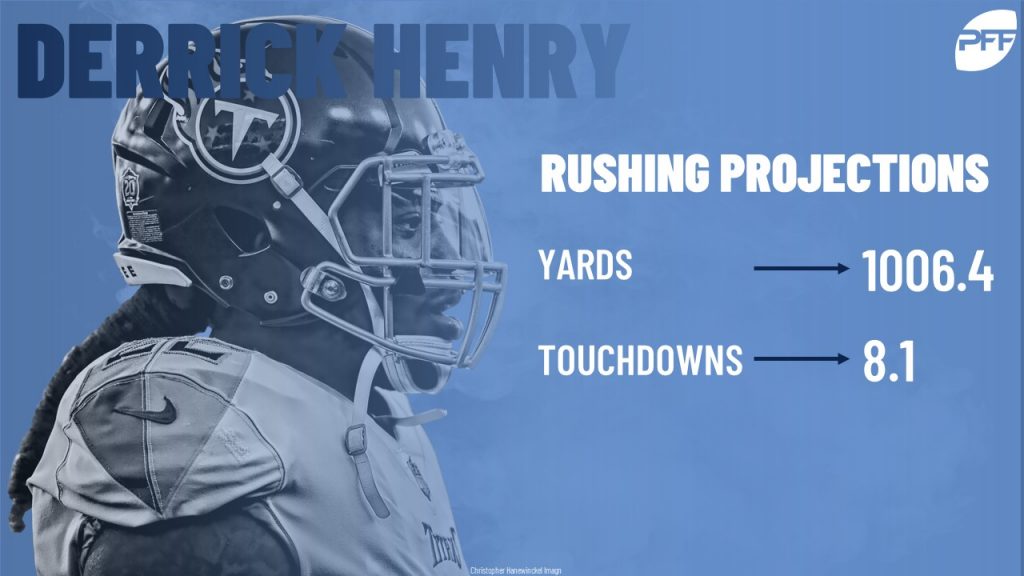 Henry's late-season surge should throw him into the driver's seat of the Titans' rushing attack, which, with maintained efficiency from last year, should lead to quite the year for the former 'Bama standout. He finished the year ranked third in rushing grade (87.9) among the 51 NFL backs with 100-plus attempts in 2019. He also finished sixth in forced missed tackles per attempt (0.21) and second in yards after contact per attempt (4.2) among the same group of backs. He is currently projected to rush for 1,006.4 yards and 8.1 touchdowns in 2019.
Subscribe to PFF Edge to continue reading
Already have a subscription? Sign In