Future Hall-of-Famer Jason Witten shocked the world with his comeback announcement on Thursday, after just one-year of manning the ESPN Monday Night Football booth. He'll return to the Dallas Cowboys on a one-year incentive-laden contract worth up to $5 million for his 16th NFL season at tight end.
Witten was rumored to be debating an NFL comeback for some time and will now be stepping back into a tight end position that disappointed during his 2018 absence. As a team, the Cowboys ranked in the bottom half (tied for 20th) of the league in targets to the tight end position last season with 88. Blake Jarwin, a 2017 undrafted free agent, led the underwhelming group with 27 receptions on 35 targets and his 69.3 overall grade was just 18th-best at the position.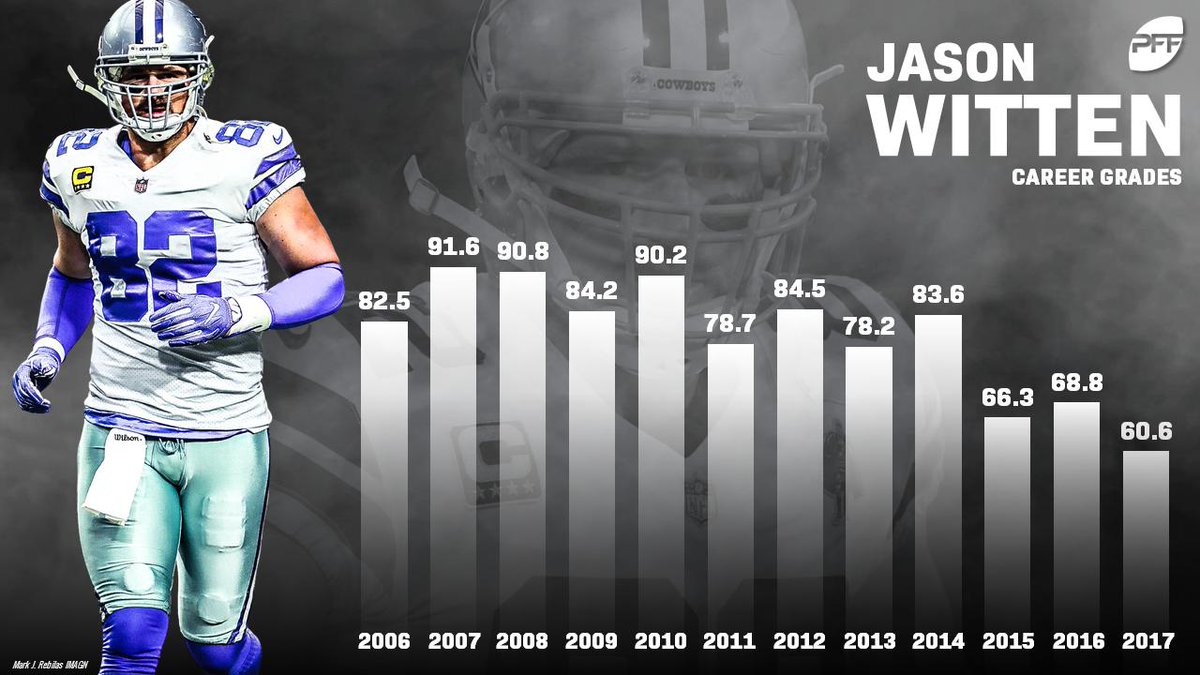 The Cowboys were certain to address the position this offseason, and Witten will step in and make an immediate impact as a veteran leader. However, now begs the most important question – how big of an impact will he make on the field?
Witten had been an ironman in the NFL with 239 games played, recording 1,152 career receptions for 12,448 receiving yards. From the start of the PFF era (2006-present), the two-time All-Pro was a playmaker who earned elite-level grades in three out of his five seasons from 2006-2010, including his career-high mark of 91.6 in the 2007 season.
The tight end staple in Dallas continued as a high-level performer during seasons 2011-2014, with two overall grades of 80.0-plus. However, after that, as the hits have continued to pile up, Witten's play was not up to his old Pro-Bowl standards. From 2015 to 2017, Witten managed to produce a grade of just 66.5, 39th among the 94 qualifying tight ends in that span, with 2017 being his career-worst single-season mark.
He averaged 1.71 yards per route run in his career, fifth among tight ends with over 2,000 career snaps, but over the last three seasons, the veteran do-it-all tight end has only produced an average of 1.36. 
There is no question whether Witten will be able to contribute, after all, he played over 1,000 snaps in 10-of-12 PFF graded years. But the production might not be much of an upgrade to an already lackluster tight end group. He'll be able to provide leadership and guidance to the young offensive weapons for Dallas, but the 1,000-yard, 10-touchdown seasons that we were accustomed to seeing from Witten are almost assuredly gone at this point.