By now you know that George Kittle had a historic season for the San Francisco 49ers a season ago, gaining 1,377 yards receiving, 873 of which came after the catch. In a truly excellent 2018 campaign, the second-year tight end exploded on to the scene for an injury-ravaged offense, outperforming the next closest 49ers pass-catcher by a whopping 890 yards.
The scary thing is that there is a case to be made that Kittle could be better in 2019.
Previously, PFF's Anthony Treash explained how Kittle is used exceptionally well by Kyle Shanahan to generate yards after the catch:
"Shanahan was able to scheme up open throws for Kittle at an astounding rate. Kittle saw 87 targets where he had a step or more of separation (third-most among tight ends); he generated a 94.5 receiving grade on those targets and averaged a staggering 10.6 yards after the catch per reception –the best mark among tight ends by over a yard."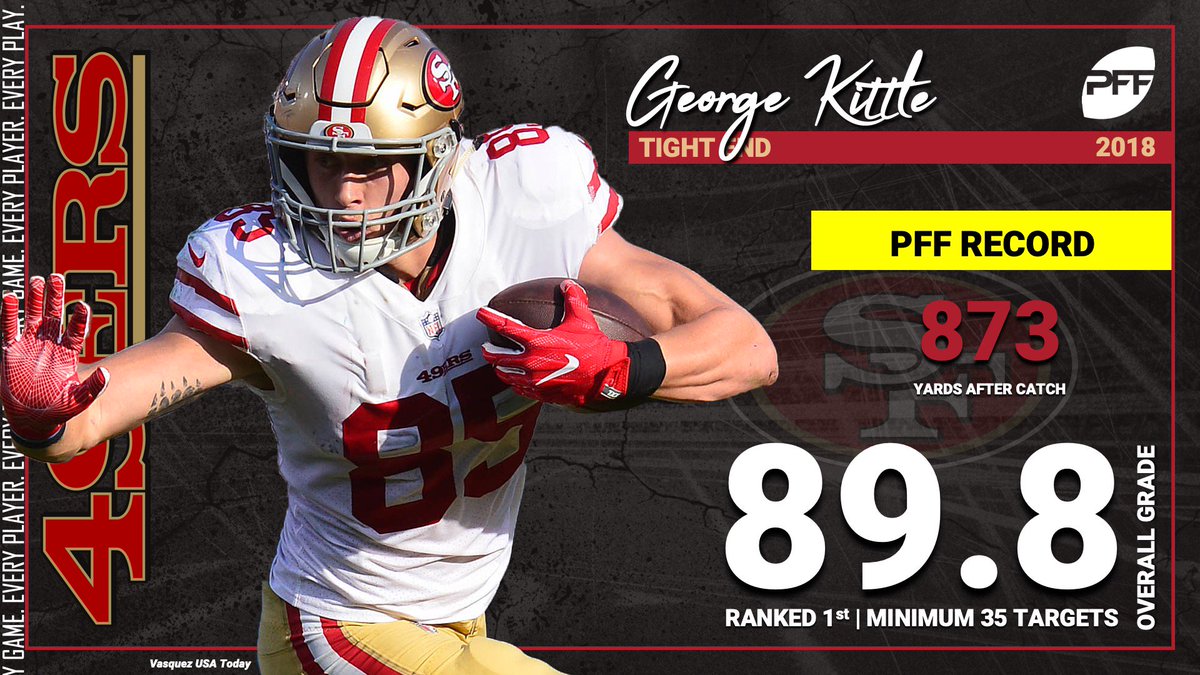 What was interesting about Kittle's extraordinary season was the sheer volume of targets that came in the short area of the field. Sixty-six of his 88 receptions came within 10 yards of the line of scrimmage a season ago, which resulted in an average depth of target of just 7.7 yards downfield — the 29th-highest mark among tight ends.
It's not just that Kittle could generate yards after the catch. It's that he had to.
The 49ers' offense struggled to stretch the field in general last season, and Kittle was limited to a grand total of three receptions from passes that traveled 20 or more yards downfield. And while his 12 deep targets were tied for third among tight ends a season ago, it didn't amount to spectacular results.
Part of the problem was the volatile quarterback situation in San Francisco. After Garoppolo's injury, the team's average depth of target took a major hit, going from Garoppolo's mark of 9.4 yards downfield, to C.J. Beathard's mark of 7.3 yards downfield, to Nick Mullens' mark of just 7.5 yards downfield.
It is amazing then that Kittle had such a historic season with very little success from deep passes. Over the past two seasons, only Travis Kelce (68) and Rob Gronkowski (58) have more plays of 15-plus yards than Kittle's 44. Of those explosive plays, Kelce (41) and Gronk (29) are first and second, respectively, in receptions from passes that traveled at least 15 yards in the air.
In that same span, Kittle has 11. Meaning that 33 of his explosive plays have come thanks to his ability to add yards after the catch — an extraordinary feat for a tight end.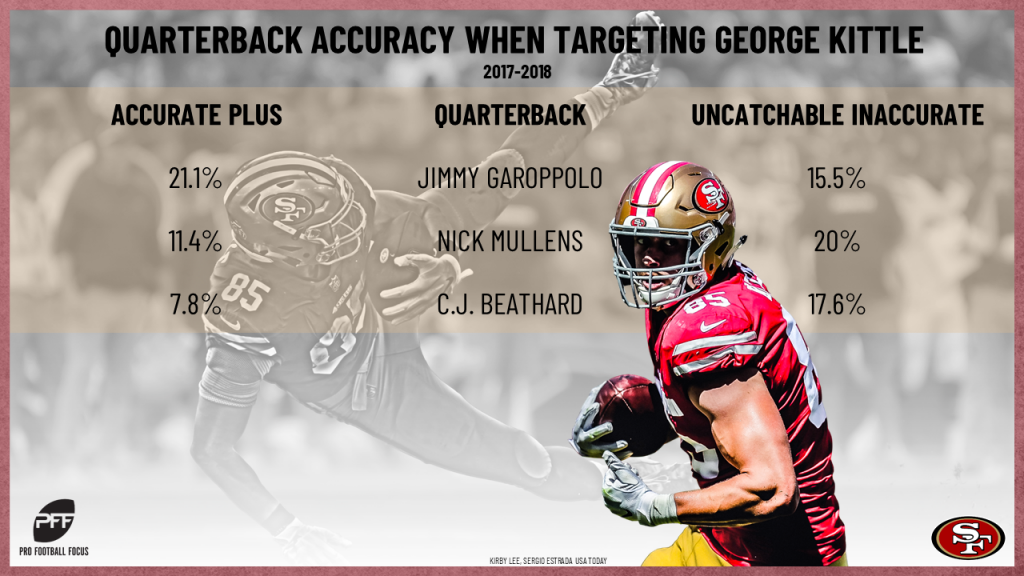 49ers franchise quarterback Jimmy Garoppolo is expected to start in 2019, and he should provide some much-needed stability at the quarterback position. And that can only mean good things for the former Iowa pass-catcher.
During his time on the field over the past two seasons, 21.1% of Garoppolo's passes to Kittle have earned the accuracy-plus designation in our quarterback charting data — a designation described as a perfectly placed ball on the receiver's frame so that the pass-catcher has the best chance to add yards after the catch. No other 49ers quarterback even comes close to matching that. Only 11.4% of Mullen's passes earned the accurate-plus designation, while C.J. Beathard managed a mark of just 7.8%.
During his short time on an NFL field, Garoppolo's calling card has been his pinpoint accuracy. If he's able to return to his 2017 form, the shackles will come off the 49ers offense, and Kyle Shanahan will have the ability to put George Kittle in even more advantageous situations. With Kittle's abilities after the catch and a quarterback who can hit him in stride, Kittle could potentially break his own records in 2019.