No team goes all in quite like the New Orleans Saints. When they coughed up a 2020 second-round pick for Texas A&M center Erik McCoy, it marked the fifth straight draft in which they gave away a future pick. That means that when you're trying to evaluate the Saints draft, it doesn't really make sense even to entertain what the long-term upshot is for their players; all that matters is whether they perform at a high level while Drew Brees is still an elite quarterback. In the case of their first two picks, there's reason to believe that they both can.
[Editor's Note: To view all of Pro Football Focus' advanced stats and grades for draft-eligible players, check out our 2019 NFL Draft Guide. All EDGE and ELITE subscribers already have access to the guide, and for those who don't, you can get your copy for as low as $9.99!]
I know Max Unger made the Pro Bowl last season, but the PFF grades suggest there was a reason why the 33-year old hung them up. The 2018 season was the lowest-graded of Unger's career, as his 18 pressures allowed were the most since his rookie season. He quite clearly wasn't the same player, and it won't take much for McCoy to be an upgrade.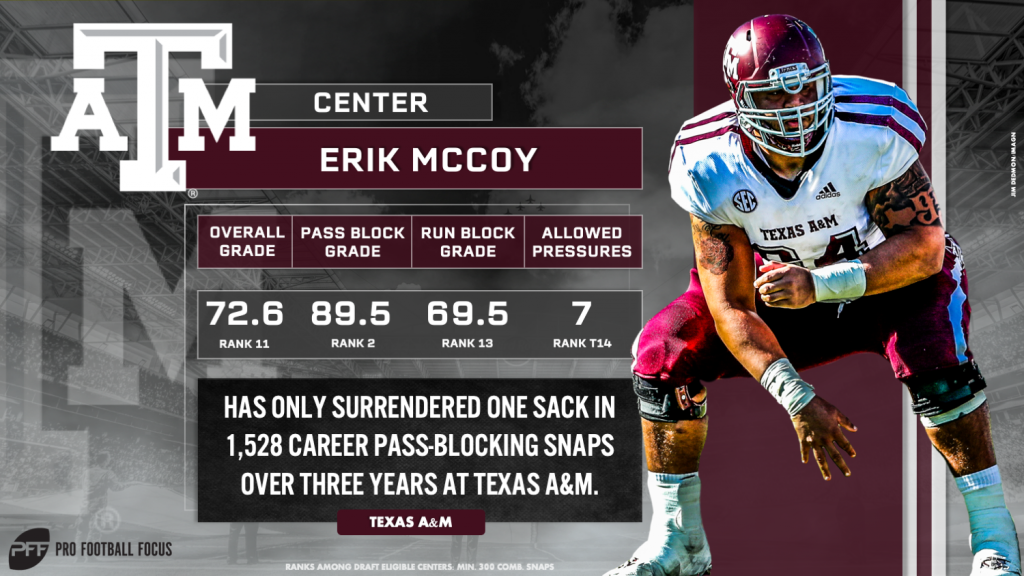 The Texas A&M center has cut his teeth as an excellent pass protector. On 1,528 pass-blocking snaps in his career, McCoy allowed all of 19 pressures. It's obviously going to be tougher at the next level, but you can see why the Saints coveted his skillset.
However, there's a player I'm more intrigued by in fourth-rounder Chauncey Gardner-Johnson. The Florida defensive back checked in at 49th on the final PFF Big Board. I use the term 'defensive back' because his versatility is his calling card, and with the advent of nickel packages as base defenses and dime 'backers playing a good portion of snaps, Gardner-Johnson could fill a number of different roles for the Saints. With Eli Apple, Ken Crawley, P.J. Williams, and Patrick Robinson also vying for playing time in the secondary across from Marshon Lattimore, the Saints can throw out a ton of variations and see what sticks. Gardner-Johnson has a good chance of being one of those guys. This past season, 557 of his snaps came in the slot, 58 in the box, 23 along the line of scrimmage, 16 as a wide corner, and 11 as a free safety. Any sort of box role in the Saints defense has his name written all over it.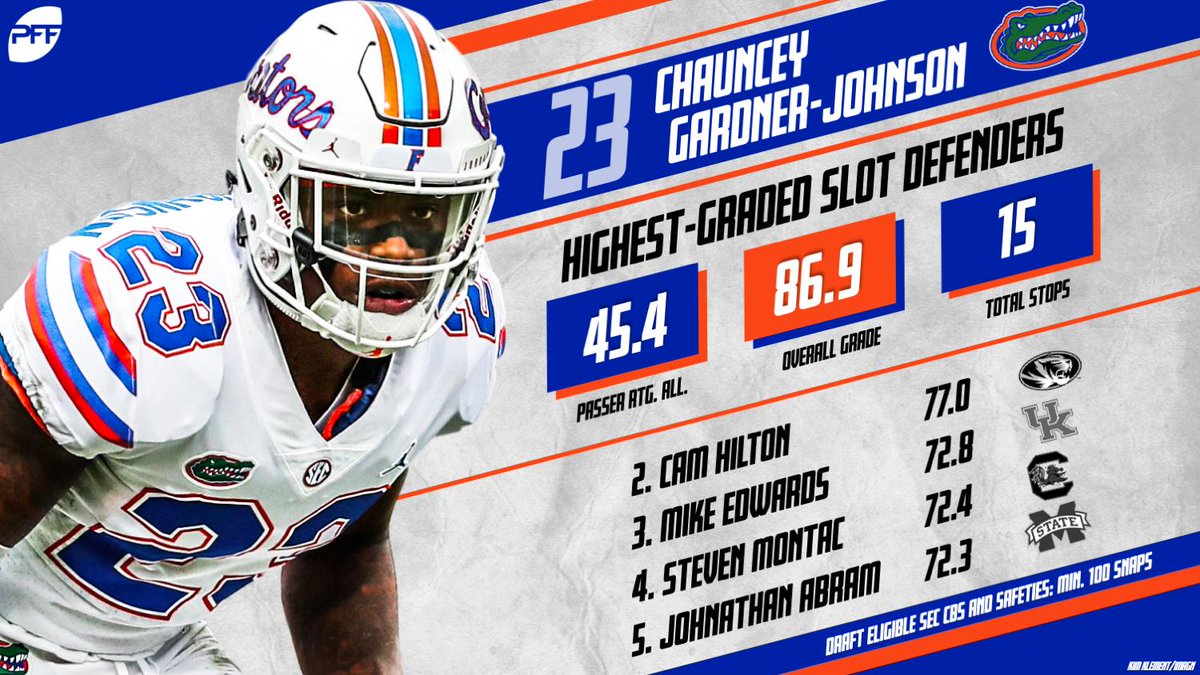 With a focus on immediate impact, the Saints did about as well as could be expected with only a second-rounder on the first two days of the draft. For the nth straight year, the Saints have gone all in with Drew Brees at the helm, but will it finally be enough to push them over the top?