[Editor's note: Minnesota Vikings DT Linval Joseph was recently named as the 91st-best player in the NFL heading into the 2016 season by Senior Analyst Sam Monson. Here, Mike Renner breaks down Joseph's production and the reasoning behind his inclusion on Monson's 101.]
In the summer of 2014, Minnesota was coming off a season in which they allowed the most points in the NFL, while New York Giants defensive tackle Linval Joseph was coming off a career year. When free agency began though, the 25-year-old wasn't seen as an upper-tier defensive lineman, while the Vikings were keen not to dole out big money for a quick fix. The market for a DT that only played around 60 percent of the Giants' snaps wasn't burgeoning, and in the end, Joseph inked a five-year, $31.25 million deal to flee New York in in favor of Minnesota. Two years later, the Giants are the ones spending like crazy along the defensive line, while the Vikings find themselves in possession of one of the team-friendliest deals in all of the NFL.
In a day and age where we're so used to seeing defensive linemen burst onto the scene as rookies or sophomores, Joseph is a nice reminder that skills can continue to develop throughout a career. Coming out of East Carolina as a true junior back in 2010, the nose tackle was extremely raw. With 39 reps, 34.5-inch arms, and a 5.10 40-yard dash at 328 pounds though, Joseph had a toolset coaches can't teach. He was taken with the 14th pick in the second round, and predictably struggled out of the gate. Much of Joseph's rookie season was spent inactive, and in the 62 snaps he did manage, there was little to get excited about.
In year two, though he flashed the promise we now see today. His 31 pressures on 389 pass-rushing snaps that season are still a career high, but he hadn't quite learned how to translate that to his run defense, which suffered. Run defense isn't like pass rushing in that you simply need to beat the guy in front of you. It's much more nuanced, and takes discipline, block recognition, and strength to execute effectively. Joseph had one of the three. As his career went on, though, he developed the first two well enough to where he had the 17th–best run-stop percentage among defensive tackles in his contract-year of 2013.
Joseph's inaugural season in Minnesota was derailed slightly after a bullet hit his calf at a nightclub a month prior to the season. He still graded out positively in both run defense and pass rushing, but it wasn't the step forward in performance that we had seen every year prior in the defensive tackle's career. 2015 though, was a completely different story.
After moving up and down the line in New York as a left defensive tackle, Joseph got to Minnesota and was parked as a 1-technique nose tackle (shaded over the centers shoulder). Logically, this is his ideal position, as he doesn't have the burst to make many plays farther outside, but his strength and length make him a nightmare to try and move off the ball. If run defense were a game of chess, the nose tackle would be the queen. The nose can make plays on runs to any direction because of its central location, but if he's nullified on a play, it will almost certainly end in success for the offense. For the Vikings last season, it was more of the former, and less of the latter.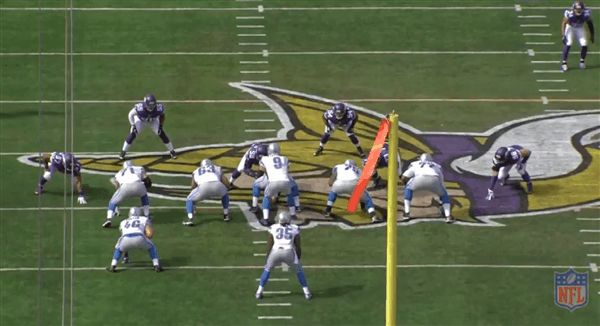 Joseph may have only managed 576 snaps due to injury, but he still graded out as the eighth-best interior player in the NFL. His 10.6 run-stop percentage was sixth-best among defensive tackles, and he didn't grade negatively in a single game after Week 1. What really sets him apart, though, from the other nose tackles around the league is his pass-rushing prowess. Damon Harrison, Brandon Williams, and Ian Williams, the other three-highest-graded nose tackles in run defense all failed to crack 20 total pressures on the season. Joseph, on the other hand, had 25 and finished with a 7.3 pass-rushing productivity that was only slightly behind Gerald McCoy's 7.6.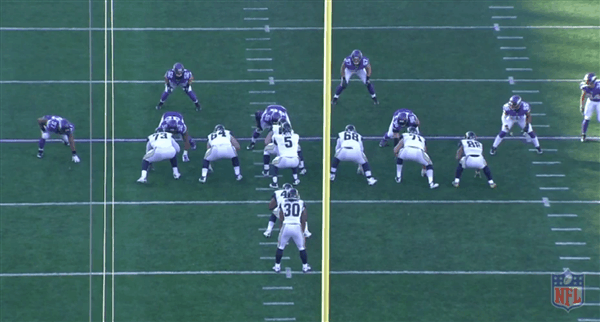 All that raw talent that we had seen for years was finally harnessed into one special package, and there's no reason to think he'll do anything but continue to improve. With three years left on his deal with cap hits totaling $6 million less than what the Giants are paying Damon Harrison over that span, it's safe to say the Vikings made one of the best free-agent signings in recent memory.