Tampa Bay Buccaneers WR Mike Evans has become one of the league's most important players. He has been thrown at 127 times this season—10 more targets than any other player—trails only Julio Jones in receiving yardage, and is tied for the league lead with 10 touchdown catches.
This past weekend, Evans became only the second receiver this season to score a touchdown on Seahawks CB Richard Sherman, despite Sherman covering him for much of the game. In fact, going up against Seattle's defense, Evans still racked up eight catches, 104 yards, and two scores, albeit going against a unit that was without safety Earl Thomas over the middle.
When the Pro Football Focus analysis team visited Bucs camp before the season, Evans—like all the truly great players we saw on the tour—just leapt out compared to his peers. He looked to be on a clearly different level than everyone else around him, and was making spectacular catches for fun during practice.
That has translated to the field this season, and Evans now leads the league in PFF's receiver rankings, with a grade of 93.2—surpassing Atlanta's Julio Jones and Cincinnati's A.J. Green after the latter went down injured.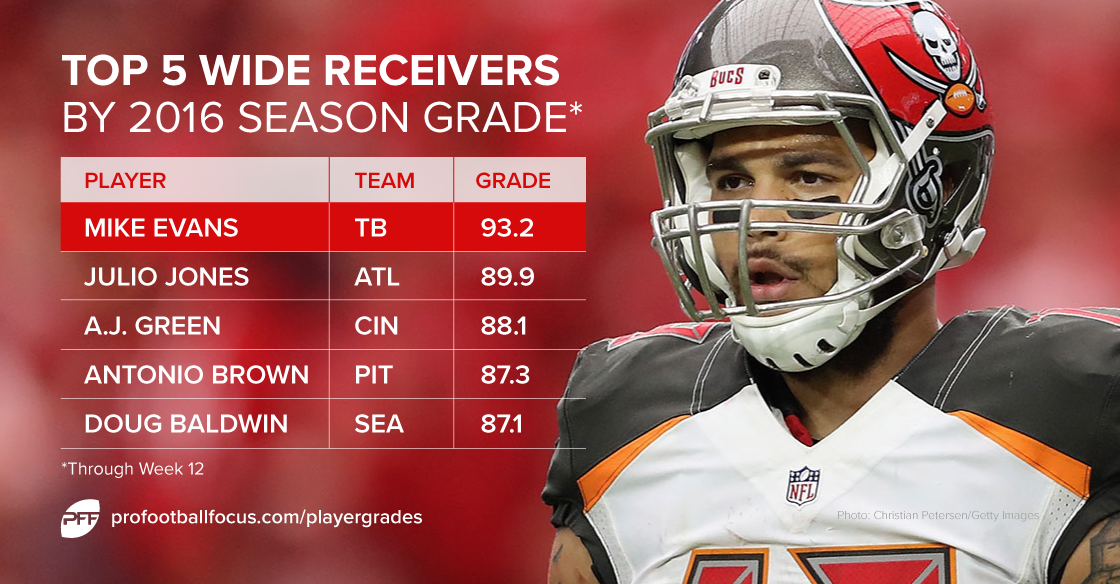 Evans is a big, physical receiver that can go toe-to-toe with the best defensive backs in the league and win battles—as long as the officials are prepared to let the players compete, and not start throwing flags for any contact. He has only been flagged twice this season, less than most receivers, so that's not a huge problem holding him back, but they were both on deep passes where he was deemed to be a little too physical for the defensive back trying to cover him, and it does dull his effectiveness if the officials get too eager to throw flags.
The Buccaneers' passing offense looked formidable when they had a receiving duo of Vincent Jackson and Mike Evans, but Jackson's abilities waned, and he was a shell of himself this season before going down with a knee injury. Evans has had to be the primary receiving weapon for Tampa Bay in the way DeAndre Hopkins was a year ago in Houston, with little help around him to take attention away and produce if he didn't.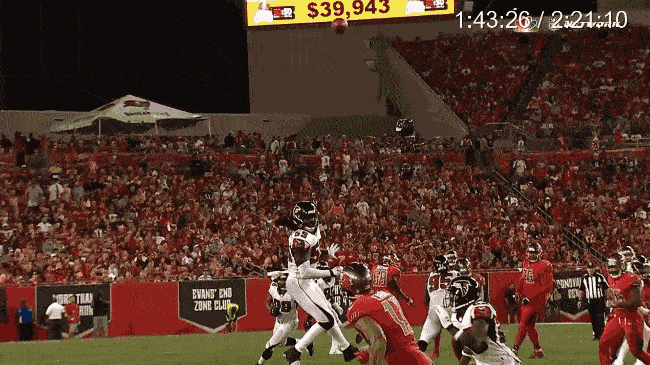 Like most top receivers, Evans will move around the offense, splitting his time mostly between left and right outside receiver positions, but he has spent around 14 percent of his snaps in the slot, also.
Evans runs a complete route tree, but his money play is the go-route. Those fly patterns account for 27 of his 127 targets this season (21 percent), by far the biggest percentage of his targets; on those routes alone, he has 258 receiving yards (25.3 percent of his total for the season) and four touchdowns.
The Bucs' No. 1 receiver has been effective on pretty much all routes, but those deep passes are what separates him, as his size, body control, and catch radius allow him to make spectacular receptions over smaller defensive backs and rack up big plays that can impact games.
Mike Evans has become one of the league's most dominant receivers, and doesn't look to be slowing down any time soon.