Last week, we at PFF ranked the Philadelphia Eagles as the best receiving unit in the NFL entering the 2019 season — much to the dismay of the other 31 fan bases, as expected. So we'd like to run through the qualities of the talented receiving corps employed in Philadelphia and what makes them the best of the best as Week 1 approaches.
To begin, let's look at how the Eagles' receiving corps performed relative to other teams in 2018 and then add in what they lost/gained with offseason moves. From there, we'll dissect individual players and how they stack up with their counterparts around the NFL — hint: it's pretty clear that Philadelphia is home to the No. 1 receiving unit entering the 2019 season.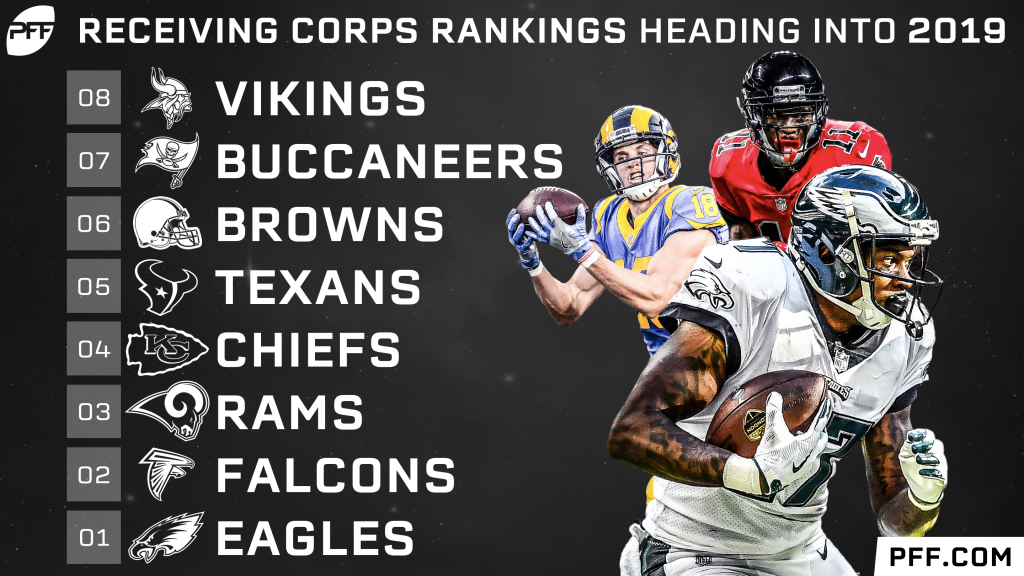 2018 PERFORMANCE
The Eagles' receivers (tight ends, wideouts and running backs) combined for a 103.5 passer rating when targeted during the 2018 regular season, ranking eighth among the 32 squads. In a similar vein, they finished ninth in yards per route run (6.77). And with 218 first-down catches, the unit ranked seventh.
If broken down by position, the Eagles were similarly ranked. The wide receivers had the eighth-best passer rating when targeted (106.6), the running backs slotted in at seventh (107.9) and the tight ends generated a mere 21st-best rating (96.7).
By all means, when looking at the combined numbers, this was a better-than-average group in 2018 — but not one that could contend for our No. 1 spot entering 2019. The beauty of what the Eagles have built, though, is individual talent. And that's what we'll dive into next to see exactly why this unit reigns supreme.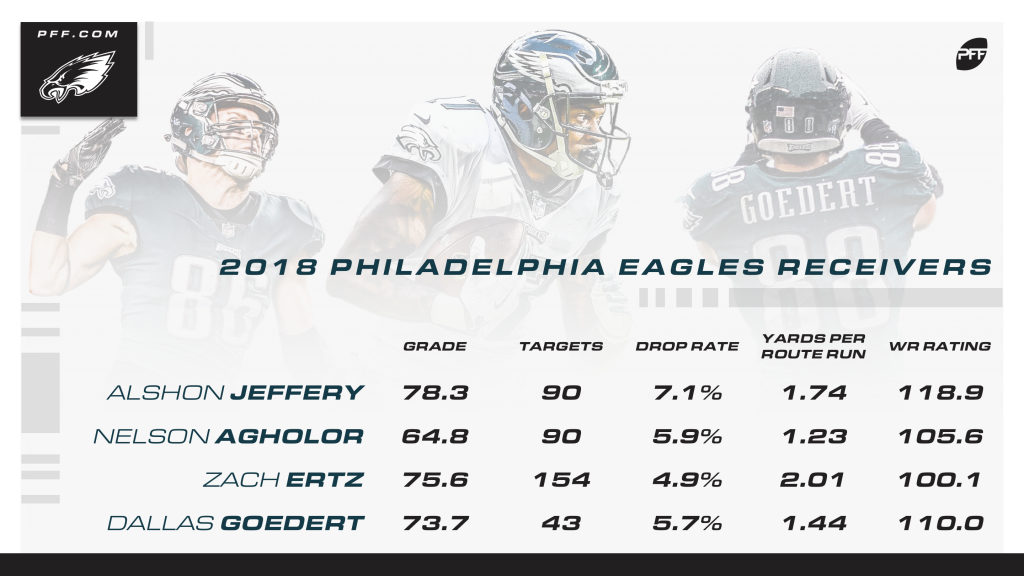 INDIVIDUAL TALENT
Nelson Agholor, Alshon Jeffery, Zach Ertz, Dallas Goedert. It's not exactly going out on a limb to say that most teams in the NFL would be thrilled to have those four as the core of their receiving unit. Luckily for the Eagles, that pipe dream is a reality.
Agholor went from a near-bust to a big-time riser in overall grade and in almost every meaningful stat. From a woeful 60.1 passer rating when targeted combined with seven drops on 70 targets in 2016 to two straight seasons of 100.0-plus passer ratings when targeted and just nine drops on more than 180 targets, Agholor has found his footing. He's a hidden gem amongst veteran superstars who still has plenty of room for improvement — evidenced by his 64.8 overall grade — but the future is bright.
Outside of Agholor's up-and-down career thus far, the Eagles return one of the most consistently solid groups in the NFL. It all starts with Jeffery and Ertz. The former hasn't graded below 70.0 since his rookie season in 2012, and his 78.3 grade in 2018 was his best since 2015 while the latter had his best season yet stat-wise.
That standout season for Ertz included the most targets, receptions, yards, first downs and contested catches he has seen since entering the league in 2013. Among all tight ends in 2018, he was the leader in targets and finished with the second-most first-down receptions.
Let's not forget about Goedert, either. He ranked second among tight ends with at least 40 targets in passer rating when targeted (114.0). Not to mention, he was stellar on contested throws where he caught 54.5% of his targets (8th). A refined skillset like that after just one year in the NFL? Not bad.
OFFSEASON MOVES
A trade to bring DeSean Jackson back to Philadelphia headlines the Eagles' offseason changes to their receiving corps. He was the 20th-best wideout (among players with 44 targets or more) by receiving grade in the 2018 regular season (80.8) and would have been the Eagles' highest-graded wide receiver in that facet. That impressive grade stemmed from Jackson's deep-threat ability. Among wideouts with 50-plus targets, none had a higher average depth of target than his mark of 19.6.
Unfortunately, his 30 deep targets materialized into just nine receptions, but the production per route run was there — he averaged 6.68 yards per deep route, which ranked tied for seventh among qualifying wide receivers.
Jackson's addition will easily make up for the losses of Golden Tate and Jordan Matthews. In only three of his eight games with the Eagles a year ago did Tate earn an overall grade above 70.0. Matthews accomplished the feat just twice in 14 games. And neither proved nearly as effective as Jackson on a per route basis — his 2.14 yards per route run was far better than Tate's 1.80 and Matthews' 1.35 a season ago.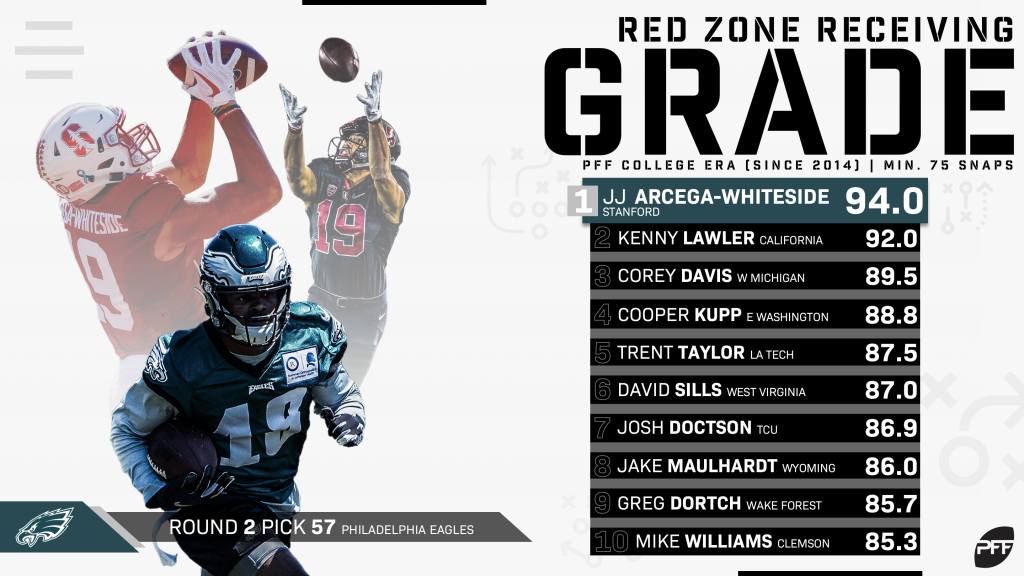 Then, there's the rookies — and talented ones at that.
J.J. Arcega-Whiteside was the fourth-highest graded wide receiver in the NCAA in 2018 (90.3). He showed out as a deep threat, hauling in eight touchdowns on passes targeted 20 or more yards downfield (T-4th). That effort slotted him at No. 23 on PFF's Big Board, and the Eagles subsequently got a steal by taking him No. 57 overall.
Miles Sanders' role in 2019 is yet to be determined, but he too can make an impact as a receiver. His 32 targets in 2018 were tied for the 33rd-most among running backs, and while he wasn't necessarily electric on those touches, he does provide another pair of proven hands for Carson Wentz to target.
A pair of dependable hands among a roster full of them.