There aren't many players who can play all of 113 snaps in their final college season and still be considered the best prospect in the following draft. Yet, such is the case for new San Francisco 49ers edge defender Nick Bosa.
The former Ohio State edge defender appeared in just three games last season before having surgery to repair a core muscle injury. But despite that limited snap count, Bosa still made his mark in 2018 with three multi-pressure outings and three consecutive single-game grades of 89.0 or higher. As a pass-rusher, it was just par for the course; he tallied 14 pressures from 67 pass-rush snaps and led the nation's edge defenders in pass-rushing grade through the season's first three weeks.
So, it was an easy choice for the 'Niners come draft day. When the Arizona Cardinals took quarterback Kyler Murray off the board, Bosa — by far the best defensive player in the class — was swiftly selected by the storied franchise as a perfect complement to the team's pass-rush.
Up until a few weeks ago, all seemed well for the 49ers in their recovery from a 2018 season that saw them lose franchise quarterback Jimmy Garoppolo for the season. Now with Garoppolo back and armed with a newly acquired Dee Ford and the No. 2 player on PFF's draft board in Bosa, many were looking forward to seeing this young and talented team take flight. That was until just over two weeks ago when Cam Inman reported that Bosa would be sidelined for the remainder of the offseason program after suffering a Grade 1 hamstring pull. Here we go again, right?
Luckily, there's no reason for 'Niners fans to worry about Bosa's missed time or his production when he returns. Why? Well, because we have all seen this movie before. It premiered just two years ago, 300 miles south.
Big brother's rookie year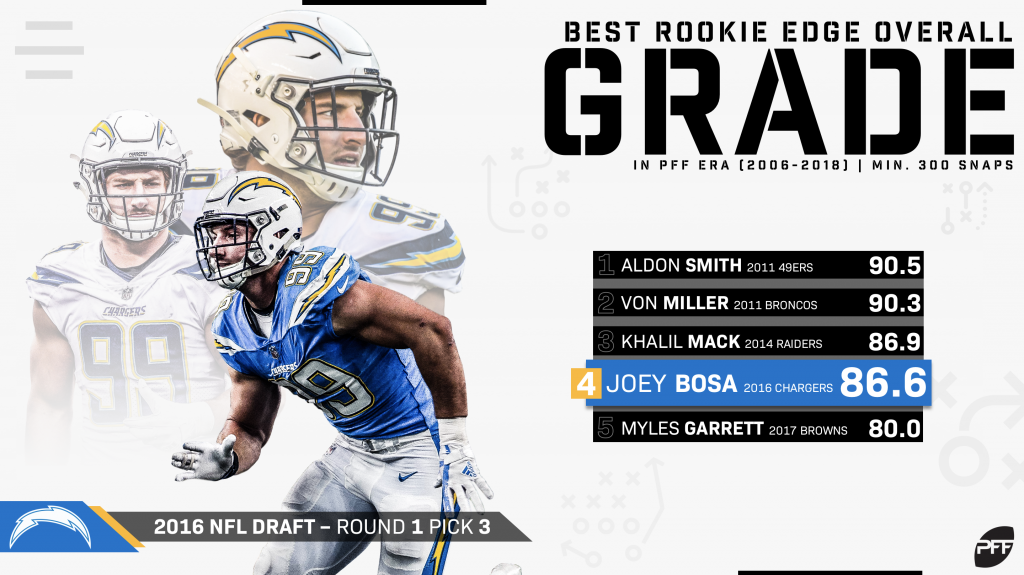 Much like his younger brother, Joey Bosa had himself a fine collegiate career at Ohio State. A part of the team's feared pass-rush, Bosa earned elite pass-rush grades in both 2014 and 2015, and he racked up a colossal 145 total quarterback pressures during that span  — the most among all edge defenders in the nation. Clearly head and shoulders above his peers, Bosa earned a 93.0 pass-rush grade and a 21.2% pass-rush win rate over those final two years in Columbus, ranking second and first, respectively, among the 75 edge defenders with at least 500 snaps between 2015 and 2016.
But again, like his younger brother, Joey's path to the NFL field wasn't an easy one. Selected with the third overall pick of the 2016 NFL Draft, Joey skipped the Chargers' entire offseason program due to a contract dispute with the team. At the conclusion of the dispute — which came on August 29th, one day after the team's third preseason game — Joey returned to the facility ready to get to work, only to suffer…wait for it…a hamstring injury, one that kept him off the the field for the first month of the 2017 campaign.
But upon his return, from his very first snap in the NFL, Bosa proceeded to lay waste to everything and everyone in front of him in what turned out to be one of the best rookie seasons in the PFF era. As a pass-rusher, he racked up 11 sacks, 11 hits and 37 hurries from 342 regular-season pass-rush snaps, and his 59 total quarterback pressures were (and still are) the third-most ever recorded by a first-year edge defender, trailing only Aldon Smith (64) and Von Miller (60). Since 2006, 92 edge defenders have logged at least 300 pass-rush snaps in their rookie seasons; among them, Bosa's pass-rush win rate of 20.2% ranks first, while his pass-rush productivity of 10.2 and his pressure rate of 17.3 both rank second.
Proving that practice need not matter to a Bosa, Joey took on some of the league's best throughout his rookie season, yet he still managed to come out on top. For example, he managed to tally four pressures from 24 pass-rushing snaps against Titans tackle Jack Conklin, he tallied four pressures from 17 snaps against Donald Penn, he tallied four pressures from 17 snaps against Mitchell Schwartz, and he notched three pressures from nine snaps against Duane Brown.
And his success wasn't limited to the pass-rush, either.
In addition to earning a regular-season pass-rush grade of 81.9, the fourth-best ever recorded among the 122 edge defenders in the PFF era who played at least 300 snaps during their rookie seasons, Bosa also recorded an 85.2 run-defense grade — second among that very same group.
The Ohio State product managed to record 16 defensive stops on his 194 run-defense snaps in 2016, and his resulting run-stop percentage of 8.2% is still tied for the tenth-best mark ever recorded by a rookie edge defender with at least 100 run-defense snaps in their first year. As a true play-wrecker from the edge, Joey also managed to pile up eight tackles for loss or no gain, and by season's end, he had acquired an average depth of tackle of just 0.50 yards downfield — the best mark ever recorded by a rookie player at the position.
The Bosa college production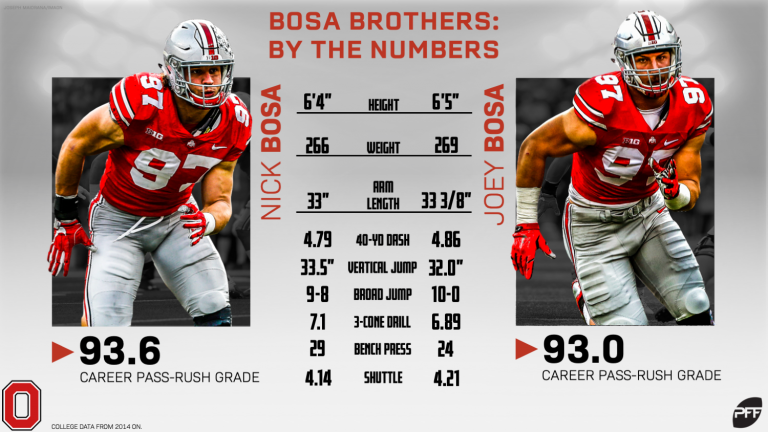 So at this point, you may be thinking, so? They may be similar, but are they really that similar, in a way that history could seemingly repeat itself?
Long story short, yes.
As PFF's Mike Renner brilliantly laid out just mere months ago:
"Size, speed, flexibility, you name it, the two are almost indistinguishable. The combine data does a good job of telling this story on its own.'
And that it does. From the 40-yard dash to the vertical jump to the three-cone drill, pretty much all the tests were within the margin of error for any two drills, and they were just a spitting distance from one another across the board. But, of course, that's not the only data that proves how similar they are.
Joey and Nick were just a step above the rest in terms of their college pass-rushing production. While we only have data from 2014 on, the numbers are fairly clear that the Bosas are in rarified air over that span. Among the 302 college edge defenders who have logged 500-plus pass-rushing snaps, only Myles Garrett produced a higher career pass-rushing grade than Nick's 93.6 and Joey's 93.0, while Nick's 25.5% win rate and Joey's 21.7% win rate rank first and third, respectively.
And those similarities continue when we remove screen passes, play-action dropbacks, trick plays, defensive stunts, blitzes and quick passes that were thrown in under 2.6 seconds from the data set. Among the 265 edge defenders in the PFF era with at least 100 snaps on such plays, Nick Bosa's 91.3 pass-rush grade ranks second, while Joey Bosa's 90.9 pass-rush grade ranks third.
Final thoughts
As PFF's lead draft analyst Mike Renner has already said — in more ways than one, I might add — the Bosa brothers are almost one and the same. If you spliced the highlight reels of Nick and Joey Bosa from their time at Ohio State, you'd be hard-pressed to pick correctly which one made which play without prior knowledge. From a trait, production and skill set perspective, there haven't been two more similar prospects since we started grading college football.
Joey missed some time before his rookie year, and even part of his rookie season — and he still put forth one of the best rookie seasons we've ever seen from an edge defender.
If he's able to stay healthy, the data and past experience tell us that Nick will not just be fine, but potentially on the way to an incredible rookie season.