Green Bay Packers LT David Bakhtiari was recently named the winner of Pro Football Focus' Best Pass Protector Award for the 2016 NFL season. To see the winner of every PFF award, visit our NFL awards page.
It's only fitting that the league's top pass-protecting offensive line in 2016 owns our award for the league's top pass protector. Green Bay Packers left tackle David Bakhtiari has been an above-average pass protector over the past two seasons, but he took it to a whole new level this year. Bakhtiari allowed a measly 20 QB pressures during the regular season (just four combined sacks and hits). His 97.6 pass-blocking efficiency was the second-best of any tackle in the league, and he allowed zero QB pressures in four games this year.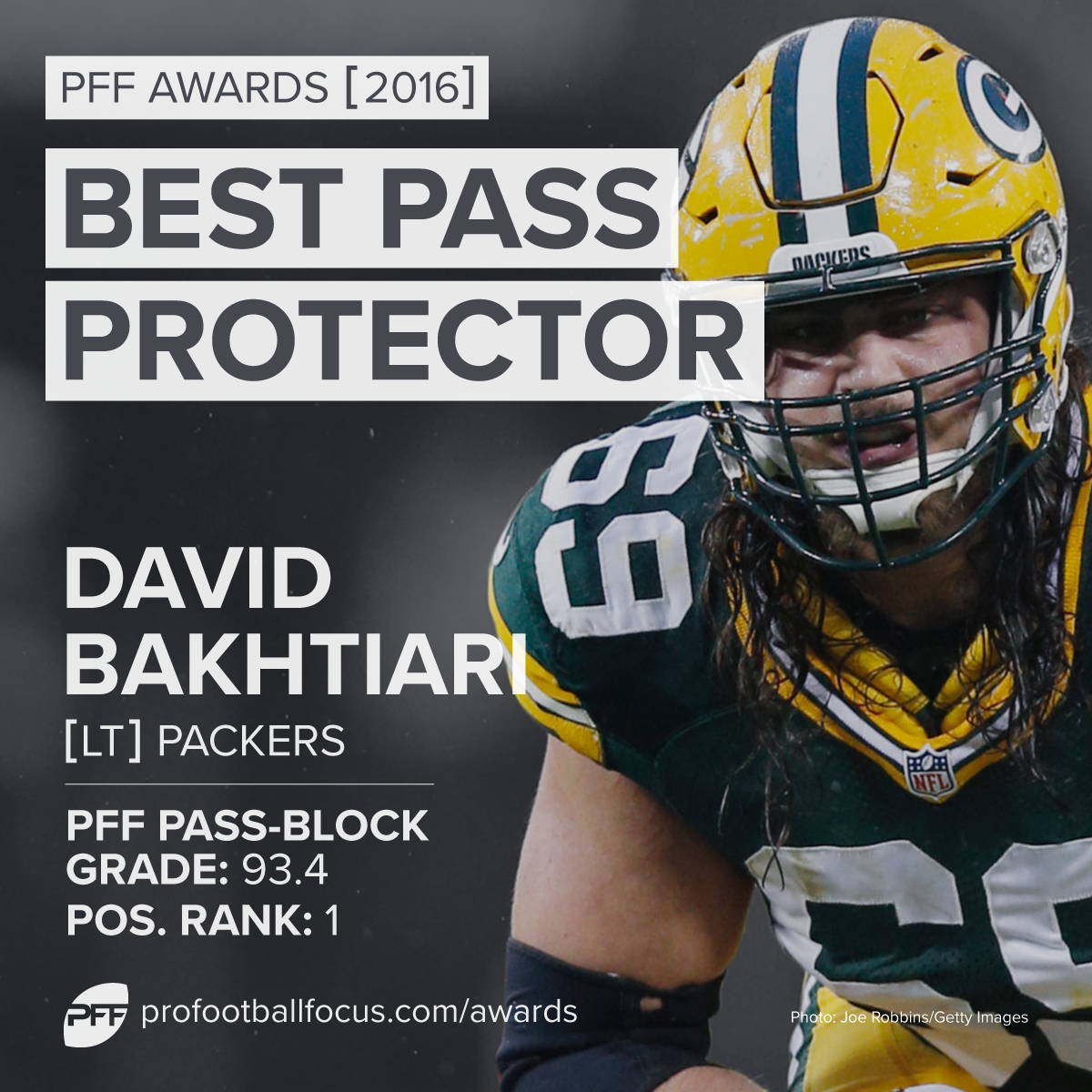 Bakhtiari was not only one of the most efficient pass protectors statistically, but he also did so in an offense that asks as much from their offensive tackles as almost any team in the NFL. That's a rare combination. For a good portion of the Packers' season, opposing defenses could not have cared less about the run. Bakhtiari pass-protected on 718 snaps in the regular season, compared to 337 in run blocking. That 32:68 run:pass split was the second-most lopsided ratio in the league. A lack of balance like that puts considerable stress on the protection, with defensive linemen consistently firing off the ball unfettered by the threat of the run.
At Pro Football Focus, we not only track wins and losses for offensive linemen, but also the severity of them. Getting beat cleanly will almost always be more detrimental to a quarterback's health than getting walked back into the quarterback's landing spot, but still maintaining the block. This becomes even more crucial when pass-protecting for someone like Aaron Rodgers, who has a propensity for holding onto the ball and extending plays outside the pocket. Rodgers had 351 dropbacks that took 2.6 seconds or more, second-most in the NFL. Even still, we have Bakhtiari with a grand total of 10 clean beats all season long—fewer than one per game. Only Cincinnati's Andrew Whitworth recorded a lower rate of clean beats, and he had to pass protect for 0.36 fewer seconds per play, on average.
Other offensive linemen like Baltimore G Marshal Yanda, Whitworth, and Raiders C Rodney Hudson had fantastic seasons in pass protection, but Bakhtiari's ability to do it at the hardest position under the most difficult conditions puts him at the top. For a man that received the league's fifth-largest left tackle contract prior to the season, Bakhtiari certainly did his best to live up to it in 2016.