The NFL combine is well behind us and the major free-agency signings inked, which means rosters, depth charts, and team needs are becoming clearer. While most teams answered some big questions already this offseason, the Cleveland Browns have perhaps made the waters muddier concerning their quarterback situation. The Browns' QB room consisted of Robert Griffin III, Josh McCown, Cody Kessler, and Kevin Hogan at the end of the season, but the team has since released Griffin and McCown and traded for former Texans QB Brock Osweiler with the intention of trading him.
With 22 picks in the next two drafts — including a whopping eight in the first two rounds — the Browns have the ammunition to maneuver to draft or acquire their QB of choice. Regardless of who they choose tab as the franchise QB, Cleveland's starting signal-caller for this coming season is a complete unknown at this point. With Browns fans uneasy and questions abound, the best option under center for the Browns come Week 1 of the 2017 season may already be in-house. Here's one plan for how Cleveland should proceed at the quarterback position.
Why Cody Kessler should start Week 1 for the Browns
With most analysts agreeing that none of the quarterbacks in this draft class is likely ready to start Day 1, starting Kessler allows whoever the team drafts (assuming they draft one, which seems likely) to sit, learn, and develop for the future. Cleveland did not intend for Kessler to see the field in 2016, but injuries to both Griffin and McCown forced the former USC quarterback into action in Week 3.
Kessler played well enough in 2016, showing elite accuracy under 20 yards and excellent play under pressure. His weaknesses showed up, however, as he started holding on to the ball too long, had difficulties reading the defense, and took too many big hits. If the quarterbacks in front of Kessler had stayed healthy, the third-round pick likely would have had time to try to shore up his weaknesses and improve in practice before being thrown into the fire.
With an entire offseason to work on his mechanics, study film on his play and that of his 2017 opponents, and improve his arm strength, Kessler is poised to build on a solid rookie season. He ranked first among QBs in adjusted completion percentage under pressure (80.6), fifth in overall adjusted completion percentage, at 78.2, sixth in passer rating under pressure at 82.4, and eighth in PFF's QB Rating at 93.41. Kessler is often overlooked by people outside the Browns organization, but his play earned him a legitimate shot at the starting gig this season.
With a revamped offensive line that has top-five potential, the Browns are set up to turn the corner. Kessler didn't win any games in 2016 as a rookie but considering how young and bad the team was around him, QB wins is not a stat to judge the former USC Trojan (or any quarterback) by. He very well could have won his first game against Miami if it weren't for a missed last-second field goal, and gave the team a chance for wins against Washington and Tennessee.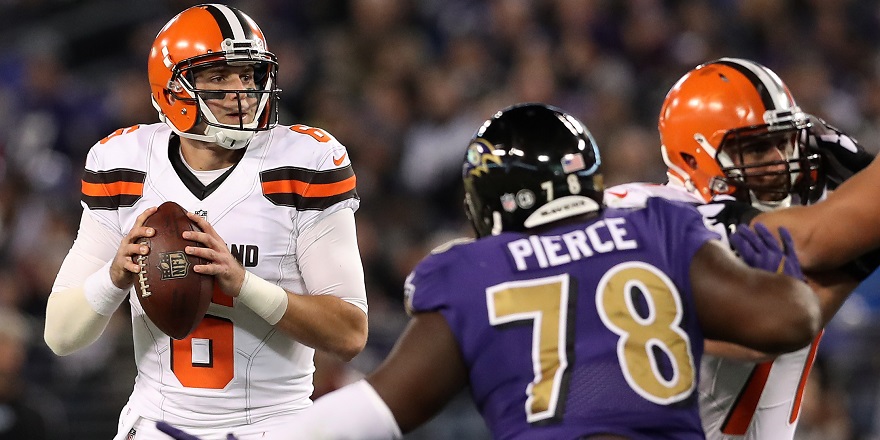 Kessler gives the Browns the best shot at winning the most games in 2017 and allows the team to develop a potential future of the franchise. Rookie QBs aren't meant to succeed in the NFL, and recent excellent play from Andrew Luck, Russell Wilson, and Dak Prescott have spoiled fanbases into expecting them to be great from the start. Aaron Rodgers, Phillip Rivers, Kirk Cousins and several other quarterbacks needed time on the bench before they were ready to take the reins and lead their teams to victories.
That isn't the only step, though. The Browns can help themselves behind Kessler by …
Drafting a quarterback
This is a "no duh" step. With uncertainty at the position, the Browns need to keep taking shots at finding the guy to lead the franchise until it is no longer a question. Drafting a quarterback every year is a strategy former Green Bay Packers GM Ron Wolf employed even though he had Brett Favre on his roster. With no clear answer, the Browns need to do the same even though they drafted Kessler in 2016.
This draft doesn't have a clear-cut front-runner at the position, so taking one first overall isn't likely. Of course, if Sashi Brown and Hue Jackson come to a conclusion that one of these quarterbacks is impossible to pass up and don't want to risk waiting for him at No. 12 (or even higher if the Browns look to trade up), then taking him at No. 1 makes sense. While it's uncertain where the first QB will come off the board and who that will be, the Browns have a tough decision to make on where they want to pull the trigger on a signal-caller in a draft that is incredibly deep on the defensive side of the ball — a unit that has major weaknesses and needs.
Signing a veteran and holding on to Brock Osweiler until further notice
In term of signing another veteran, the Browns are running out of options and it's the lowest priority in terms of what they need to do at the position. Since they released McCown — a quarterback who can step into a game without many practice reps — the Browns lack a player to help lead the room and provide knowledge and insight to a very young group of players. Osweiler, by all accounts, is a good teammate for the locker room and a very hard worker, even if that hasn't translated to success on the field. The Browns have been trying to trade him for more draft assets but have failed thus far, and recent reports suggest that they might decide not to cut him.
Of the veterans available on the market, it depends on what the Browns look for in a third QB, but having a player who doesn't take away practice reps from Kessler and a rookie is essential for the young quarterbacks and their development and growth. Chase Daniel and Ryan Fitzpatrick are two players who fit that bill, as they've been in the league for several years and don't necessarily need a full complement of practice reps to be ready for game action. Fitzpatrick has shown to stay healthy for much of his career, while Daniel doesn't have many live reps to prove he can stay healthy in the NFL. These players, including Osweiler, could conceivably compete for the starting job without being a likely long-term threat or option. Signing a veteran such as Daniel or Fitzpatrick provides insurance for a Kessler injury and allows the to-be-drafted rookie to stay on the bench, though the much improved offensive line should be more able to protect Kessler from injury than last year's version was.
Having two viable veteran backups in training camp allows the Browns to utilize one for trade bait in case a team has a Teddy Bridgewater-like catastrophe this year. If that doesn't emerge, cutting one doesn't hurt anything and the Browns have the salary-cap space to take the hit.
What about Jimmy Garoppolo?
All this has sidestepped the issue that most Browns fans likely thought would be at the forefront of their offseason — New England Patriots backup quarterback Jimmy Garoppolo. Browns fans will clamor for a trade for Garoppolo, but if it hasn't happened by now, it is probably dead. The Patriots reportedly are looking for multiple first- and second-round picks, and no one is likely to meet those demands. ESPN's Adam Schefter has said multiple times that Garoppolo isn't getting traded at this point. Sashi Brown covets draft assets too much to give up what the Patriots are looking for, regardless of how well set they are for the next two drafts.
With a loaded defensive draft class with potential to add at least two immediate impactful starters, an offensive line that has top-five potential on paper, and an entire offseason of continuity with the same regime and head coach, the Browns are on a path to finally dig out of the AFC North cellar. Kessler has a limited ceiling as his natural talent isn't on the same level as a top-tier quarterback, but his play in his rookie season showed he can win games in the NFL with an improved roster around him.