Before a shoulder injury that led to over a season of missed action, and the ensuing circus that surrounded his recovery and eventual return, the last we saw from Indianapolis Colts quarterback Andrew Luck was the best we've seen from the former Stanford signal-caller. His 90.4 overall grade in 2016 was a career-high by a significant margin and trailed only the two eventual Super Bowl participants in Tom Brady and Matt Ryan. It looked as though the former No. 1 overall pick had finally put it all together and was reaching his elite ceiling.
However, throughout the first month-plus of the 2018 season, the conversation around Luck has focused on whether (or when) we would see a return to that form. But before attempting to answer that question, it's important to know what the form was, to begin with.
As our own Sam Monson wrote before the Colts made Luck the then-highest-paid player in NFL history, the Captain had been balancing undeniably brilliant play with far too many mistakes for what you would expect from the very best at the position.
During his first four seasons in the NFL, Luck's 101 turnover-worthy plays (TWP) were more than any other quarterback, and his 4.2% TWP rate was more than twice that of players like Tom Brady (1.8%) and Aaron Rodgers (1.5%) during the same stretch. If you feel those comparisons are unfair, other top quarterbacks such as Matt Ryan, Russell Wilson, and Ben Roethlisberger, to name a few, all posted TWP rates at 2.7 percent or lower from 2012 to 2015.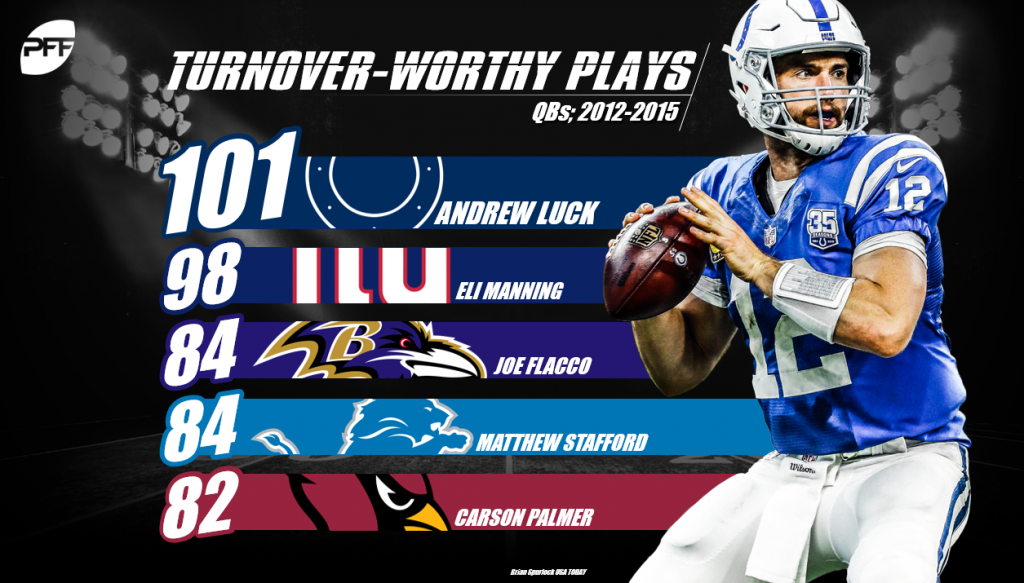 It's well documented that Luck spent much of that time under pressure behind a porous offensive line. However, while play under pressure has certainly been an issue (his 46.3 grade under pressure from 2012 to 2015 ranked 23rd among quarterbacks), it doesn't explain away all of his mistakes from that time. Luck "led" all quarterbacks with 61 turnover-worthy plays from a clean pocket during those first four seasons, just edging out the likes of Eli Manning and Andy Dalton.
When you put it all together, you get a quarterback who was good (70.0 overall grade from 2012-2015) but not great (that grade ranked 23rd out of 34 quarterbacks with at least 1000 dropbacks).
So what changed in 2016? For starters, Luck was fantastic from a clean pocket, earning a career-high 93.5 grade that trailed only Brady that season and would have led all quarterbacks in 2017. But he also posted a career-best grade under pressure (67.8) and significantly cut down on the mistakes. That aforementioned 4.2% TWP rate dropped all the way down 2.1%, which put him much more in line with other top-end quarterbacks.
Zoom ahead to the first five weeks of 2018, and we've seen both the good and bad from Luck. His 90.1 grade from a clean pocket remains at the excellent 2016 levels, which is especially encouraging because we know play from a clean pocket is the most important aspect to look at for quarterbacks when trying to project future performance. Colts head coach Frank Reich has implemented more screens and quick throws than Luck has had at any other point of his career, which has allowed him to get the ball out much quicker (2.4-second average time to throw is the quickest of his career) and spend less time under pressure (31.5 percent pressure rate is the lowest of his career), making Luck's clean-pocket play even more valuable.
On the other end of the spectrum, both his play under pressure and the rate at which he's putting the ball in harm's way have reverted to pre-2016 levels. Luck's 49.2 grade under pressure ranks 22nd, besting only his injury-shortened 2015 campaign, and his TWP rate is back up to 4.0 percent.  
Both the good and bad were on display Thursday night against the Patriots last week, which was a performance that largely encapsulates where Luck is as a quarterback right now.  
Good Luck pic.twitter.com/gKyA26L1mq

— David Neumann (@PFF_David) October 9, 2018
The two play stretch near the end of the third quarter shown above gives you an example of the high-level play Luck is still very much capable of post-injury. Even the broadcast replays don't quite do the first throw justice, as Luck drops the ball perfectly in the bucket 30 yards downfield over the top of the trailing Stephon Gilmore only for Chester Rogers to drop it. On the very next snap, a third-and-10, pressure from the interior moves Luck off his spot and off of his initial look to the right side of the field, but he does a great job of resetting and finding Eric Ebron on the backside dig with a perfect strike into tight coverage to move the chains.
Bad Luck pic.twitter.com/VPKX464y4J

— David Neumann (@PFF_David) October 9, 2018
In the same game, you also saw multiple examples of the questionable decision-making under duress that consistently popped up for Luck during that 2012-2015 stretch.
Whether Luck has "returned to form" largely depends on what form you were expecting him to return to. The elite grade and improved decision-making from a clean pocket so far this season represent improvements over the Luck we saw early in his career. However, the career-year under pressure and the drastic improvement in TWP rate that drove his 2016 season were a significant departure from what he's been for most of his career.
Luck is an immensely talented player and has still yet to turn 30, so there's still plenty of reason to believe he's capable of becoming a quarterback who is among the league's best year after year — that's just simply not who he's been to this point. In the short term, early signs point to Luck already regaining, and perhaps exceeding, his pre-injury level of play. As his health continues to improve, and if the Colts can continue to give him clean pockets to work from, he appears set to produce one of the best years of his career, even if he doesn't quite reach the highs of 2016.