[Editor's note: In Senior Analyst Sam Monson's 101 best players reveal last week, Monson named Green Bay Packers quarterback Aaron Rodgers the No. 8 overall player in the NFL heading into the 2016 season, and the first overall QB. Senior Analyst Mike Renner expands on this selection here.]
"Aaron has to come to trust you, and then he'll throw the ball to you more often. And when you get to Sundays, he may feel more confident throwing it in your direction. But it all starts there (in meetings and practice)"
In three sentences, Packers quarterback coach Alex Van Pelt summed up how Aaron Rodgers' 2015 season went south so quickly. Rodgers might downplay it, but his actions on the field show that the trust that made the 2014 offense the highest-scoring unit in the league was completely gone last year. He'd react to pressures when none were there, pass up receivers that were winning on their routes, and throw his hands up in disgust after failed third-down calls.
The West Coast offense that Green Bay's system is rooted in is based on timing. The quarterback has to throw on the break of the route because that's when the receivers win. Take the most fundamental route in the offense: the slant. It personifies their system in that it's a quick route that needs the wide receiver to create some space, but also needs to be thrown at the exact right time to be completed. In 2015, Rodgers targeted the route the second-most often of any quarterback in the NFL (54). Last season, he dropped to 12th-most (37). Below are Rodgers' stats throwing slant routes each of the last two seasons.
| | | |
| --- | --- | --- |
| | 2014 | 2015 |
| Completions | 40 | 24 |
| Attempts | 54 | 37 |
| Completion % | 74.1 | 64.8 |
| Yards | 517 | 201 |
| Yards per attempt | 9.574074 | 5.432432 |
| Avg. time to attempt | 1.71 | 1.81 |
Those numbers exemplify the holistic failures of the offense. Receivers weren't winning as much, Rodgers wasn't throwing as quickly, and the results speak for themselves. But even in a perfect storm of issues offensively, Rodgers still finished as the eighth-highest-graded quarterback, and the Packers still made the playoffs. The Green Bay quarterback didn't all of a sudden stop being able to do this, however: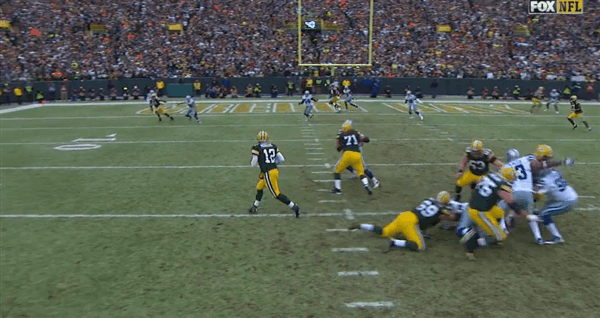 Rodgers' combination of arm strength and accuracy is without question the best in the NFL. The sideline view of his Hail Mary against the Lions makes it seem as if the ball was shot out of a cannon. He's a nightmare for opposing defensive coordinators because of what he can do outside of the pocket. Teams will completely change the way they rush the passer because of his mobility, and because of what he can do manipulating snap counts.
He simply needs to regain that comfort that made him easily the highest-graded quarterback in 2014. In that season, he actually threw fewer deep balls (56 compared to 64 in 2015), but completed more (26 compared to 21) and accrued 355 more yards on them. His average time before throwing was a full 10th of a second lower (2.86 versus 2.96), and his yards per attempt off play-action was over 4 yards higher (9.8 versus 5.5). The problems he had in 2015 were obvious, but also very fixable. If we had to pick a quarterback to rise above the rest in the 2016 season, we're still taking Aaron Rodgers.