Los Angeles Rams DT Aaron Donald was recently named the winner of Pro Football Focus' Defensive Player of the Year and Best Pass-Rusher awards for the 2016 NFL season. To see the winner of every PFF award, visit our NFL awards page.
The Rams may have returned to Los Angeles and the bright lights of Tinseltown, but the team finished the 2016 season 4-12. With that losing record, very few players on the roster received much positive attention, but defensive tackle Aaron Donald was once again excellent in the heart of the Rams' defense.
When recognizing individual achievement at awards time, it's important to try and look beyond the overall defensive unit. There are obvious yardage and scoring milestones for offensive players that get recognition and celebration, even if the offense they play in has been ineffective or lackluster, but defenders tend to be tarred with the brush of overall unit success or failure. The Rams had a top defense in terms of yards per game and yards per play, but because the offense was so poor, they were 23rd in points per game. Whatever the success of the defense as a whole, an individual defender is just one of 11 players, and no one man can make a defense.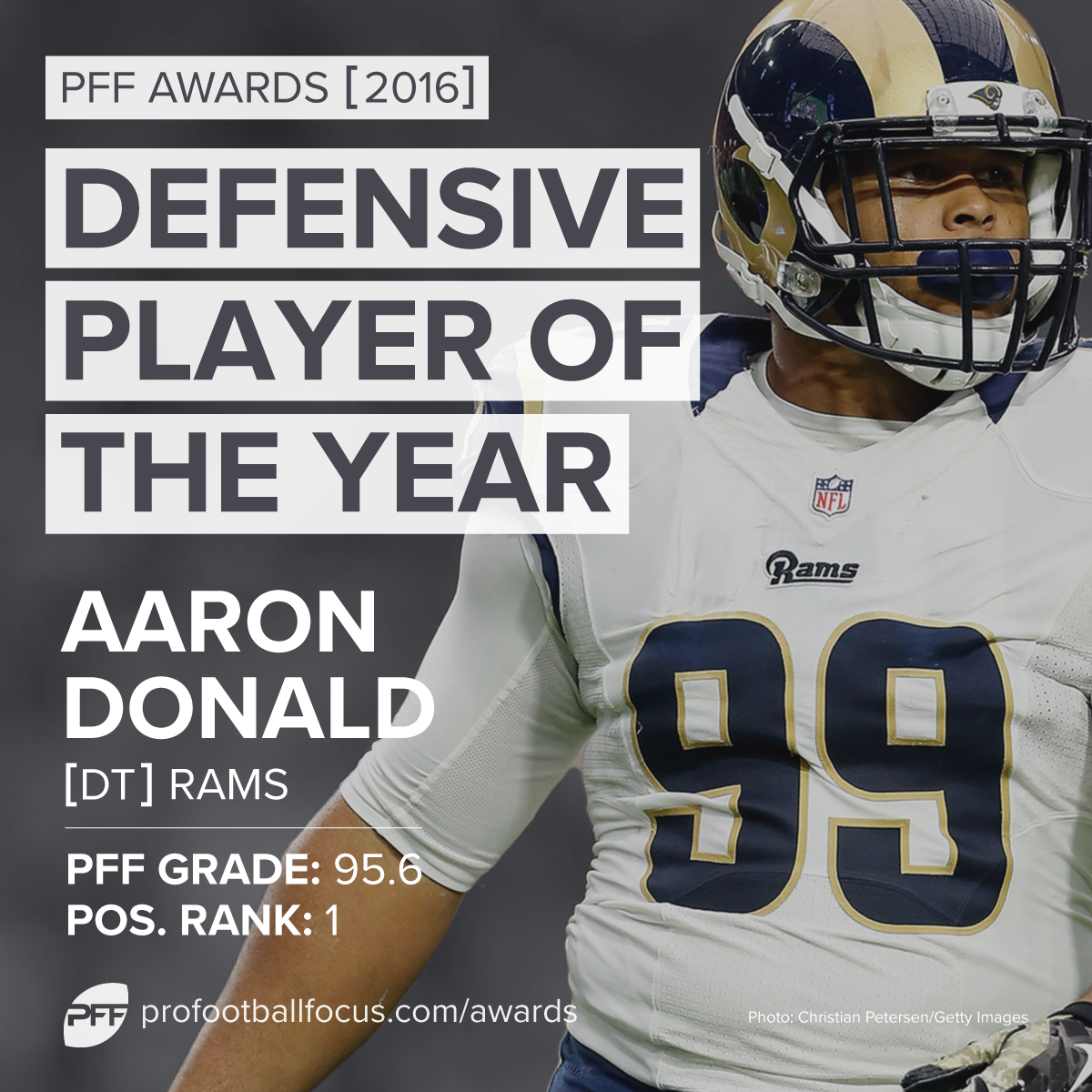 Aaron Donald led all interior defenders with 82 total pressures this season, a mark that tied for third overall in the NFL. He may have recorded "only" eight sacks, but nobody was better at generating consistent, impactful pressure than Donald, especially when you consider the position he was playing.
Generating 82 total QB pressures from defensive tackle is not the same as recording them as an edge defender, or even generating slightly more from those perimeter rushing spots. Edge rushers generate pressure at a higher rate than interior rushers. They are typically one-on-one and have less traffic to navigate to get to the QB, or at least to affect his drop. The average edge rusher in the NFL this season generated pressure once every 8.8 pass rushes, but it takes almost five full pass-rushing snaps (13.5) more for an interior rusher to generate the same pressure, on average.
Donald had fewer pass-rushing snaps than many edge rushers, and yet still outperformed almost all of them in terms of total QB pressures. He generated pressure once every 6.1 pass rushes, which was the best figure of any interior defender, but also a top-10 figure compared to edge rushers (seventh).
Of course, not all pressure is created equal, and raw numbers can sometimes mislead. Pressure can take the form of a sack after a defender beats a double-team in under two seconds, a clean-up pressure where the QB is forced to move into a pass-rusher's leverage, or from a defender having an unblocked path straight to the QB.
Where Donald really separates himself from the pack is in how his pressure comes about. He generated decisive pressure (graded at +1.0 or better in PFF's incremental, play-by-play grading scale) once every 8.7 rushes. That figure would be the third-best rate of pressure among interior defenders, and it's only counting Donald's most impactful pressures.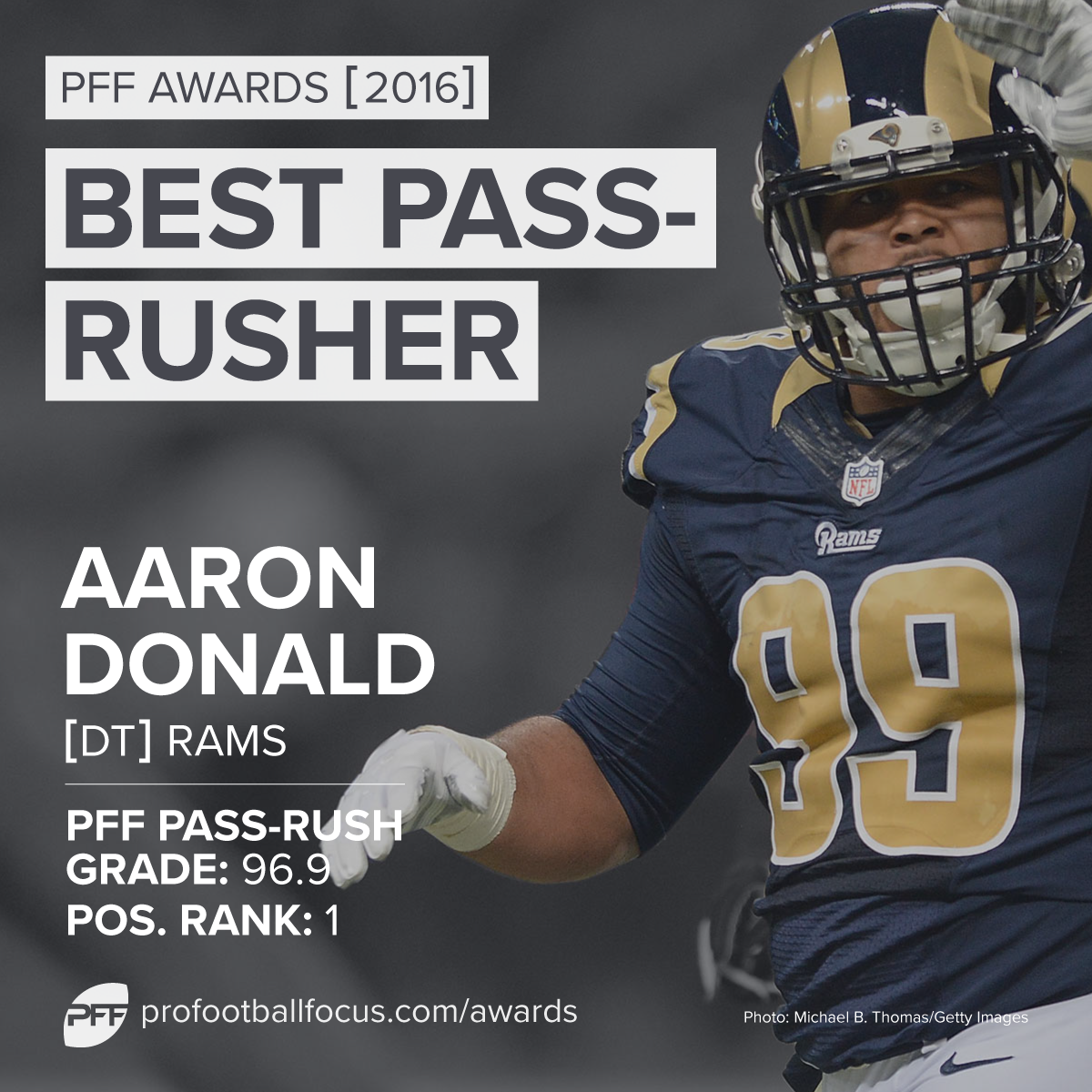 The next-closest interior pass-rusher was Arizona's Calais Campbell, who generated the same level of decisive pressure once every 18 pass-rushing snaps, almost 10 more between those plays than Donald. Put another way, Donald was generating decisive pressure more than twice as often as any other interior pass-rusher on a per-snap basis.
71 percent of Donald's pressure was decisive in nature. He was a player that was forcing the issue, and not just benefitting from plays where he was unblocked, or the play was forced his way. Donald was actively defeating blocks and affecting the QB in the pocket more than any other pass-rusher in the league, and at a rate that leaves his true peers—interior pass-rushers and defensive tackles—flailing in his wake.
Oakland's Khalil Mack and Denver's Von Miller each had outstanding seasons themselves, and they may have each posted game-defining impact plays involving strip sacks and fumble recoveries, but their position as edge rushers allows them to have far more plays where they can come at the QB completely unseen, while Donald is almost always going to be rushing from a spot in the quarterback's line of sight.
Donald in 2016 may not have been quite as dominant as he was a year ago—he was named PFF's Best Player of 2015, winning what was then named our Dwight Stephenson Award—but he was still the best defender in the game this past season, and the most unstoppable pass-rushing force in the league. For that, he wins PFF's award for the Best Pass-Rusher in the game in 2016, as well as Defensive Player of the Year.