By all accounts, Tre'Davious White had a tremendous first campaign as a pro. The Buffalo Bills' first-round pick from last offseason's draft ranked second among all cornerbacks with an elite 92.0 overall grade and he also took home PFF's Rookie of the Year honors. Buffalo has to be thrilled with how their draft strategy from a year ago played out (remember, they traded down from 10 to 26 where they acquired White and gained an additional first-round pick in this year's draft). Most draft analysts believed that White would be a successful pro and was worth a first-round pick, but I'm not sure you'll find anyone though who predicted his level of success would be remotely close to what we saw from the former LSU star as a rookie. Today we're going to dive into White's award-winning season and highlight the areas, and games, where White really stood out.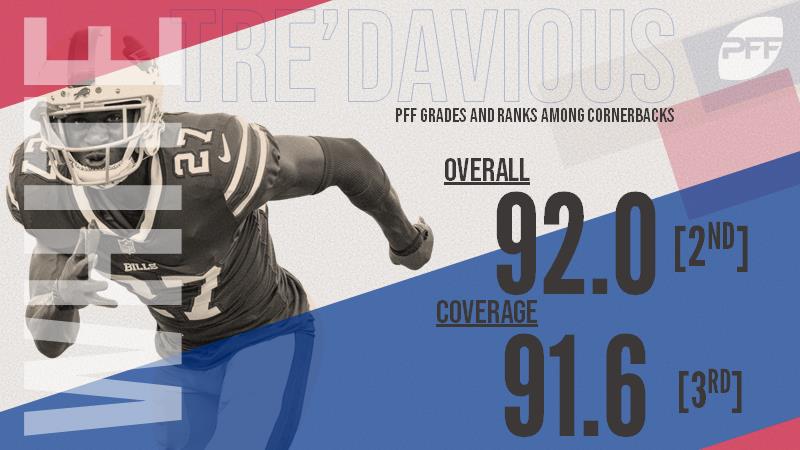 Making plays on the ball
White tied for 10th among all cornerbacks last season with 11 pass breakups (we define a pass breakup as a play where the defender specifically gets his hands on the football to disrupt a pass, leaving plays where a defender hits a receiver to disrupt a potential catch in a separate category) and he tied for fifth among his positional peers with four interceptions. When looking at his ability to make plays on the ball at a rate level, White finished his rookie season ranked 10th among cornerbacks with a 19.5 playmaker index (PMI combines pass breakups with interceptions and then that number is divided by the number of targets into the defenders coverage) and there wasn't a game all season where he had at least five targets into his coverage and didn't register at least one pass breakup or interception.
Man coverage
The Bills ran some form of zone coverage on 73.6 percent of their coverage snaps last season and White saw plenty of success within the variety of zone coverages that Buffalo likes to run, as he held opposing quarterbacks to a 72.6 passer rating on throws into his zone. Where he especially shined was when he had the opportunity to lock on in man coverage. White was targeted 28 times in man coverage and he surrendered just ten catches for a total of 118 yards, holding opposing quarterbacks to just a 58.3 passer rating when targeting White's man coverage. PFF's Rookie of the Year had a 25.0 PMI on targets into his coverage when playing man, he had a 19.1 PMI when targeted in zone.
Covering out-breaking routes
White saw 21 targets into his coverage this season on either out routes, corner routes or comebacks working down the sideline and he allowed just eight of those targets to be caught for a measly total of 48 yards (including just 7 after the catch) to go with one touchdown surrendered and three picks. White held opposing quarterbacks to just a 22.6 passer rating on out-breaking throws in 2017 and in 2016 – his final season at LSU – he held opposing quarterbacks to just a 20.3 passer rating on such throws; over the past two seasons quarterbacks would have been better off just tossing the ball straight into the dirt instead of challenging White on a route breaking toward the boundary.
Reliability
White led all cornerbacks this season with 1,093 defensive snaps and he was one of just 16 cornerbacks to hit four-digits in terms of snap count. White was a workhorse for the Bills and his performance was also incredibly consistent: White finished 14 of 17 games in 2017 with an overall grade of at least 70.0 and he surpassed the 80.0 mark nine times. He didn't wear down as the season went on either, he finished four of Buffalo's final seven games with a grade of at least 80.0.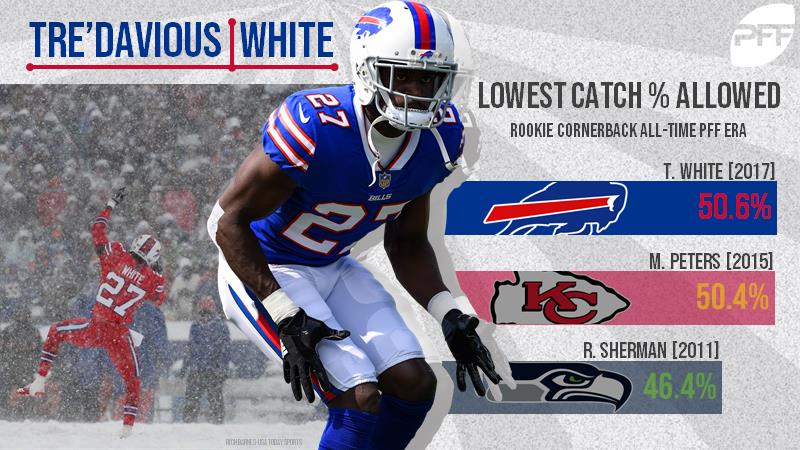 White's best games of 2017
Week 4 @ Atlanta, 89.2 overall grade
White was targeted eight times against the Falcons, he surrendered four catches for a total of 18 yards (with his longest reception surrendered going for just six yards) to go with a pass breakup. He held Matt Ryan to just a 56.3 passer rating into his coverage that afternoon. Oh yeah, White also returned a fumble for a touchdown in this one.
Week 15 vs Miami, 87.7 overall grade
White saw eight targets into his coverage in this one as well, allowing just three of them to be caught for a total of 58 yards, to go with both an interception and a pass breakup. He held Jay Cutler to just a 24.0 passer rating when targeting White's coverage.
Week 13 vs New England, 86.3 overall grade
Tom Brady targeted White in coverage just three times during White's first shot at the GOAT. Brady completed two of those passes for 34 yards but White picked off his third attempt; when these two teams met up three weeks later in Week 16 White was targeted in coverage just once.