As much as Packers quarterback Aaron Rodgers and head coach Mike McCarthy are growing irritated of questions asking about what's wrong with the Green Bay offense, there's definitely a problem, and the questions will only intensify after their defeat to Dallas Sunday.
Rodgers ended the game with a PFF grade of 37.8, his second game of the season under 40, and unlike the first of those games, this one didn't come against one of the league's best defenses. Against the Vikings in Green Bay's Week 2 loss, Rodgers was pressured on 12 of 42 snaps (28.6 percent), but this week he was only pressured on six of his 46 dropbacks (13 percent).
Rodgers had plenty of time in the pocket, but all too often he either just couldn't pull the trigger or find receivers. On plays that had no pressure at all, Rodgers averaged 2.5 seconds with the ball in his hands. He got jittery in the pocket and took off with no pressure on the play four times, and those plays had no pressure on average 3.2 seconds into it.
The Packers' pass protection is one element that is definitely not the problem in Green Bay. Of those six pressured dropbacks against Dallas that we referenced, one of those was of Rodgers' own making. The offensive line combined to surrender just three total pressures.
Over the season, Green Bay's offensive line has surrendered a total of only 27 pressures, 10 better than any other team in football, albeit on one fewer game than many. They have the league's best pass-blocking efficiency score of 89.4, some distance clear of the next-best team at 86.8.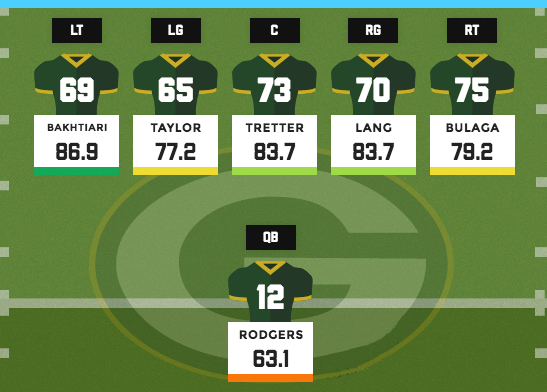 It's always difficult to define why a great player is in a rut, but there seems little doubt that Rodgers is in one right now. Watching every throw of this game he was just a little bit off in a way we aren't used to seeing him – or maybe more worryingly we are becoming used to seeing him. Rodgers missed on too many routine throws that he should be making, including some important ones in the overall context of the game.
The misses had been mounting up over the game, causing Green Bay to simply lose pace with a Dallas offense that was consistently scoring (another part of the team's problem being the defense), but no play encapsulated Rodgers' day more than the opening play of the final quarter. Green Bay ran a variation this four vertical play all game long, and this was pretty much the only time it was wide open. Rodgers went with a hard count that should have produced a flag, but that would have been just a bonus. He had wide receiver Randall Cobb wide open in the end zone for an easy score, and just missed him high. That's a throw the old Rodgers makes in his sleep, but this current version is off by a yard.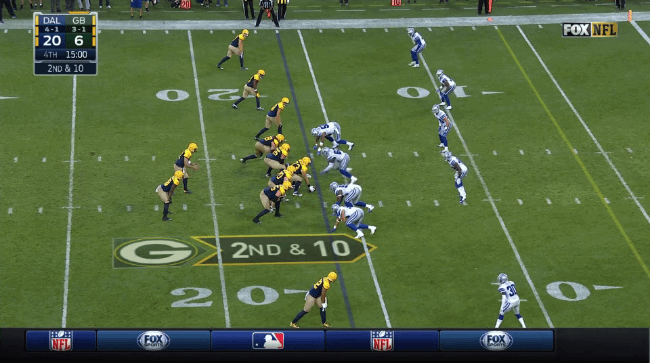 Brett Favre was in the broadcast booth during the game, having appeared at halftime to see his name raised as part of the Packers ring of honor, and he talked about Rodgers "pressing" to try and right the ship, and that's when things go wrong.
Typically, one of the features of his play is that Rodgers doesn't make the critical mistake. He has the lowest career interception rate in NFL history at 1.6 percent. Only three players are under 2 percent all-time, and the other two are both at 1.9, so Rodgers is truly in a class by himself when it comes to avoiding the big error with the football.
In this game though even that deserted him, and he threw a terrible interception coming from a misread on the play. He simply never saw the dropping safety on one side of the field, and threw the ball right to where he was waiting. It's an easy mistake to make, and one every QB falls foul of every now and then, but it's the kind of mistake that Rodgers is historically good at avoiding, so when he comes up with one it's worth drawing attention to.
Rodgers hasn't become a bad quarterback – even in this game there were still some excellent plays from him, but they were all off-set and then some by the mistakes. Between the missed touchdown, the terrible interception, fumbling the ball in the shadow of the Dallas end zone on a QB-draw play, Rodgers was sinking in the quicksand.
The good news is that this offense still has components of success within it. It has the league's best pass protection. Eddie Lacy is running well (he currently leads the league in PFF's Elusive Rating), and as maligned as the receivers have been among fans, there are open plays to be had.
The Packers could afford to mix up the play calls a little bit, and vary their route depths at times, and the team could certainly use another option at the WR position — but their problems are not irreversible. Rodgers is stuck in a rut of play, and to use Favre's term, is pressing to try and turn it around. It's leading to more mistakes and bigger problems, but it just needs a few things to swing in his favor to get the old version of him we're used to seeing back.