Day 1 of the NFL draft is all about the big-time players. The future franchise quarterback, the potential perennial all pro edge defender, etc. Day 2 is where we often see talented players with risks come off the board, along with usually a run on offensive linemen. Rarely do you find special teams players being drafted on Days 1 and 2, and after the failed Roberto Aguayo second-round pick by the Tampa Bay Buccaneers, it's easy to see why.
Day 3 though, that's the day when kickers, punters and long snappers can begin to get their hopes up about being drafted. The fifth round is when they started to come off the board this year, with three punters and a kicker hearing their names called, with another of each going in Round 7, along with a long snapper.
Here's a look at what we think about the drafted specialists from this class, focussing in particular on the fifth-rounders.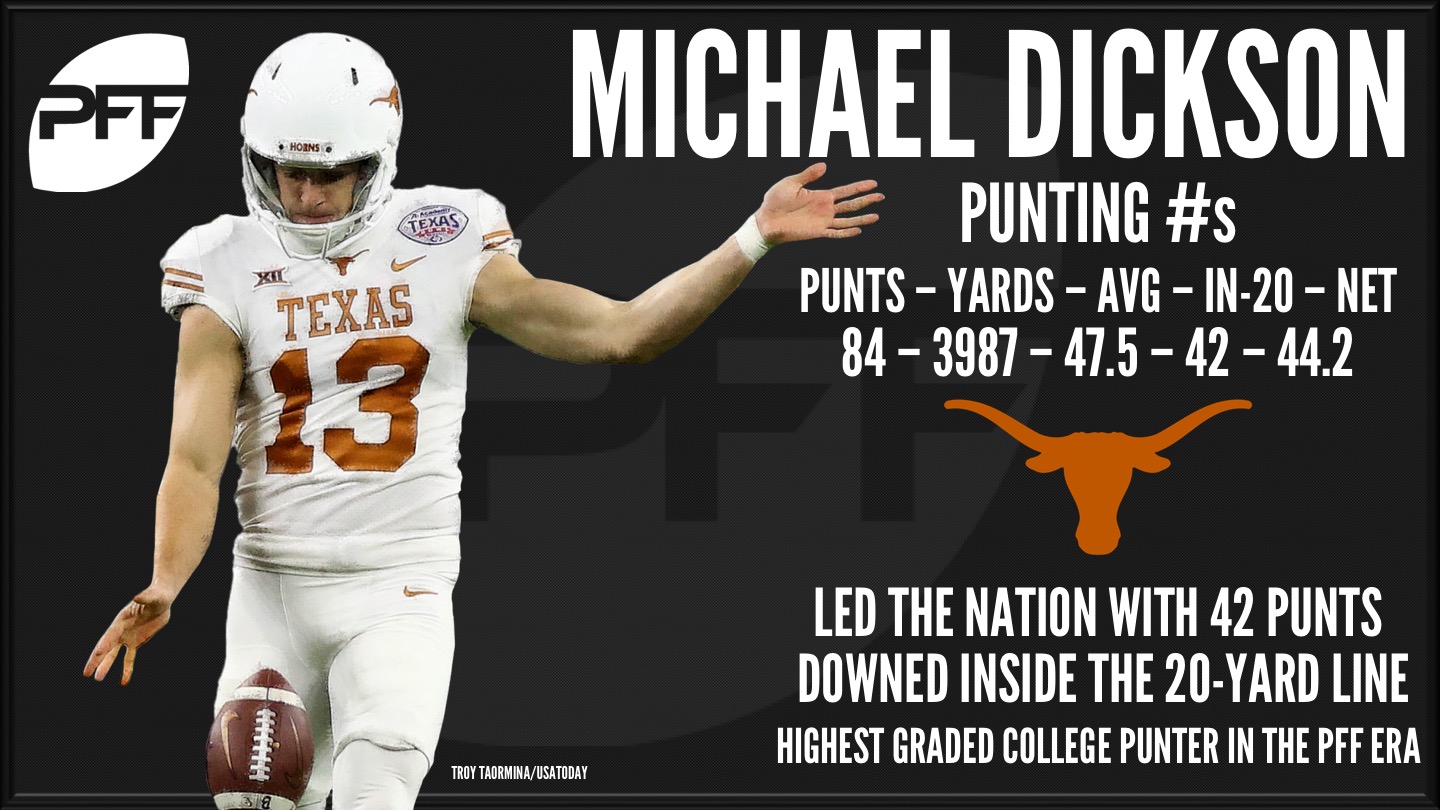 Dickson was the PFF favorite heading into the draft, coming off the highest-graded season for a punter, by a considerable margin, in four years of grading college football. Dickson didn't even move to America until 2015, but his leg is already capable of being an NFL weapon. Combining strength and accuracy, Dickson is good enough to boom the ball well over 60 yards downfield, and can drop the ball nicely on the sideline to pin returners back. Dickson led the nation with an average of 44.2 net yards per punt in 2017, dropping 42 of his 84 punts inside the opposing 20-yard line.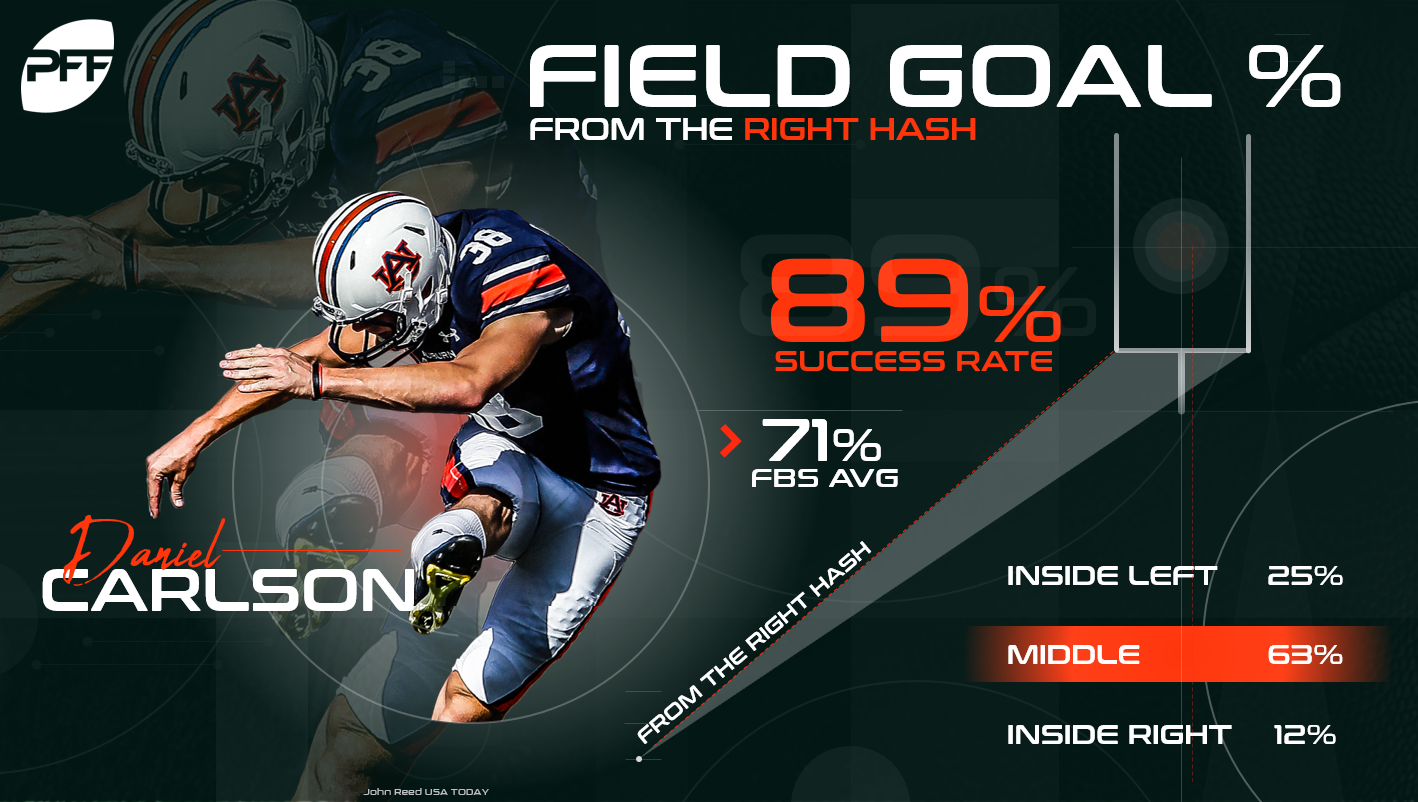 The good news for Minnesota Vikings fans is that Carlson has a monster leg. He hit 14 field goals of 50-plus yards over the past four seasons for the Tigers and enters the NFL as a player more than capable of hitting from 55-plus regularly. If there is a concern though, it's that his accuracy dipped in 2017, and it wasn't just from distance. Sure, four of his nine missed field goals came from beyond 50 yards, but he missed one from 20-29, two from 30-39, and another two from 40-49 yards. Entering the NFL where the PAT is from 33 yards out, that will make Vikings fans a little bit nervous.
Scott continuously improved over the past three seasons, delivering his best performance in his final year at Alabama. Bringing with him the ability to kickoff as well as punt, Scott figures to be an asset for the Packers going forward. The second-highest graded punter in this draft class, Scott dropped exactly half of his 54 punts inside the opponents 20-yard line in 2017 and had just 9.3 percent of his punts returned.
Florida punter Johnny Townsend, Oakland Raiders
The Raiders revamped their special teams not only by picking up Townsend, but by going back to Florida to add kicker Eddy Pineiro as an undrafted free agent. Townsend was the third of the big three punters in this class. With a big leg, Townsend can help flip field position, and he finished the 2017 season as the third-highest graded punter in the class and dropped 26 of his 65 punts inside the opposing 20-yard line.
Sanders connected on just 66.7 percent of his field goals in 2017, but was much better in 2016 (92.3 percent). The concern here is that he is just a 70 percent kicker on kicks from 30-39 yards in his college career. Sanders graded well on kickoffs throughout his time at New Mexico though, so that comes as a bonus.
Mississippi State long snapper Hunter Bradley, Green Bay Packers
Bradley wasn't the most accurate long snapper in the class, with an 87.04 percent accuracy on punts and kicks in 2017, but he did have one of the highest velocity marks, averaging 34.35 mph per snap. He also missed just one tackle in his college career.
Cooke doesn't quite match up to the top three punters in this draft class, but he was having the best season of his college career before some late season struggles caused his grade to tumble. He can kickoff and he allowed just eight of his 53 punts to be returned in 2017, but his 39.9 net yard average means there is some work to do now that he is in the NFL.