It's no secret to anybody who paid attention to the Buffalo Bills in 2017 that the passing game had it's share of shortcomings. The Bills ranked 26th in the league with an average of 6.5 yards per attempt and they were just one of three offenses (joining the Chicago Bears and Indianapolis Colts) that failed to eclipse the 3,000 passing yard mark, and they were the only offense that didn't have a single passing play go for at least 50 yards.
Earlier this offseason, Buffalo decided to part ways with Tyrod Taylor, their quarterback for the last three seasons, trading him to the Cleveland Browns for the 65th pick in the upcoming draft, officially signaling that the effort to revamp the passing game has begun. Today we're going to look at some of the things Buffalo can do (some more obvious than others) to have an improved passing attack in 2018.
1. Draft a quarterback
After the Taylor trade, Buffalo signed AJ McCarron to a two-year contract, giving them a current quarterback depth chart consisting of the former Bengals' backup and second-year player, Nathan Peterman. McCarron has seen 367 regular season snaps over his three-year career but just 28 of those have come over the past two seasons. Back in 2015, he had some success when throwing from a clean pocket, as his 117.1 passer rating ranked second among quarterbacks who attempted at least 75 passes without pressure in their face, however his passer rating plummeted down to 57.6 when he did face pressure. He finished that season ranked 27th among quarterbacks with a 72.6 overall grade. While McCarron does provide some needed depth to the roster, it's unlikely that he's the guy who's going to lead the turnaround for Buffalo's passing game.

Which brings us to the draft. As most already know, this year's draft class has up to six quarterbacks who could go in the first round. It's one of the deepest quarterback classes of note in quite some time and Buffalo is loaded with draft capital. The Bills own six for the first 96 picks in this year's draft, including five in the top 65 and two in the first round, giving them a variety of ways to land their desired quarterback. In his most recent mock draft, senior analyst Steve Palazzolo has Buffalo snagging former Oklahoma State quarterback Mason Rudolph with the 22nd pick.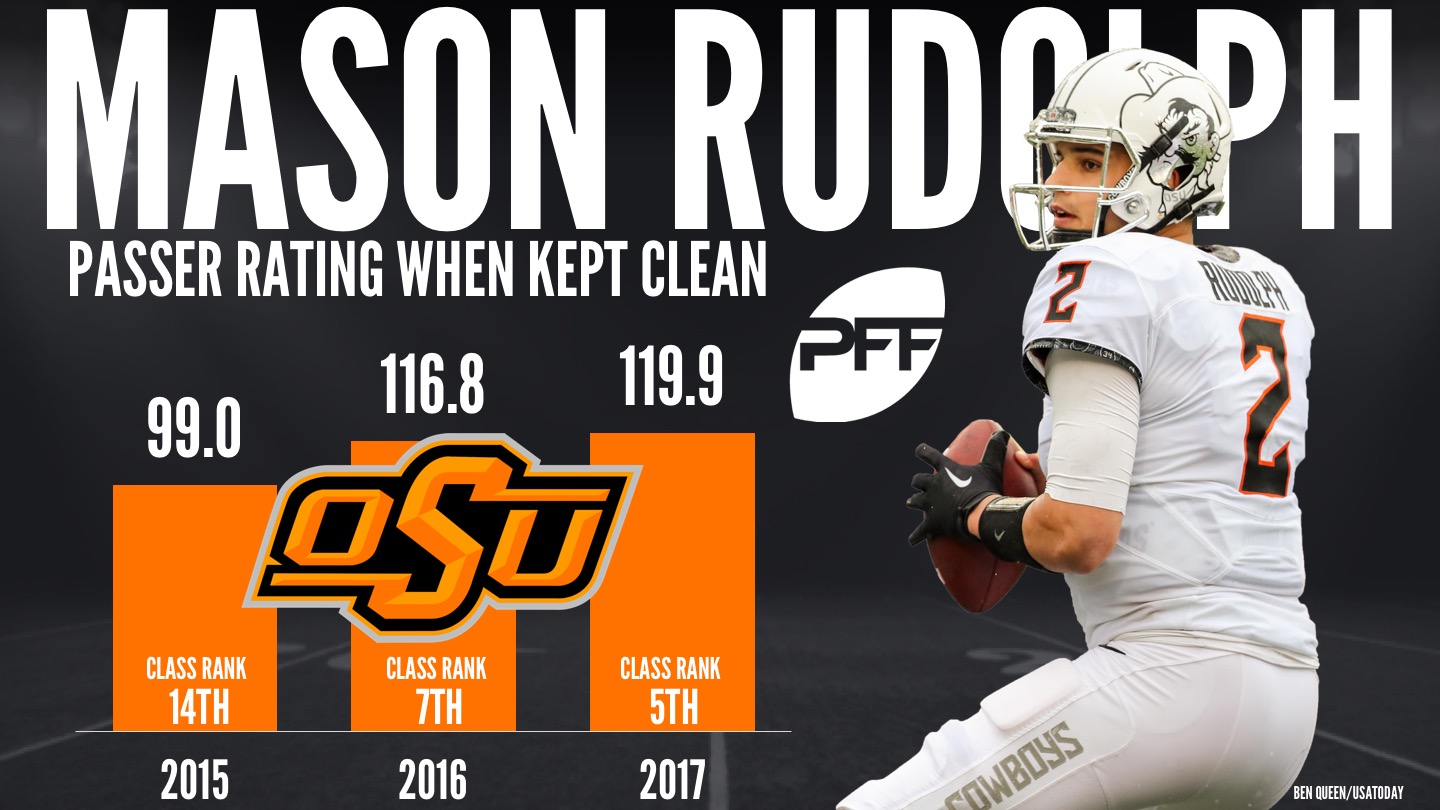 Rudolph earned the second-highest grade among all college quarterbacks last season (trailing only Baker Mayfield) at 92.4 overall, if you'd like to read more about Rudolph check out this detailed article provided by PFF Editor Cam Mellor back on April 5th.
2. Develop a quick passing game
With Taylor under the helm last season, Buffalo had one of the slowest developing passing games in the league. Out of 40 qualified quarterbacks, Taylor had the fourth-highest average time to throw at 2.85 seconds per attempt and at 48.8 percent, he had the third-lowest rate of throws that occurred in 2.5 seconds or less after the snap.
Among that group of 40 quarterbacks, 34 of them had a higher passer rating on throws that came in 2.5 seconds or less than they did on throws that occurred after that threshold, with 22 of them seeing a rise in passer rating of at least 10.0 points on quick throws. Collectively, the group had a 68.4 completion percentage and a 2.3:1 touchdown-to-interception ratio on throws that occurred in 2.5 seconds or less, compared to just a 54 percent completion percentage and a 1.4:1 touchdown-to-interception ratio on throws that took at least 2.6 seconds. If Buffalo focuses on developing a more consistent quick-passing game, it could go a long way towards making their passing game more efficient going forward.
3. Improve the receiving corps
In addition to drafting a quarterback, the Bills also need to find more viable weapons for any signal-caller to throw to. Kelvin Benjamin has been a solid player throughout his NFL career thus far (ranked 28th among receivers with a 79.1 overall grade last year, and he has finished each of his first three seasons with a grade of at least 74.4) but beyond him, the cupboard is pretty bare. While it'd be foolish to write off Zay Jones after just one season, the former second-round pick struggled quite a bit as a rookie (ranked 108th among receivers with a 43.6 overall grade) and the rest of the roster is filled with journeymen and question marks. If Buffalo wants to maximize the potential of whichever quarterback they decide to go with on draft day, they're going to need to give him more viable weapons to throw to. If Buffalo is able to hold onto a good chunk of their draft capital, they should be able to land a talented rookie receiver.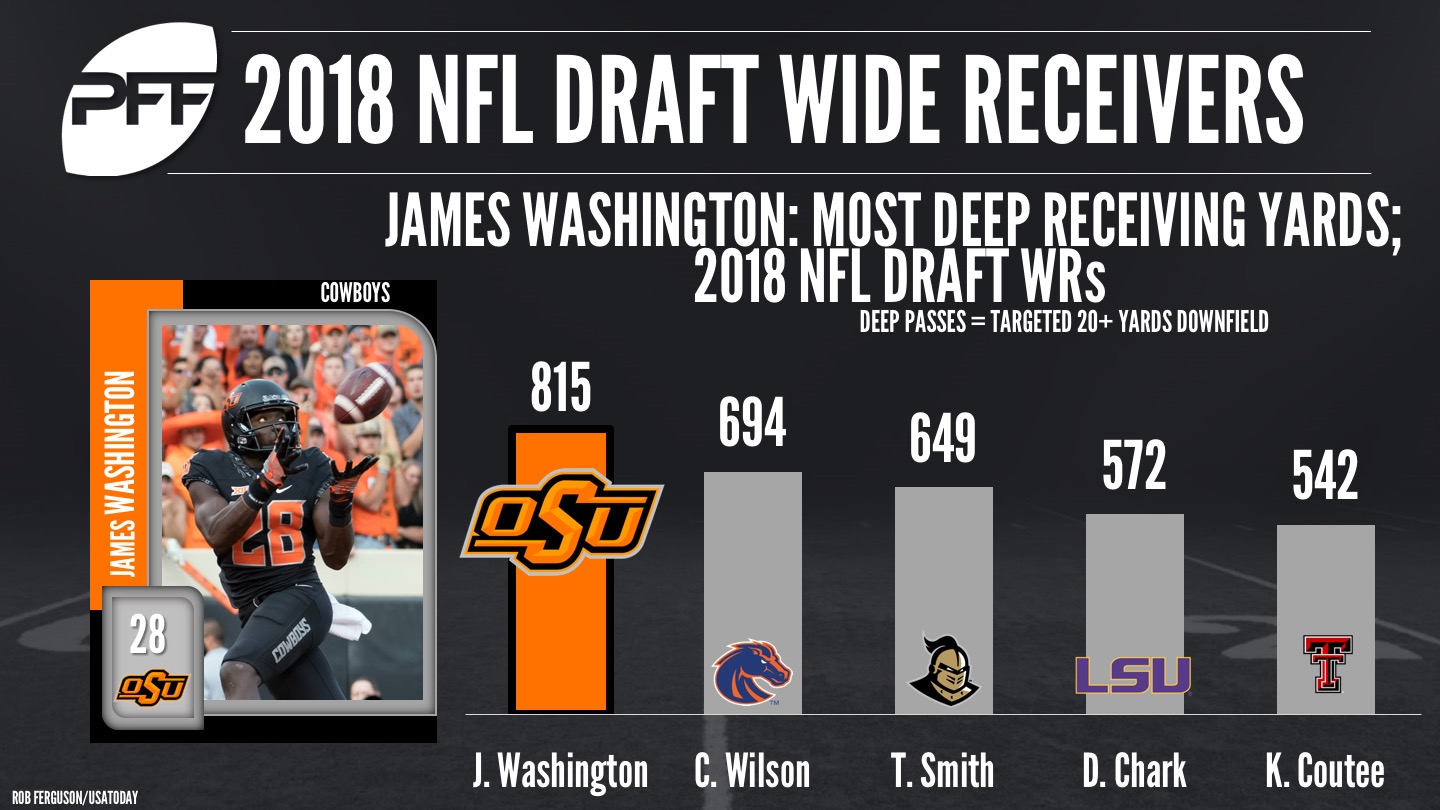 4. Run more RPOs
By now, if you're a fan of football (and let's be honest, you are, you're on a football website in April) then you've undoubtedly heard of the term RPO, or run/pass option. On these plays, the offense has the option to either run or pass the ball based on the quarterback's read of the defense (sometimes pre-snap, sometimes post-snap), and after invading college football a little while ago they're making their presence more and more felt in the NFL.
Last season (including the playoffs) there were 2,136 RPOs called league-wide (5.5 percent of all plays), with the quarterback dropping back with the intent to throw on 604 of them. On plays where quarterbacks did throw a pass off an RPO (excluding throw-aways and plays where the quarterback was hit on release), they had a completion percentage of 79.7 to go with a 6.2:1 touchdown-to-interception ratio and a 103.6 passer rating. Compare that to non-RPO throws, where quarterbacks had a 65.2 completion percentage to go with a 1.7:1 touchdown-to-interception ratio and a 92.0 passer rating. Additionally, running backs averaged 4.8 yards per attempt on runs off RPOs, compared to an average of 3.8 yards per attempt on runs that weren't off RPOs.

RPOs were virtually a non-existent part of Buffalo's offense last season, they ranked 27th in the league with just 23 RPO plays (1.7 percent of their plays) and just six of Buffalo's RPOs led to a targeted pass attempt. RPOs help keep the defense off balance and they help the offense space the field while providing a quarterback with clear, defined reads. Given the prevalence of RPOs in today's college game (combined, the big six quarterback prospects ran RPOs on 13.5 percent of their snaps last season, with Josh Rosen, Sam Darnold, Mason Rudolph and Baker Mayfield all running RPOs on at least 15 percent of their offensive snaps) and their effectiveness at the NFL level, don't be surprised if we see even more of them in the pro's in 2018, the Bills should hop on the bandwagon.