The 2018 NFL Draft class at quarterback is loaded with talent with as many as six quarterbacks slated to be selected in the very first round in various mock drafts including six in the first 40 selections of the PFF Mock Draft 4. We at Pro Football Focus have charted every single play of every single game for every FBS team over the past four seasons and with that wealth of data, we have a multitude of numbers at our fingertips to study in regards to every position, not just quarterback.
While we've looked at our top-ranked cornerbacks and wide receivers by specific traits on the field including routes where they were targeted and snap alignments, with the calendars turning to April, we shift focus to our top-ranked quarterbacks with similar studies.
Mason Rudolph may be the lesser-known quarterback hailing from Oklahoma this draft (re: Baker Mayfield), but that's not to say he didn't put up gaudy numbers and a more-than-solid performance each year of his career in Stillwater. Rudolph had a very productive four seasons at Oklahoma State, from his thrusting into the starting lineup during his freshman season to his three consecutive seasons with at least 3,700 passing yards from 2015-17.
Speaking specifically to 2017, Rudolph put up plus-grades at seemingly every facet. In particular, his passer rating when kept clean from pressure ranked him fifth in the class, a figure he improved with each year as the Cowboys' starter. A number found to correlate better towards stability at the next level, his prowess when kept clean could go a long way in his success in the NFL.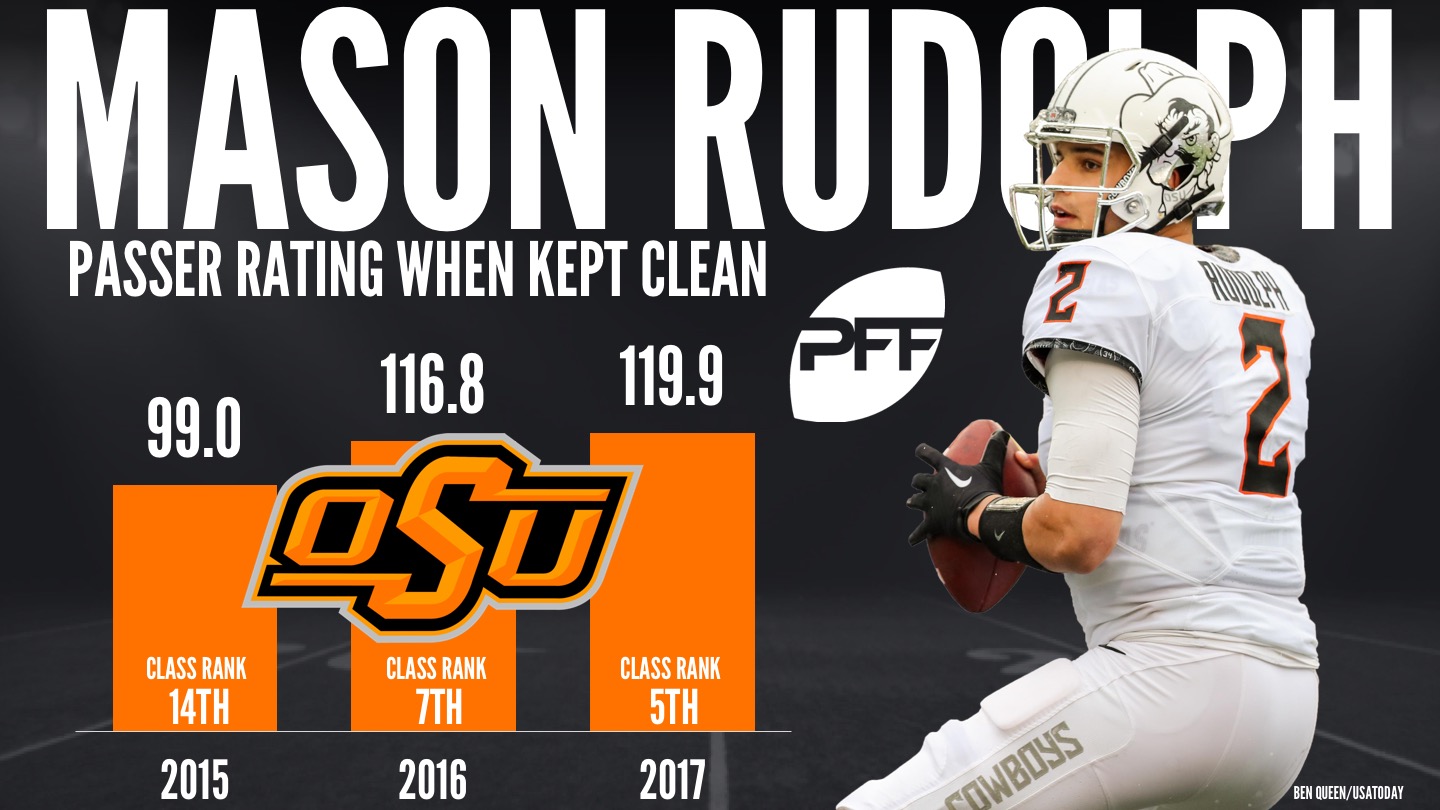 Not nearly as stable, Rudolph still was far from a liability with pressure in his face, sporting a passer rating 39.5 points higher than the NCAA average. He also fared very well against opposing defense's blitz packages, seeing a passer rating of 123.3 when his opponent sent an extra rusher (compared to the 90.8 FBS average).
Subscribe to PFF Edge to continue reading
Already have a subscription? Sign In