Expectations were high for Reuben Foster coming into this season. The second-year linebacker out of Alabama was coming off a debut season in which he led all rookie linebackers in overall grade at 81.2, which was also good for the 10th-highest grade among all NFL linebackers. He was strong against the run and the pass, posting a top-10 mark among linebackers in run-stop percentage and receiving yards allowed per coverage snap. In other words, the optimism for Foster this season was well-founded.
However, after serving a two-game suspension to open the season, Foster has not looked like the same player from a year ago. Currently, the San Francisco 49ers linebacker has an overall grade of just 44.3, which ranks 76th out of 85 qualifying linebackers.
The drop from top-10 linebacker to bottom-10 linebacker is a sharp fall for Foster. It leads to the question – what is behind the decline for the young, talented defender?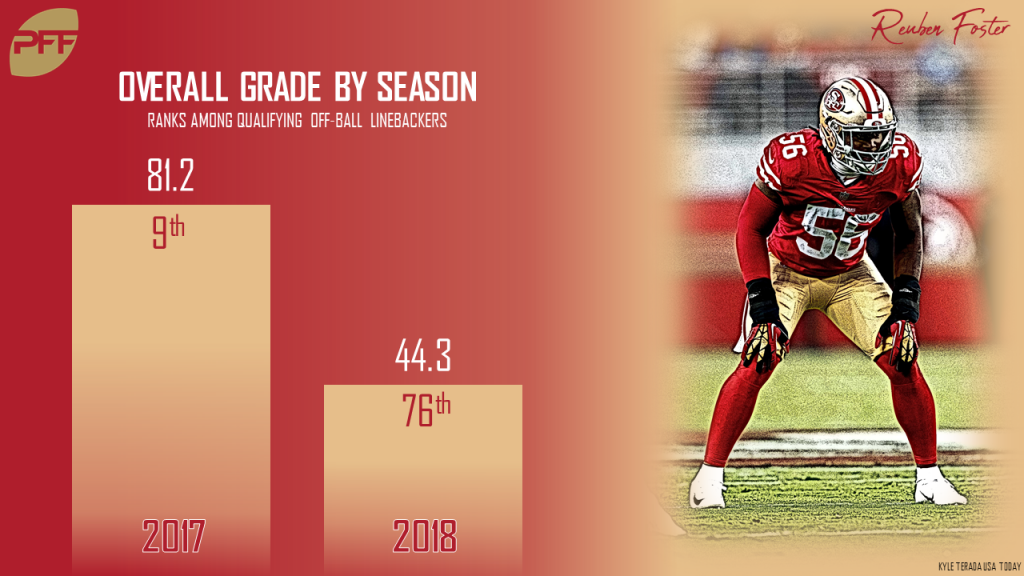 When looking at Foster's drop-off in play from a season ago, you have to start with his tackling, or rather his lack of tackling. Tackles themselves aren't necessarily a good judge of performance alone. For instance, a player can rack up tackles by continuing to allow receptions in their coverage before making tackles downfield. On the flip side, missed tackles are something that can and should be avoided, and Foster has been among the worst in the league at limiting them.
Foster has missed 12 tackles on the season, ranking second among all defenders in the NFL behind only Joe Schobert. It should also be noted that he has managed to do that despite missing the first two games of the season. There have been two games this season, in Week 3 against the Kansas City Chiefs and Week 7 against the Los Angeles Rams, where Foster actually missed more tackles than he had successful tackles. 
On the play above from last week, Foster has a clean look at Malcolm Brown with an unblocked path to the tackle at the first-down marker. Instead, he fails to wrap up, and Brown goes on to pick up another seven additional yards. That has been the case much too often for Foster this season after missing only 10 tackles all of last year.
The next area where Foster's decline has been steepest has been in coverage. This is somewhat surprising given the natural coverage ability that Foster has shown to start his career, including plays such as this one from the preseason in which he diagnosed the play, ran step-for-step with the speedy Tavon Austin and broke up the pass.
Reuben Foster breaking up a ball on the sideline from hook in C3 is not normal pic.twitter.com/OTOL5XvB0x

— Mike Renner (@PFF_Mike) August 13, 2018
That ability hasn't shined through in the regular season as of late, though. Across five games, Foster has been targeted 27 times, allowing 20 receptions for 228 yards and two touchdowns. That comes out to quarterbacks having a passer rating of 123.7 when targeting Foster. His coverage grade has dropped down from 72.8 in 2017, which was a top-20 mark, to 42.5 this season, ranking eighth-worst among qualifying linebackers.
Foster is allowing nearly double the amount of receiving yardage per snap than he allowed last season. After allowing just 0.73 receiving yards per coverage snap a season ago, that number is all the way up to 1.43 yards in 2018. He is being picked on more, and it is working for opposing offenses.
That pass-game production allowed paired with a slew of missed tackles is what is driving Foster's poor play this season. Given his track record of elite play in both college and his rookie season, he is more likely than not to right the ship, but this start to his sophomore campaign is certainly not what he or 49ers fans had in mind. Rather than taking the next step to becoming an all-pro caliber linebacker, Foster has found himself among the worst at the position. To change that, eliminating missed tackles and getting back to being a coverage asset rather than a liability are paramount for the second-year player.