The Atlanta Falcons and their new offensive coordinator Dirk Koetter — who served the same role with the Falcons from 2012 to 2014 — came into the offseason with a clear emphasis on improving the offensive line. As Koetter said in his introductory press conference in February, "Everything is a work in progress, but whether it's the run game or whether it's pass protection, really everything starts with the O-line."
The Falcons attacked that group in the first round of the draft just over a month ago, selecting two offensive linemen in the first 31 picks. Chris Lindstrom, a guard out of Boston College, and Kaleb McGary, a tackle out of Washington, are projected to step in and man the right side of the Falcons' offensive line out of the gates. That should mean more clean pockets for Matt Ryan next season, which should only translate to more success offensively.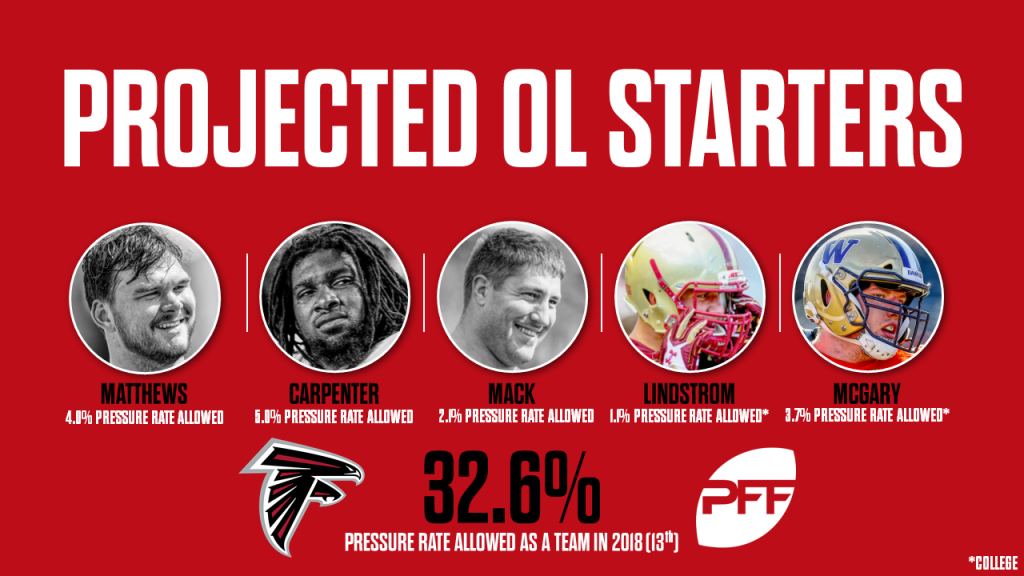 The Falcons weren't poor in pass protection in 2018 — they finished the regular season with a pressure rate allowed of 32.6% which was good for 13th-best in the league — but there is room for improvement. When you break it down by position, though, it becomes clear that the right side of the line wasn't holding up their end of the bargain.
Three players played at least 250 snaps at right guard for the Falcons last season: Brandon Fusco (436), Ben Garland (345) and Zane Beadles (279). Meanwhile, Ryan Schraeder shouldered most of the load at right tackle with 865 offensive snaps alongside 195 right tackle snaps from Ty Sambrailo. Collectively, that right side of the offensive line allowed 68 pressures on 1,356 pass-blocking snaps, i.e., they allowed a pressure roughly every 20 dropbacks.
The remaining offensive line positions, manned primarily by Alex Mack, Wes Schweitzer and Jake Matthews, combined to allow just 72 pressures on 2,034 pass-blocking snaps. That is a pressure allowed approximately once every 28 dropbacks. The Falcons assessed that weakness on the right and addressed it. Enter Lindstrom and McGary.
Lindstrom was elite in pass protection last season at Boston College, allowing pressure on just 1.1% of his pass-blocking snaps and finishing the season with a pass-blocking grade of 91.6. Both of those ranked first among draft-eligible right guards. McGary wasn't quite on the same level as Lindstrom, with a pressure rate allowed of 3.7% (10th) and a pass-blocking grade of 80.5 (7th), but he should also serve as an upgrade at the position. On paper, it looks like Matt Ryan will have more time to survey the field in 2019 — a dangerous thing for opposing defenses.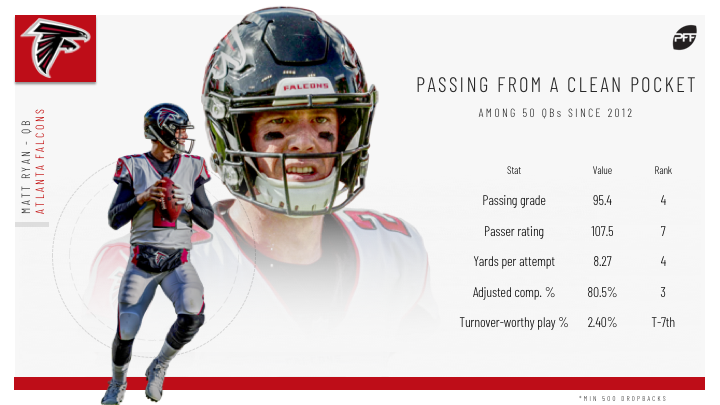 Ryan has consistently been one of the top quarterbacks in the league when operating from a clean pocket, which is part of the reason he's underrated by many around the NFL when discussing the NFL's elite quarterbacks. Looking at 50 quarterbacks with 500 or more clean-pocket dropbacks since 2012, Ryan ranks fourth in both passing grade (95.4) and yards per attempt (8.3). It's the plays that he doesn't make that are just as important as the plays he does, too. At risk of stating the obvious, turnovers are game-changing plays, and he does an excellent job of limiting those from a clean pocket. His turnover-worthy play rate of 2.4% is tied for seventh-best among those 50 qualifying quarterbacks.
The additions of Lindstrom and McGary indicate that Ryan will get more of those clean pockets that he works so well from, making Koetter's job as offensive coordinator all the easier.