An offseason of trying to figure out just what the Philadelphia Eagles were trying to do with their quarterback led us to the final weekend before the regular season, as they trade Sam Bradford to a desperate Minnesota Vikings team that has been scrambling since starting QB Teddy Bridgewater went down for the season earlier this week. In return, they acquired a 2017 first-round pick and conditional 2018 fourth-rounder.
In addition to Bradford, the Eagles signed Chase Daniel to much more than just a backup deal this year while betting the house on QB Carson Wentz in the draft, so at least by their own account, they've been working from a position of excess. The Vikings, meanwhile, lost Bridgewater while potential second-year backup Tyler Heinicke is also injured, leaving perennial backup Shaun Hill as their most experienced option.
Let's look at the top takeaways for both teams in this deal:
1. The Vikings should again be considered a Super Bowl contender with Sam Bradford under center.
This trade was triggered by the Vikings' current roster situation. Armed with one of the best defenses in the league, running back Adrian Peterson's likely last few days of glory, and a young receiving corps, losing Bridgewater brought them from championship contender status to top-10-pick-in-the-draft contender. They acted quickly. (Check out colleague Sam Monson's analysis following the Bridgewater injury here.)
Enter Bradford, who could now write a book about the number of offensive systems he's played in since entering the league in 2010. From a traditional West-Coast offense, to a Patriots-centric offensive led by Josh McDaniels, to Chip Kelly's up-tempo system, and now to offensive coordinator Norv Turner's vertical passing system, Bradford has yet to settle in as he enters his seventh year in the league.
Inconsistency and injuries have marred Bradford's career, as strong play is often followed by a disastrous game, all while the injury bug has been all too prevalent. When healthy, he has settled in as a mid-tier quarterback, capable of throwing accurately to the short and intermediate levels of the field while showing better than expected throwing down the field. If there's a knock, the stats have always seemed to lag behind his play as he's never been surrounded by a talented group of playmakers.
Last season, Bradford played with the worst receiving corps in the league, a group that dropped 7.6 percent of his passes to lead the league. He missed all of 2014, and while there was some early-season rust, he was one of the top-graded quarterbacks during the second half of the season. On the season, he actually finished 12th in PFF quarterback grades, at 85.3, one spot ahead of 13th-place Bridgewater at 82.6.
Stylistically, there are some similarities to Bridgewater, as Bradford's average depth of target (7.4 yards) ranked just behind Bridgewater's 7.5 mark, both of which were among the shortest in the league. Both players have been criticized for their ability to create chunk plays, and while Bradford could stand to take a few more chances, we may see him checking down to running backs and shallow crosses quite a bit in Turner's system.
Bradford's accuracy based on ball location:

The other big concern is Bradford's health, as the Vikings used the highest percentage of seven-step drops in the league, leading to Bridgewater getting pressured more than any other quarterback in the league at 46.8 percent. The deep drops combined with subpar pass-blocking made for some ugly play up front so Bradford's ability to get the ball out of his hand and avoid injury will come into play. Luckily, he led the league in adjusted completion percentage under pressure, and even though the passes were on the shorter side, it's important to keep the offense on schedule if the offensive line can't hold up.
2. Even though the trade makes sense for Minnesota, this deal is still a major risk.
The Bridgewater injury is an unfortunate situation for the Vikings, as he has ranked among the top 15 quarterbacks in PFF grades each of the least two years, but Bradford was right there with him last season and there's a good chance he outperforms Bridgewater's raw statistics from last season.
However, that doesn't mean this deal still isn't a major risk for the Vikings. A first-round draft pick is tremendously valuable in today's NFL, and they had to give one up in this deal for a player only under contract for two more seasons.
Again, it's understandable why the Vikings chose to make this move, and if anything it indicates the team's realization that it is one of the most well-rounded rosters in the league. The graphic below represents Minnesota's ranking at every position group (ignore the QB ranking, which was completed prior to Bridgewater's injury and the trade for Bradford), and it illustrates a team that is very strong all over on defense, particularly up front with defensive tackle Linval Joseph, defensive end Everson Griffen and outside linebacker Anthony Barr. The secondary is anchored by Harrison Smith, PFF's top-graded NFL safety in 2015.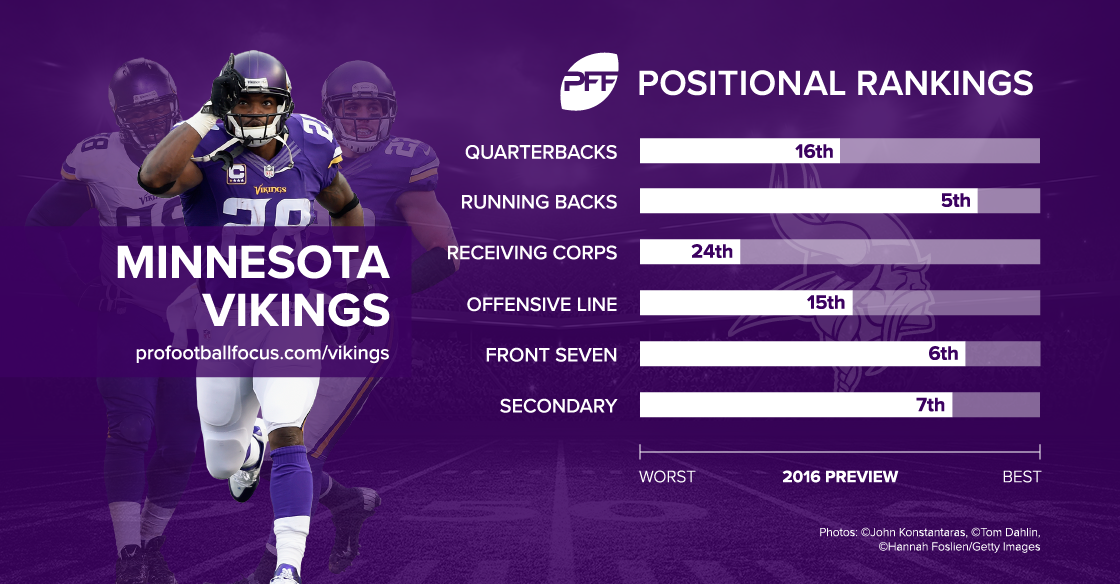 The offensive supporting cast has some question marks on the line and at wide receiver, but Adrian Peterson is still one of the best backs in the league and the featured piece of a run-heavy offense.
This could very well end up being an excellent short-term move for the Vikings, as it reinstates their contender status heading into 2016 at the very least, but the loss of a first-round draft pick shouldn't be overlooked as it relates to the team's future.
3. The Eagles make a smart move for the long term.
Philadelphia officially steps into transition mode, as Daniel takes over as the likely starter and the Wentz clock starts ticking a little bit faster. Daniel has 76 career attempts to his name and he has been just about average during that time. He struggled during the preseason, ranking No. 56 of 84 quarterbacks in PFF grades, and there are few indicators that he'll be a better-than-average starter this season, especially with a still-questionable receiving corps in Philadelphia. This is still a very strong Eagles roster, and they play in a wide-open division in the NFC East, but this looks much more like a rebuilding season for Philadelphia following this trade.
The expectation for Wentz was to sit this season in a "redshirt" year, but assuming he comes back healthy from preseason injury, he might see the field much sooner than anticipated. In our prospect rankings leading into the 2016 NFL Draft, we had Wentz ranked as the second-best QB in the draft behind Jared Goff, ranking him 14th overall (Goff was No. 4 overall).
Wentz is a work in progress, and it wouldn't be surprising if he struggled if forced into action this season, but as colleague Sam Monson wrote during the draft process, Wentz has "jackpot" potential if he reaches his ceiling. It certainly makes sense for the long-term strength of the franchise to pave the way to build around Wentz, regaining a first-round pick that they had to give up in order to trade up for Wentz in the process.