Oftentimes, our perceptions of players or teams can be skewed greatly by our initial exposure. See a wide receiver drop three passes… "He sucks." See a defensive tackle get back-to-back sacks…"Pro-Bowler." The unfortunate thing is there's little we can do to stop our minds of it as human beings. The anchoring effect is a real cognitive bias that affects anyone with a pulse. Thankfully, it can be overcome though with further research and critical thinking.

With that in mind, let's examine the players who may not have started the season too hot but have come on strong over the last four weeks and deserve your attention.
[Editor's Note: The grades listed for the players below are products of their performance in Weeks 4-7 — not a product of their entire body of work this season.]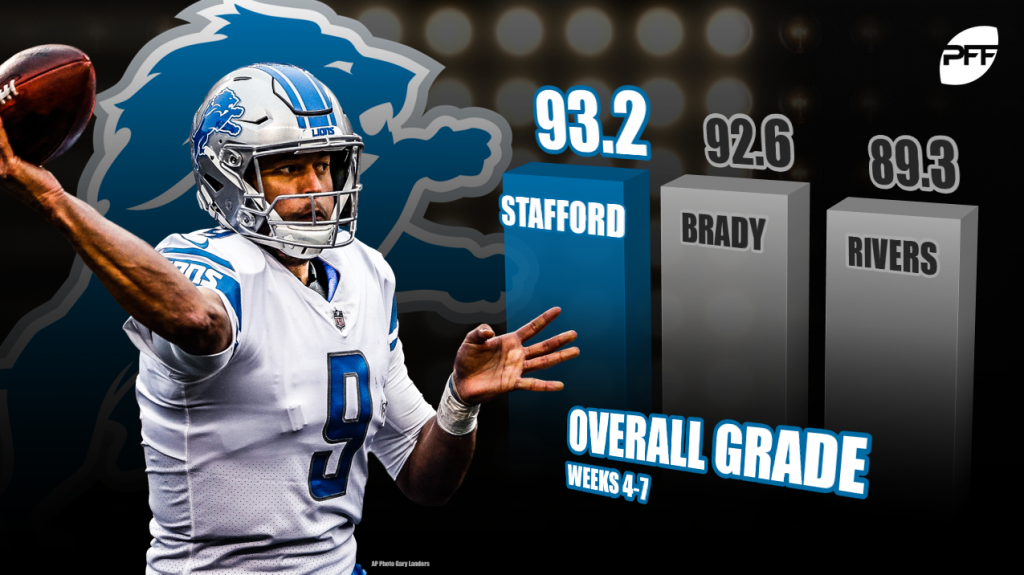 Matthew Stafford, QB, Detroit Lions
93.2 overall grade
The Lions' ugly start to the season took them off a lot of radars, but Stafford's play of late is starting to put them back in the conversation. He earned a 90.2 overall grade in Week 4 against Dallas, a 78.2 the next week against Green Bay and then a 93.6 after the bye in Miami this past week.
One of the biggest reasons for his leap has been his poise under pressure over that span. He's 12-of-20 for 130 yards, two touchdowns and zero interceptions over the last four weeks, giving him a passer rating of 112.5 under pressure. It's debatable whether he'll be able to sustain that pace, but the uptick in performance from his offensive line from early in the season will certainly help.
Adam Thielen, WR, Minnesota Vikings
91.6 overall grade
It's difficult to call a guy who's gone for over 100 yards in every single game this season a riser, but his efficiency has legitimately increased over the last four weeks even though his targets have dropped. The chart below goes in-depth on exactly what that means.
| | | |
| --- | --- | --- |
| Stat | Weeks 1-3 | Weeks 4-7 |
| Yards Per Route | 2.24 | 2.8 |
| Targets Per Game | 14.7 | 11 |
| Drops | 2 | 1 |
| TDs | 1 | 4 |
| Catch Rate | 72.7% | 79.5% |

Over that span, his five contested catches rank fourth in the NFL, and his 11 explosive plays rank fifth. The sixth-year wide receiver has taken his game to a whole other level of late.
Kareem Hunt, RB, Kansas City Chiefs
88.4 overall grade
Fantasy owners wanted to know what was wrong with Kareem Hunt after the first three weeks of the season, where he failed to crack 100 total yards once. In the four games since then, he's averaged 148.8 yards from scrimmage a game and scored six touchdowns.
His resurgence underscores exactly what makes the Chiefs offense so scary. Take away one aspect, and another will beat you. Hunt has racked up 293 yards after contact over the last four weeks – the most in the NFL – on only 66 attempts. That's 4.4 yards after contact per attempt! His 16 broken tackles over that span are also second-best in the NFL, as Hunt has proven his rookie year was no fluke.
DeAndre Hopkins, WR, Houston Texans
88.3 overall grade
There may not be a ton of stats to point to for Hopkins surge in grading, but when you look at some of the catches he's made over that span, you'll understand why he's jumped up. The man single-handedly won the game for them with his Madden-esque overtime spin-move clinic.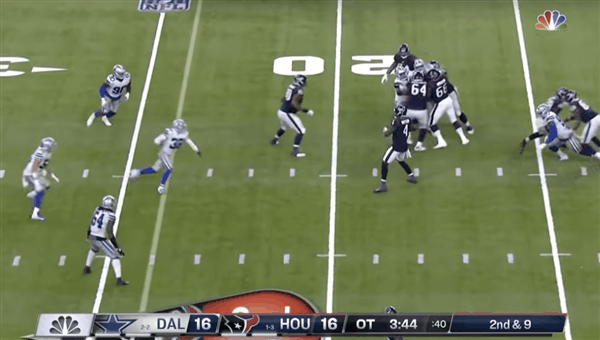 He ran into the Jalen Ramsey buzz-saw this past week but still managed to make jaw-dropping catches like the one below:
Hopkins' eight catches grading out at +1 or above are the second-most in the NFL over the last four weeks with only Thielen hauling in more. When it comes to the spectacular play, few do it better than the Texans wideout.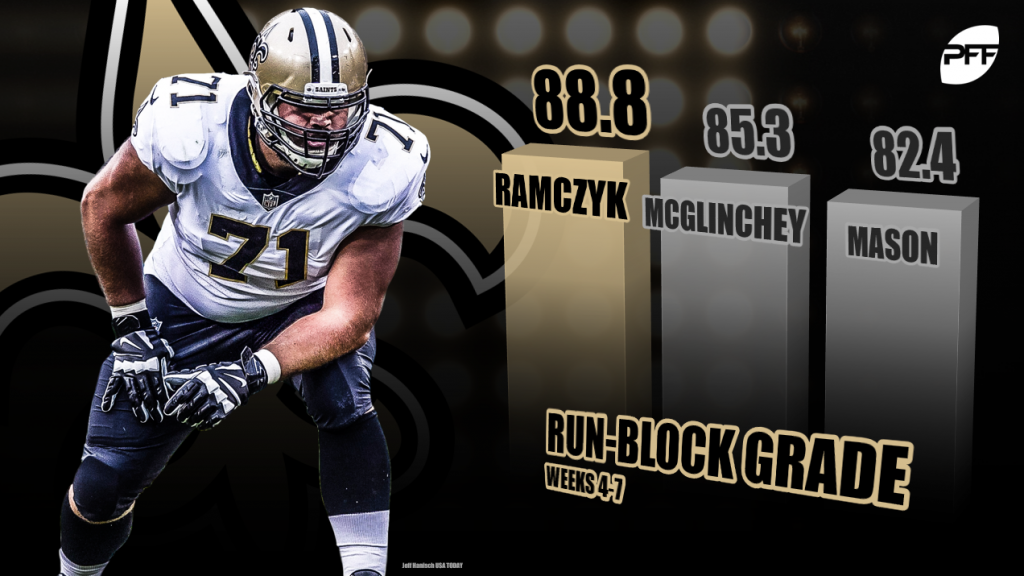 Ryan Ramczyk, T, New Orleans Saints
88.0 overall grade
After one of the most impressive rookie seasons we've ever graded for a tackle, Ramczyk has followed up by firmly placed himself in the conversation for 'Best Right Tackle in the NFL.' After allowing a couple sacks over the first three games, Ramczyk has allowed a grand total of one hurry in his last three games (the Saints had a bye in Week 6). One. He's on pace to allow all of 11 pressures for the entire season.
While those raw numbers are helped some by Drew Brees' quick release, there's no 'faking' what he's done in the run game. Over the last four weeks, his 88.8 run-block grade is far and away the best of any offensive lineman in the NFL, as he's only taken four downgrades in the run game over that span.
Shaq Mason, G, New England Patriots
85.6 overall grade
Mason grading out well should come as no surprise, as he's had overall grades of 81.6 and 84.4 the past two seasons. To start this year, though, he struggled mightily, especially against Jacksonville in Week 2, where he earned a 42.9 overall grade.
Since then, he's been back to the bowling ball that's one of the most dominant run-blocking guards in the NFL. Mason's 22 positively graded blocks in the run game over the last four weeks are five more than the next best offensive lineman. He earned a ridiculous 90.6 overall grade a couple weeks ago for his zero-pressure performance against Kansas City. The right guard is on pace for a career-year in pass protection with only five pressures allowed so far for the season.
Zach Ertz, TE, Philadelphia Eagles
85.6 overall grade
While Ertz's usage hasn't changed one bit transitioning from Nick Foles to Carson Wentz, his effectiveness has increased dramatically. Through the first three games of the season, he had 33 targets but only hauled in 21 of them while dropping three passes. Since Wentz took over against the Titans in Week 4, Ertz has 43 targets in four games and has caught 36 of them and not dropped any. His 2.57 yards per route over that span leads all tight ends and is actually eighth-best among all pass catchers if you include running backs and wide receivers.