Oftentimes, our perceptions of players or teams can be skewed greatly by our initial exposure. See a wide receiver drop three passes… "He sucks." See a defensive tackle get back-to-back sacks…"Pro-Bowler." The unfortunate thing is there's little we can do to stop our minds of it as human beings. The anchoring effect is a real cognitive bias that affects anyone with a pulse. Thankfully, it can be overcome though with further research and critical thinking.

We're back with the defenders that have seen their grades jump over the past four weeks. If you missed the offensive version from yesterday, you can find it here. Let's get right into it.
[Editor's Note: The grades listed for the players below are products of their performance in Weeks 4-7 — not a product of their entire body of work this season.]
95.4 overall grade
Through the first three weeks of the season, Donald had only a 92.1 overall grade. While it doesn't represent a huge leap number wise, his play over the last four weeks has been inspired. Over that span, he's had the three highest single-game grades of any interior defensive lineman this season, and his 32 combined pressures in his last four games are six clear of the next best player in the NFL, regardless of position. The Rams defensive tackle is doing things we've never seen done from a purely interior role.
90.6 overall grade
The top nose-tackle in the NFL at the moment resides in Green Bay. There may be players who stuff the run better, but no one has done more as a pass-rusher. Over the past four weeks, Clark's 92.4 pass-rushing grade when lined up in the A-gap is the best among any full-time nose tackle in the NFL and only one other nose tackle is above 80.0 in that span.
Clark's no slouch against the run either. His 12.0% run stop percentage on the season is fifth-best among interior defensive lineman and he's fresh off a three-stop performance against San Francisco. Maybe the most impressive aspect of Clark's game though at this point has been his conditioning. Over the past three games, Clark has played 156 of a possible 177 snaps for the Packers defense (88.1%). That's an absurdly high number for any defensive lineman, let alone a nose tackle.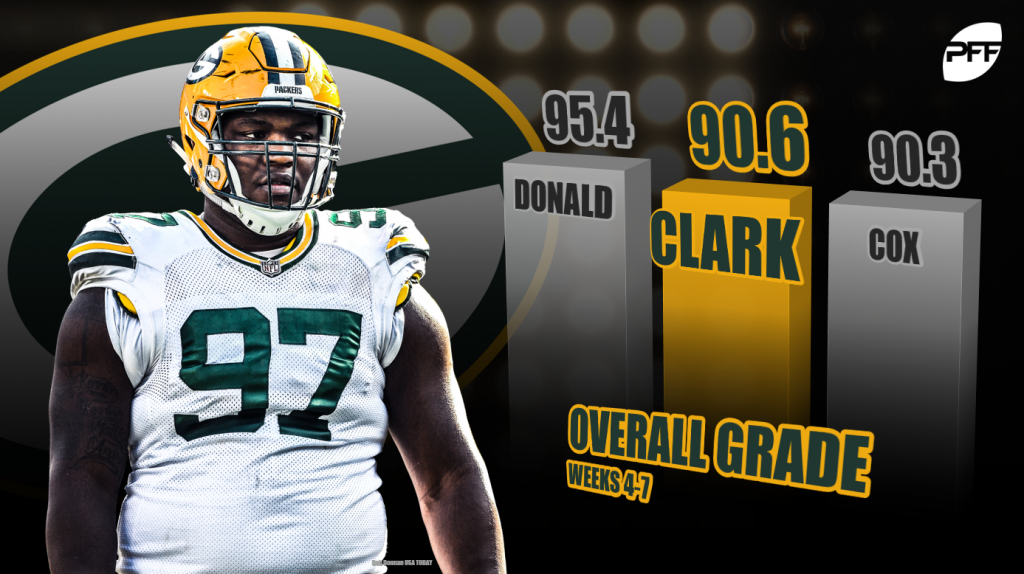 90.2 overall grade
The first few weeks didn't start exactly how King would have wanted, most notably when he gave up seven catches on eight targets for 78 yards against the Rams. Since the start of Week 4 though, King has put the clamps down as the Chargers slot corner. He's been targeted 19 times since then and allowed only 105 yards on those targets and six first downs. He's also picked off two balls and broken up two others for a quarterback rating of 67.7. In year two, King has solidified himself as the league's top slot option.
89.7 Overall grade
The first three games of Hurst's career were fairly non-descript. He notched all of three pressures and three run stops on 107 snaps. However, over his last three games, he has looked far closer to the player we saw at Michigan last season. Hurst has four pressures, five run stops, and three batted passes in his last three games. With a Raiders defensive front bereft of playmakers, it looks like they may have found one in the rookie fifth-rounder.
89.6 overall grade
Ford has had one of the most head-scratching careers of any edge defender in recent memory. After his first two seasons in the NFL where he totaled all of six sacks, Ford looked like a sure-fire bust. Then he put together an unbelievable stretch of play in 2016 where he notched 10 sacks in six games. After that stretch though, injuries once again derailed him and he had all of three sacks over the next year and a half.
Well, now Ford is fully healthy, and we're finally seeing the player that was taken with the 23rd overall pick way back in 2014. He has at least three pressures in every game this season and has earned a 91.7 pass-rushing grade over the past four weeks.
88.8 overall grade
Another Chiefs defender who has stepped it up after the whole unit looked hapless early in the season. While he's given up a few big plays over the past four weeks, his coverage numbers are still ridiculous. He's only allowed 10 catches on 29 targets for 181 yards and a passer rating of 42.5. That 34.5% catch rate is the second-lowest in the league over that span. Compare that to his first three games where Nelson allowed 15 of 23 targets for 183 yards and you can see the difference has been night and day.
85.7 overall grade
In the past, Seattle's defense has absolutely gone in the tank when Earl Thomas has gone down with injury. That hasn't been the case this season and Thompson is the man to thank for it. The fourth-rounder from 2017 hasn't allowed any first downs in his coverage since taking over as the starter, picked off one of his two targets, and has nine tackles compared to one miss. 95 snaps in coverage is obviously a small sample size for a safety, but the early returns are encouraging.
81.0 overall grade
It's impressive how complete Vander Esch is as a linebacker this early on in his career. Over the past four weeks, he leads all linebackers in run-stop percentage at 14.3%, while in coverage the numbers may even be more impressive. On 22 targets the last four weeks, he's allowed only five first downs compared to eight stops – the second most among all linebackers in that span. The Cowboys linebacker's ability to play on balance in space has been what's impressed me most as he's missed only one tackle on 19 attempts in coverage.