They hype around the 2018 iteration of the Baltimore Ravens is real – how real? Well, just look at the fact that fan passes to simply view their training camp were all claimed within a few hours after being made available, among other reasons.
So, what makes this season different from any previous Ravens season in the Joe Flacco era?
As training camps open around the league later this month, the Ravens will welcome rookies to team facilities on July 11, the earliest of any organization this summer. Their veterans won't report until July 18, but that's not what fans are clamoring to get their first glimpses of.
That is reserved for rookie quarterback Lamar Jackson, who the Ravens traded up, back into the first round to select with the No. 32 overall pick this past April.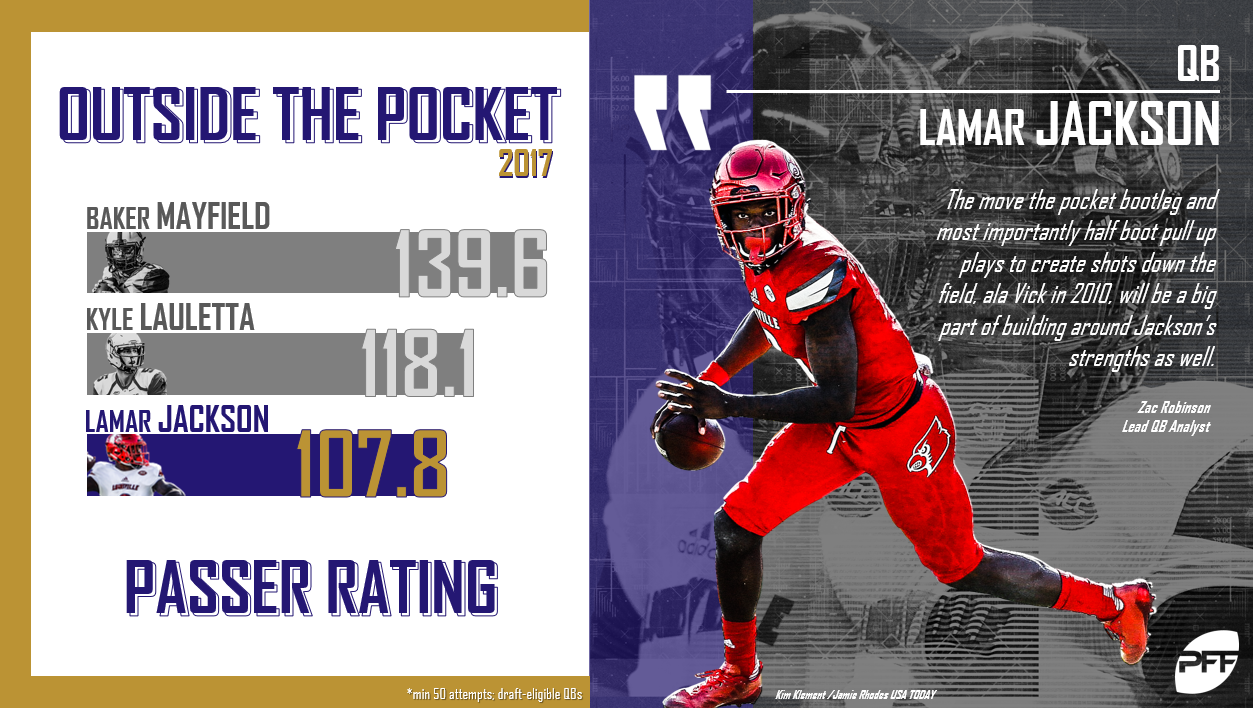 With Flacco firmly in place as the team's starting signal-caller, Jackson's role in 2018 will likely be limited as head coach John Harbaugh said there is 'no quarterback controversary' this season. So, what does Jackson bring to Baltimore if and when he does see the field in 2018?
Other than his Heisman Trophy, Jackson brings with him a set of accolades unlike any other quarterback from the 2018 NFL Draft. In 2017, he fielded a 71.7 percent adjusted completion percentage and a 102.2 passer rating on deep passes (20-plus yards), both of which ranked inside the top half of all draft class signal-callers. What stood out for Jackson in 2017 however, was his play under pressure in which he fielded the draft class' fifth-highest passer rating under duress, despite seeing the third-most of pressured passes dropped by his receivers.
He was pressured on 36.0 percent of his dropbacks yet was sacked on just 18.4 percent of the time, showcasing his innate ability to buy time and avoid defenders.
On the ground, Jackson gained 4,790 career rushing yards (2,173 after contact) and forced a whopping 140 missed tackles. More impressively, of those rushing yards, only 26.8 percent of those yards came on scrambles, showcasing he was a pass-first quarterback, contrary to belief.
Fans will be hoping they get a first-hand viewing of ways they'll see Jackson on the field in 2018 during training camp and is arguably one of the more compelling storylines across the league's training camp landscape. Throw in the fact that there is another quarterback with a Heisman Trophy in that QB room (Robert Griffin III), and it makes sense why Baltimore's 'no quarterback controversy' is so compelling.
Once the veterans report to training camp on July 18, and besides Jackson, what else will Ravens fans be able to get a glimpse during training camp?
New cast of receiving characters
After a flurry of trades on Day 1 of the draft, the Ravens ended the 2018 NFL Draft with several intriguing rookies, including tight end Hayden Hurst from South Carolina. Hurst adds a big body and a safe, secure set of hands at tight end as he recorded the most receptions without a drop in the draft class (44).
Also joining Hurst in the tight end room is glorified slot receiver Mark Andrews from Oklahoma. Andrews was a slot machine in 2017, hauling in a whopping 53 receptions on 74 targets from the slot for 874 yards and six touchdowns, all good enough to lead the draft class. While we discussed the rise in 11 personnel during Teaching Month last month, the Ravens were the only team to almost equal their total of 12 personnel (two tight end sets) to 11 personnel a year ago. They ran 12 personnel on 35 percent of their offensive snaps last year, to lead the league. With the drafting of Hurst and Andrews, don't look for that to change.
Among other rookies to get their first view of, Ravens fans will be able to check out the wide receiver duo of Jaleel Scott and Jordan Lasley, each of whom had their successes in 2017. Lasley racked up a 124.8 passer rating on his 104 targets a year ago at UCLA, despite playing only nine games. Scott was a true deep threat as his 6-foot-5 frame allowed him to haul in 19 receptions (first in the class) for 541 yards (sixth) on passes thrown at least 20 yards downfield. Scott and Lasley will each have their work cut out for them to secure playing time (and a spot on the 53-man roster) as the Ravens also brought in receiving veterans Michael Crabtree, Willie Snead and John Brown.
It's likely, however, that those five receivers make the final roster and thus become a completely new receiving corps for Flacco to target in 2018. In actuality, the only receivers in training camp that have caught a regular season pass from Flacco are Breshad Perriman and Chris Moore, while Perriman's future with the team is still unclear at the moment.
Either way, Ravens fans must be ecstatic that the Baltimore front office brought in a whole new cast of characters for Flacco, a Cluster 4 quarterback (trust me, click that link), to throw to as a season ago, his receivers generated the lowest rate of positively-graded players AND the highest rate of negatively-graded plays. There's only one way to go for this receiving corps in 2018, and that's up.
No quarterback controversy
As mentioned above, Harbaugh has stated there is no controversary in the quarterback room, despite both players penciled in behind Flacco are Heisman Trophy-winning signal-callers. Griffin III was signed this offseason and joins Jackson to likely field the first three-quarterback team for the Ravens since the late 2000s. Barring injury, Flacco is likely to not only start Week 1, but finish the season as the Baltimore quarterback.
Flacco had an average year by his standards last year, finishing with the league's ninth-ranked adjusted completion percentage. He was unable to find reliable deep threats and finished with the league's 29th-lowest passer rating on passes targeted at least 20 yards downfield. With new receiving options, Flacco's fortunes may be on the rise if he can increase his accuracy to the deeper levels of the field.
One thing is for sure, if Flacco (and Griffin III for that matter) can impart their veteran knowledge on Jackson, there's no reason the former Louisville quarterback can't develop into a star at the position. Just look what he did against Power-5 opponents last season.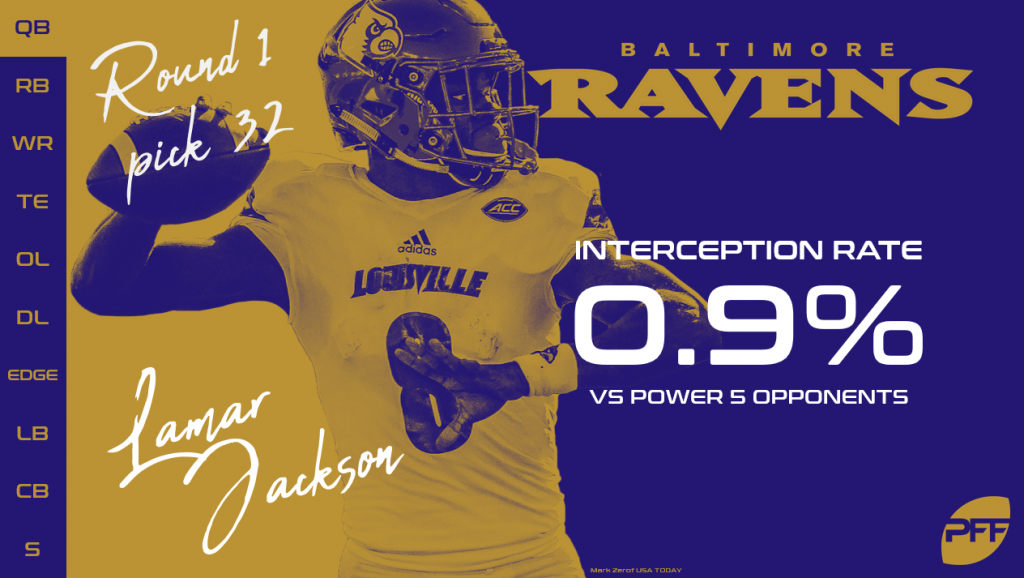 Position battles to watch
2018 PFF NFL Training Camp Previews
---
Arizona Cardinals | Atlanta Falcons | Baltimore Ravens | Buffalo Bills | Carolina Panthers | Chicago Bears | Cincinnati Bengals | Cleveland Browns | Dallas Cowboys | Denver Broncos | Detroit Lions | Green Bay Packers | Houston Texans | Indianapolis Colts | Jacksonville Jaguars | Kansas City Chiefs | Los Angeles Chargers | Los Angeles Rams | Miami Dolphins | Minnesota Vikings | New England Patriots | New Orleans Saints | New York Giants | New York Jets | Oakland Raiders | Philadelphia Eagles | Pittsburgh Steelers | Seattle Seahawks | San Francisco 49ers | Tampa Bay Buccaneers | Tennessee Titans | Washington Redskins